baderbrau wedding chicago | kevin + kari
---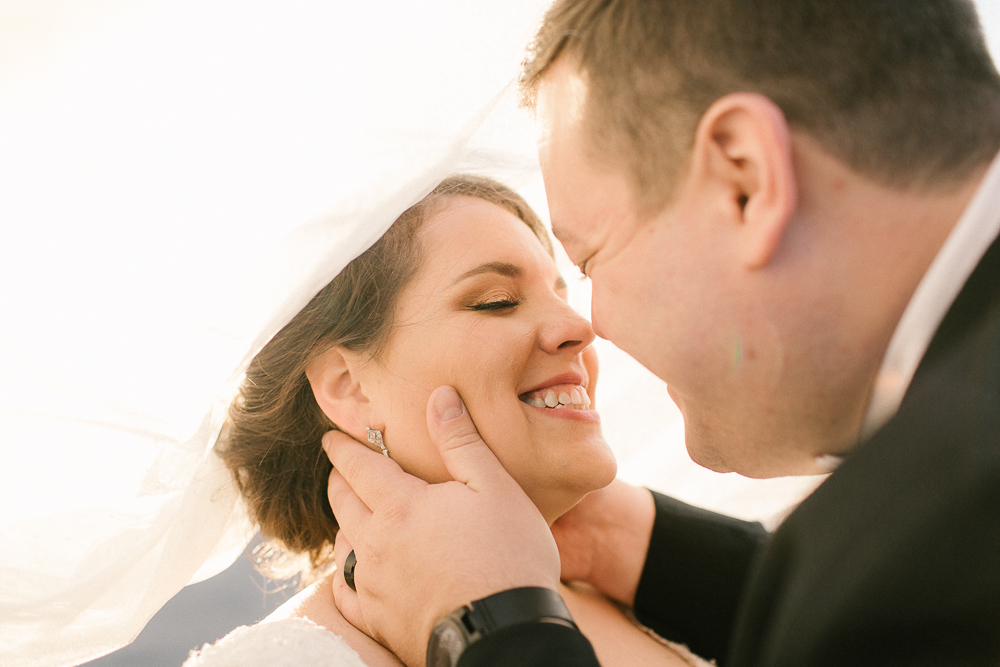 Ohhhhhh yes. This crazy, beautiful brewery Chicago wedding was such a blast to get to photograph!! Kari and Kevin were married on a gorgeous fall day in Chicago, with one lively group of friends + family! The vibe all day was FUNfunFUN. Kari I do not think I ever saw you not smiling, and getting to capture that was the best! I started the mourning at home with Kari and the ladies while Maggie was hanging out with Kevin and the guys before heading over to St. Linus Church for the ceremony.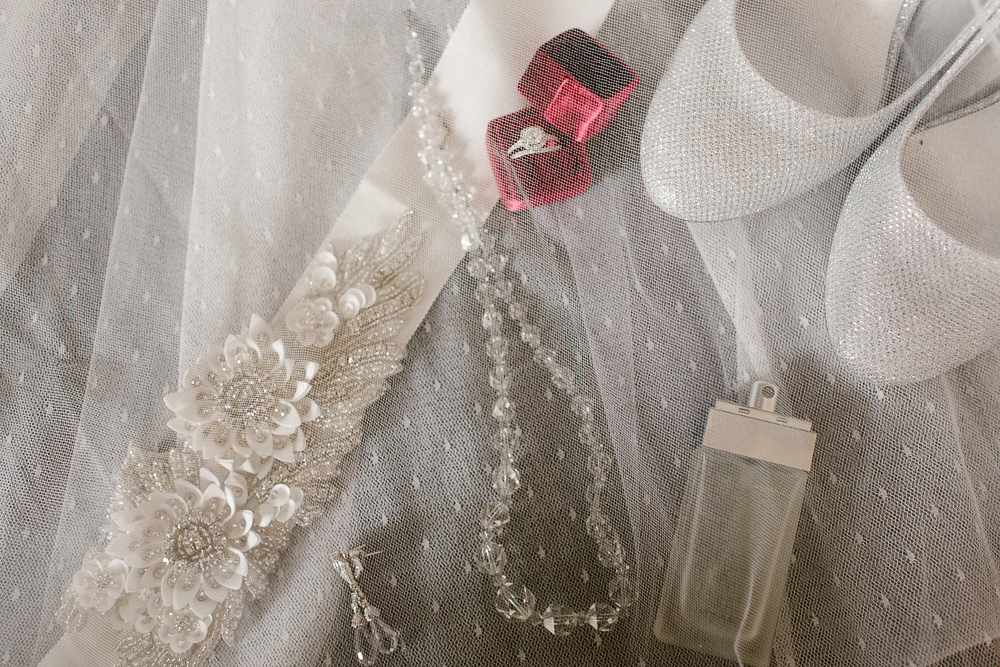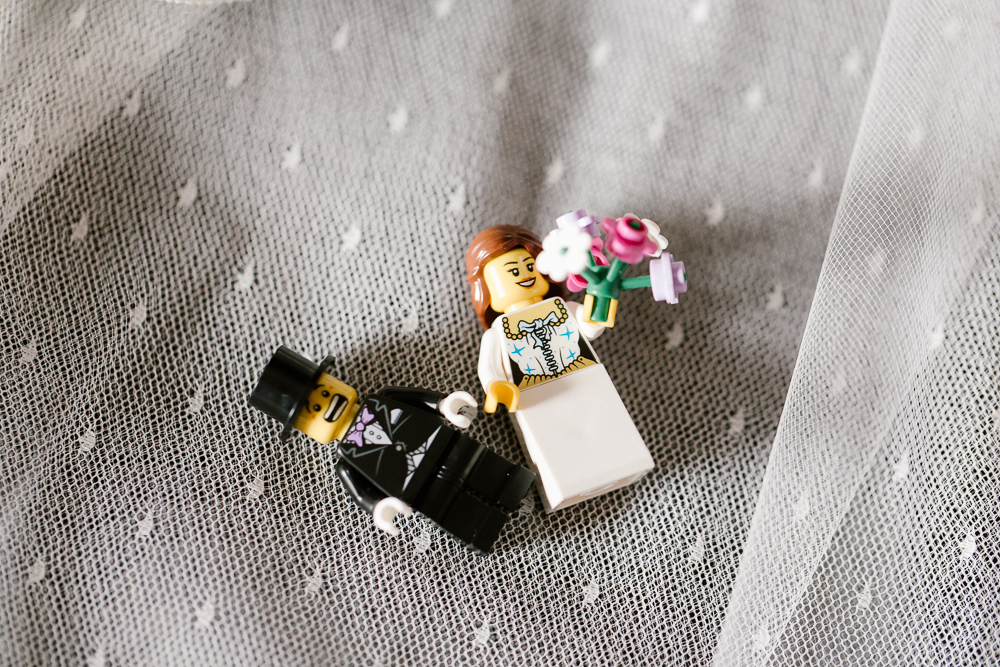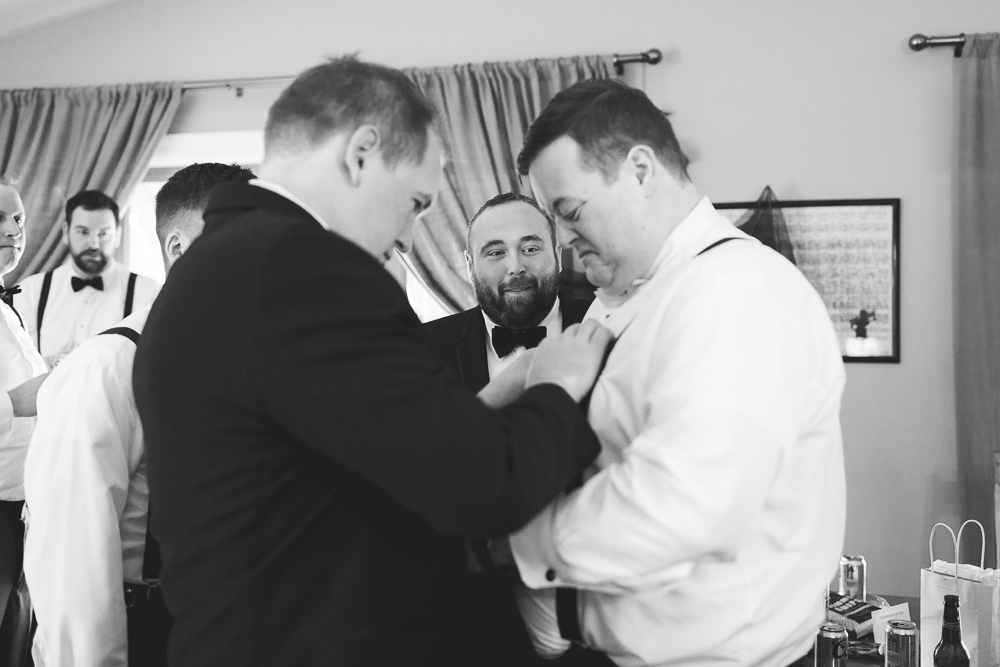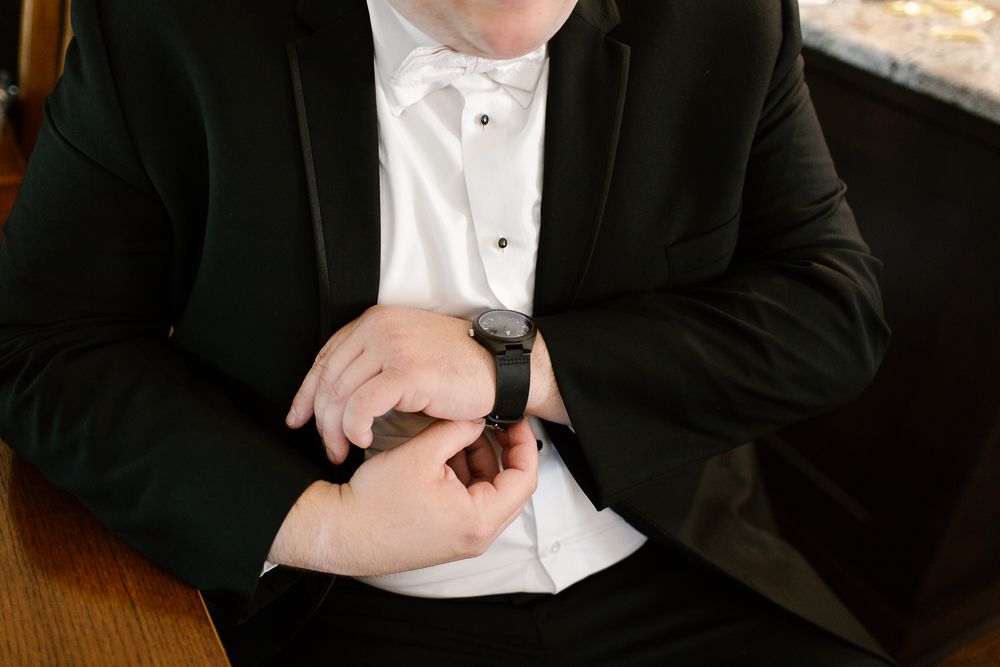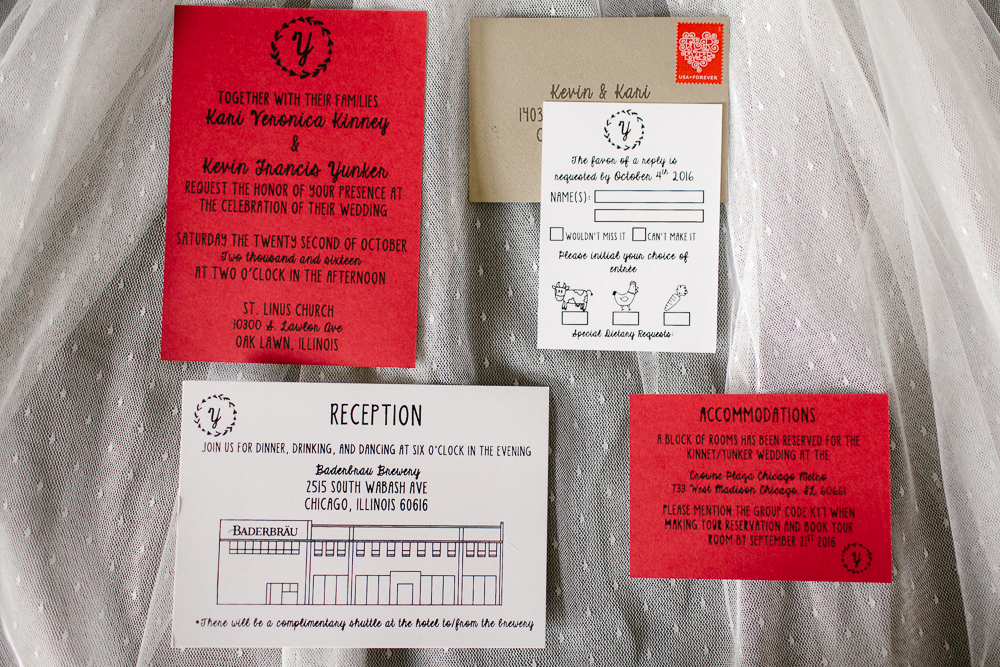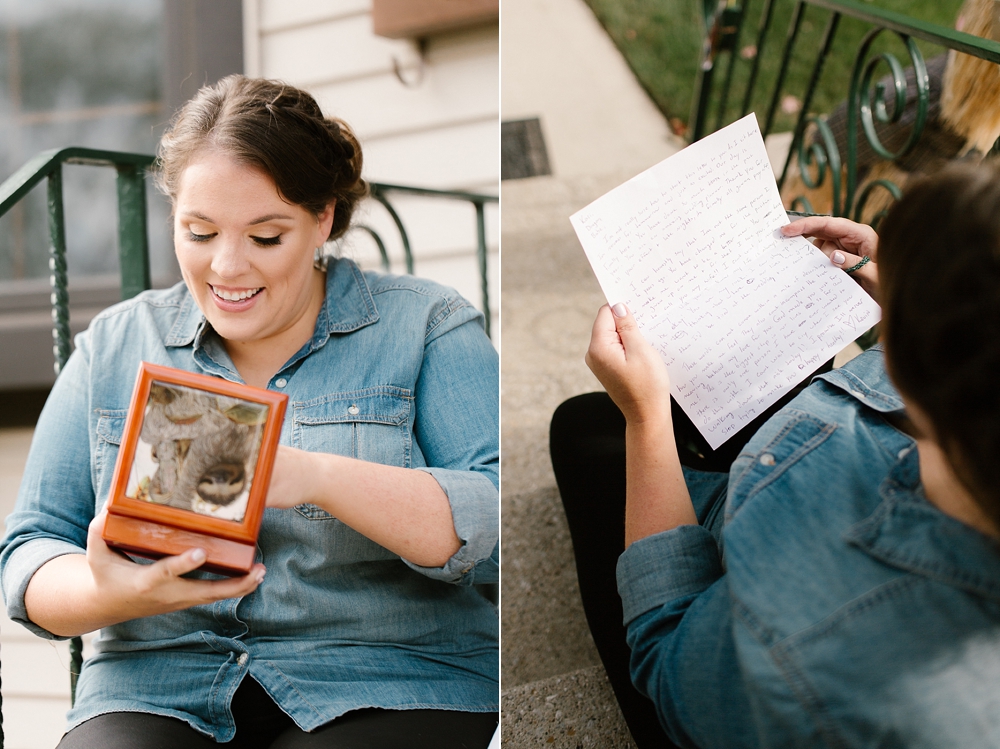 I was so in love with the lace detail on Kari's dress + veil!!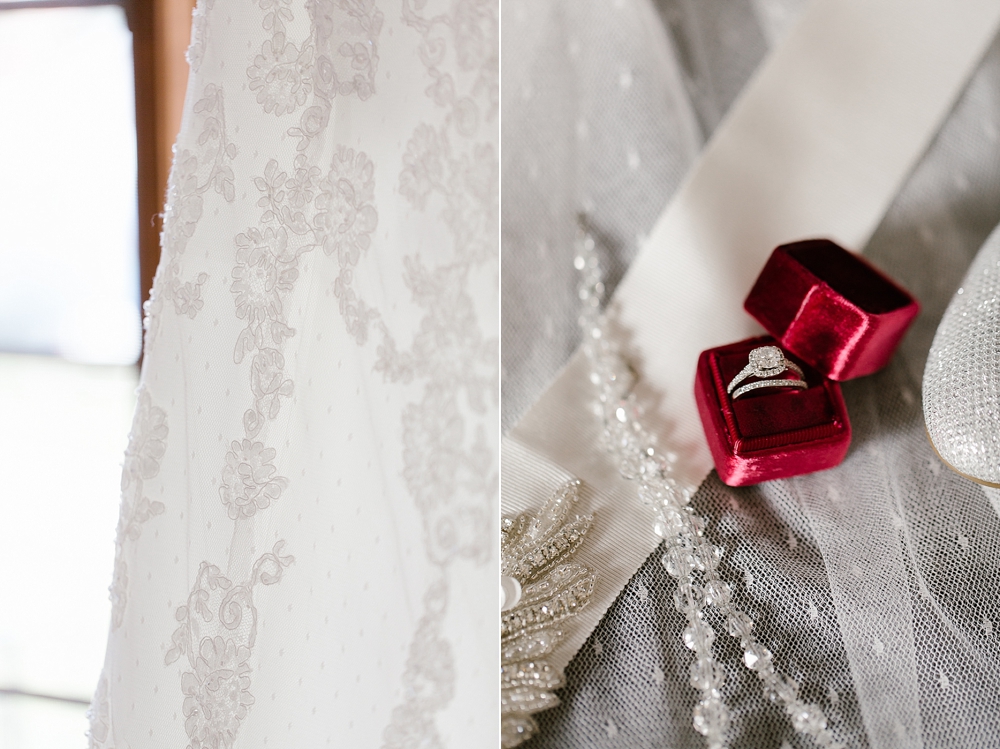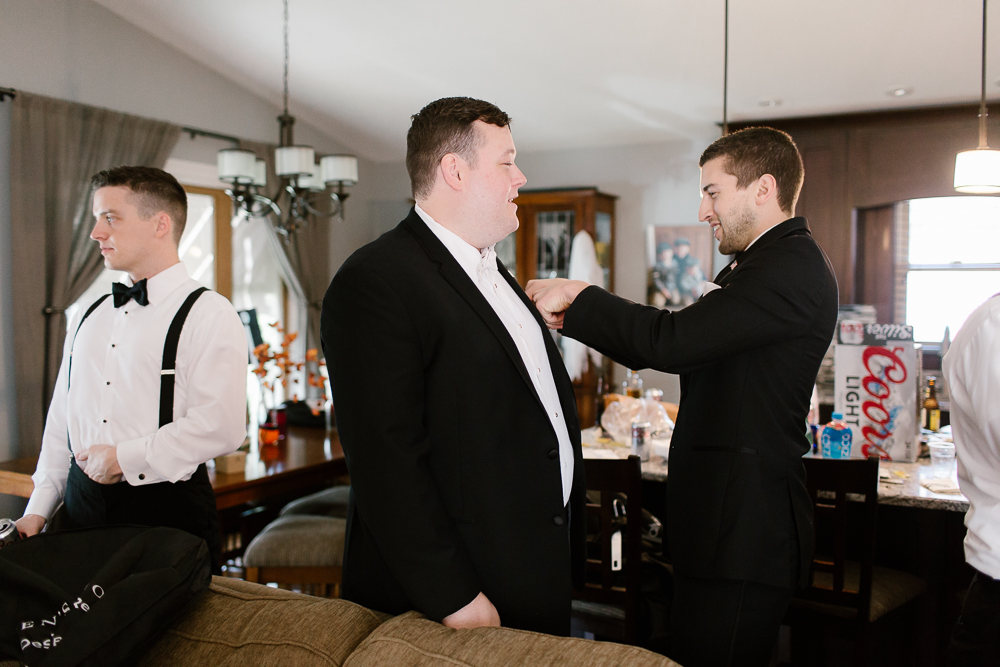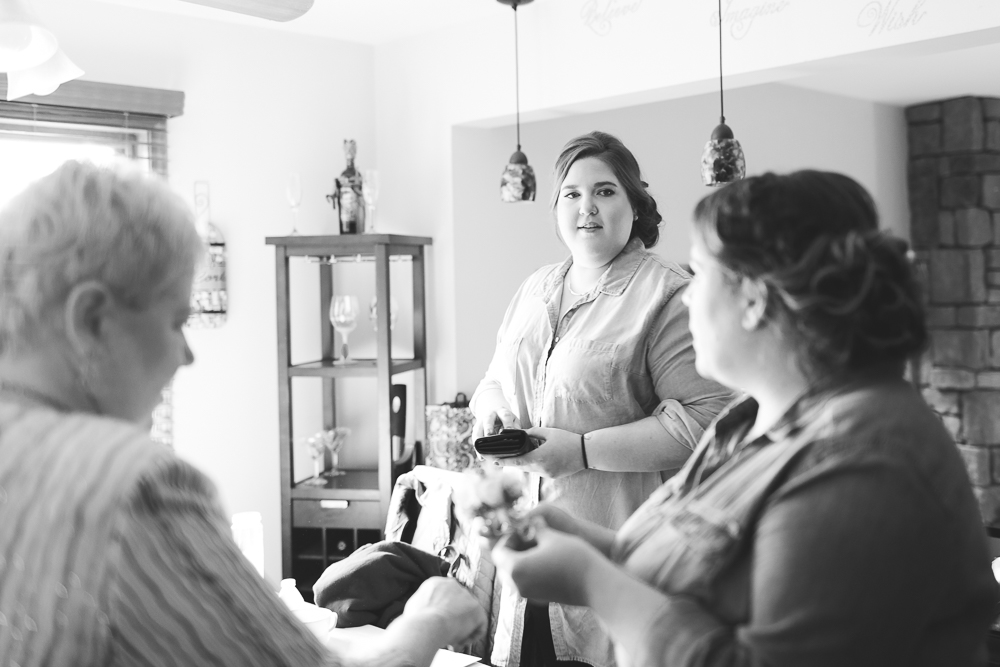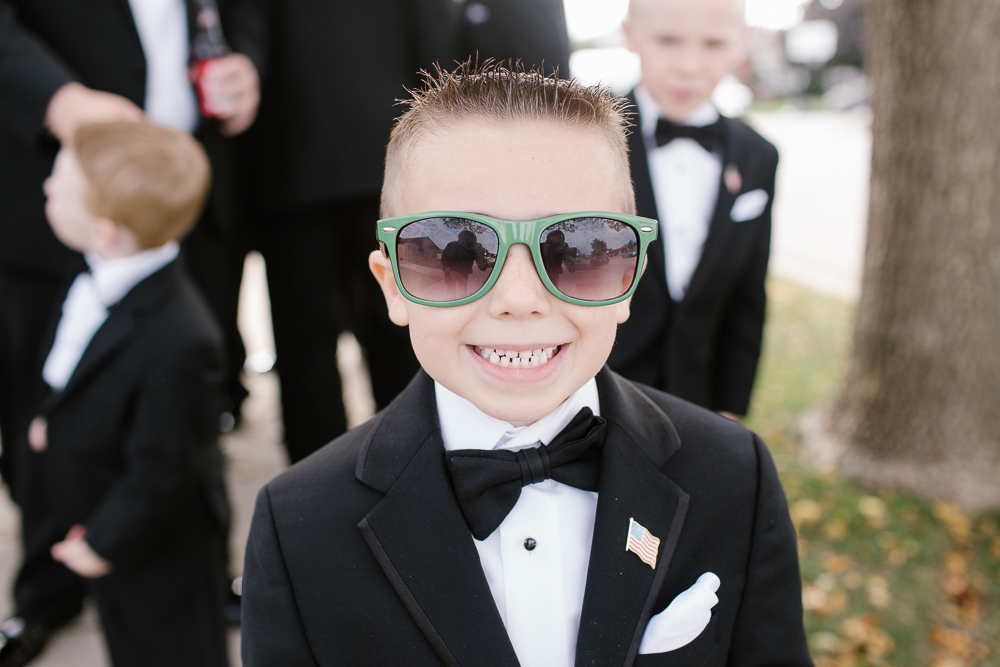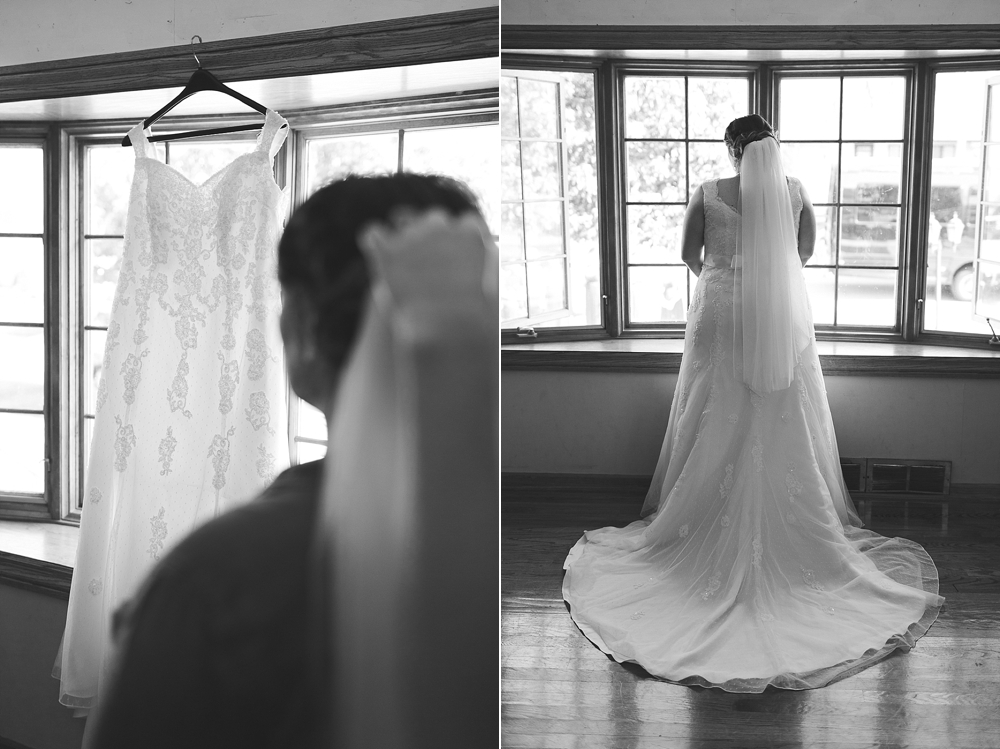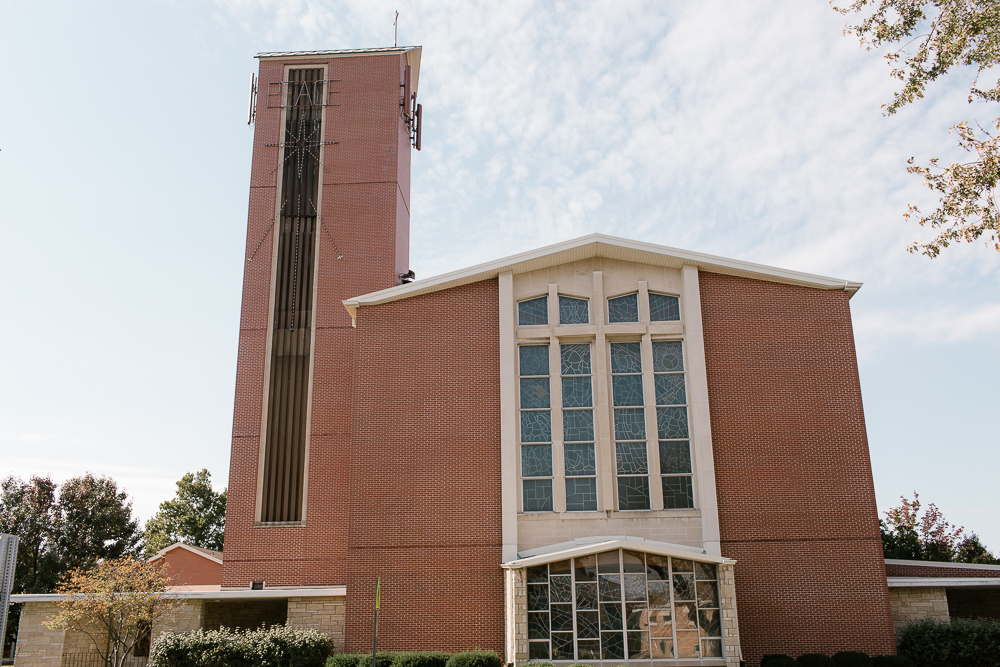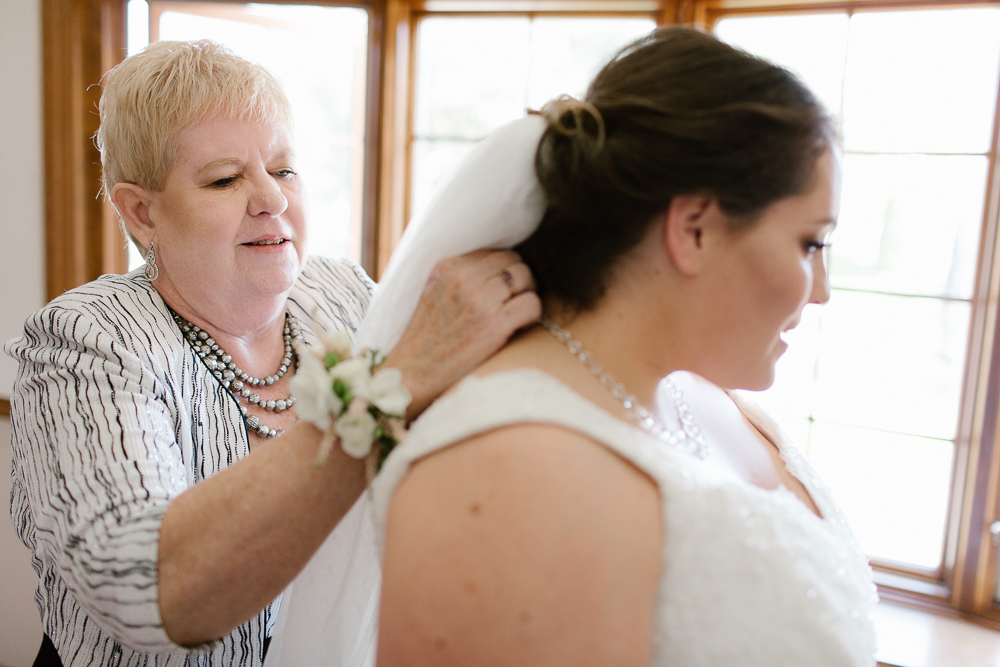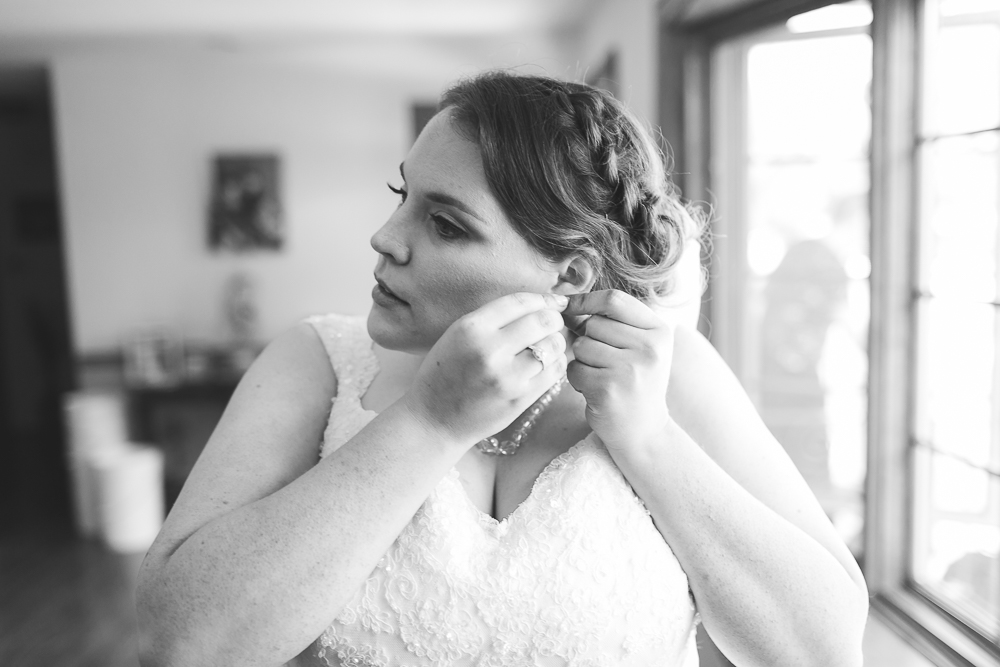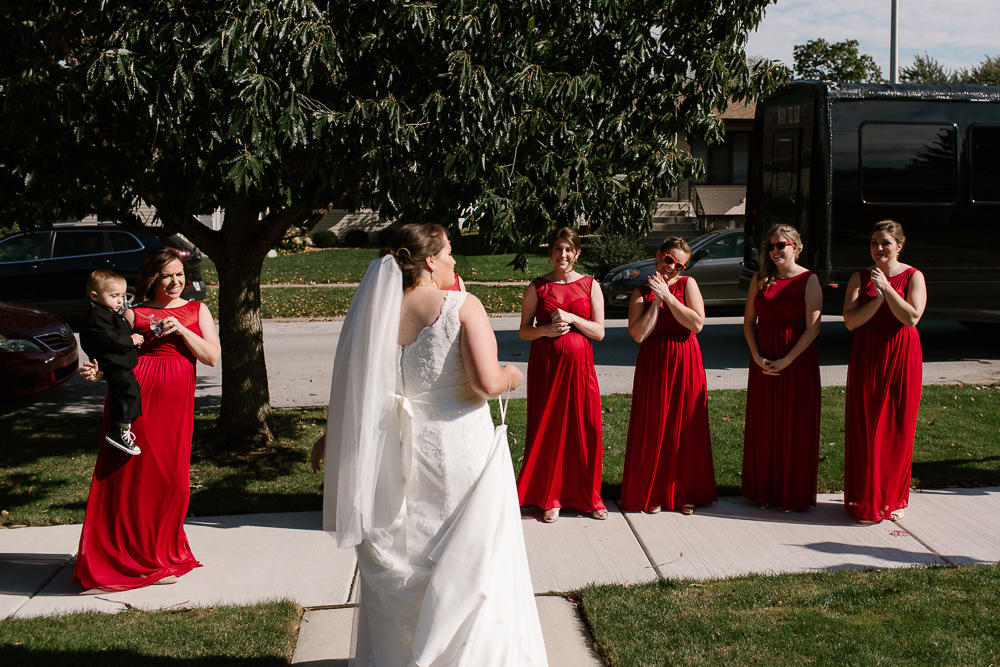 You guys. You guys. I'm always up front for the walking into church part of the day and my awesome second shooters get to hang out with the bride before hand. It is probably the part of day I am most jealous of because all of these awesome moments happen, but alas it is how we do it! And in this case Maggie was hiding in the back church room with Kari when her Dad (who Kari one million percent gets her smile from) walked in and saw his daughter for the first time in all her bridal glory. High fives all around to Dad for this reaction, Kari for being a babe, and Maggie for getting it all forever to be remembered : )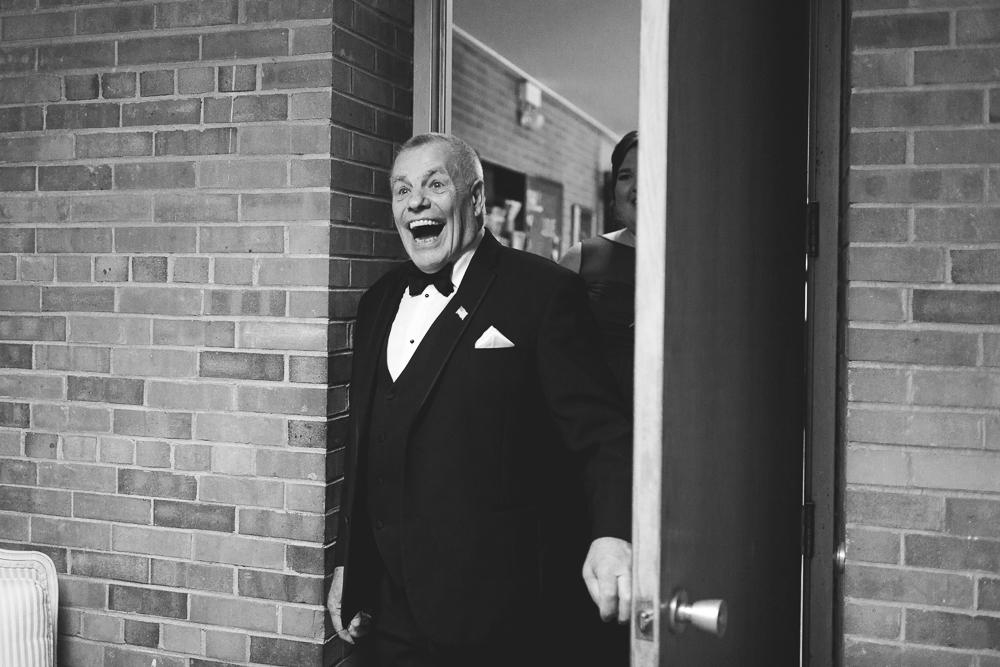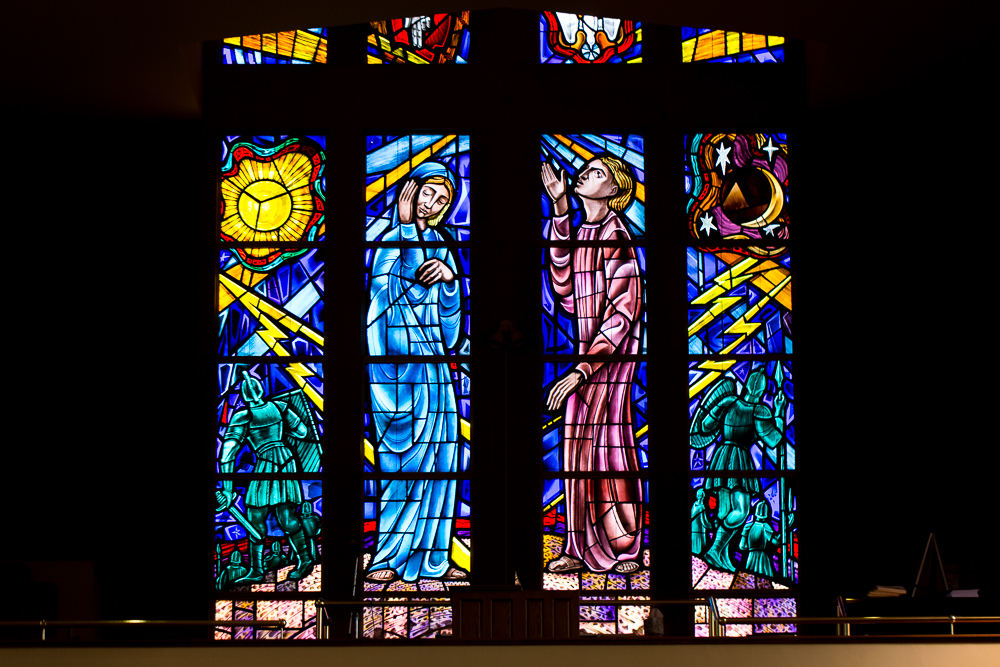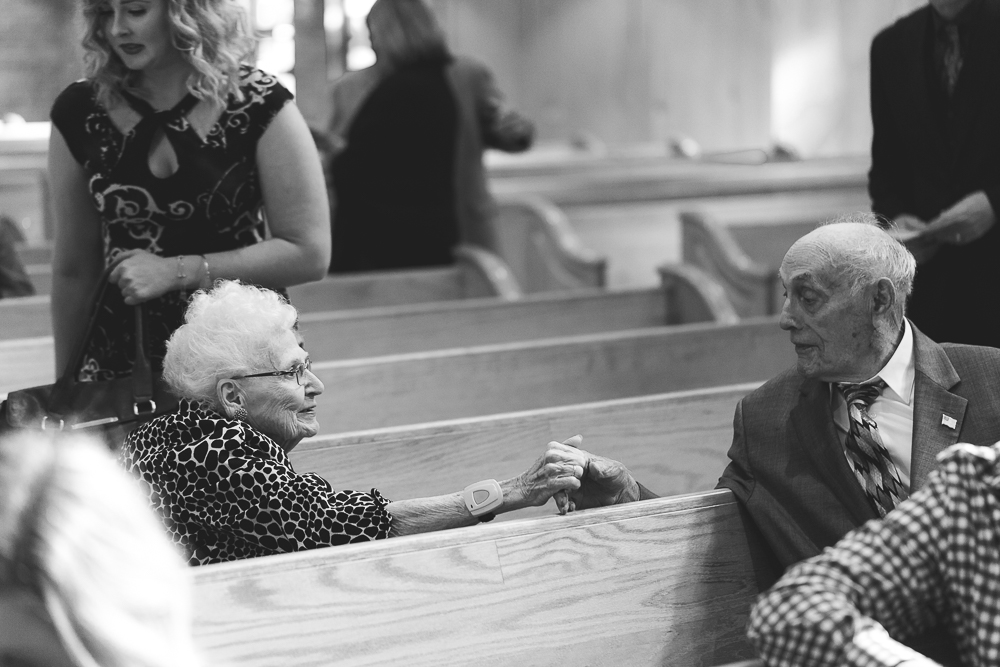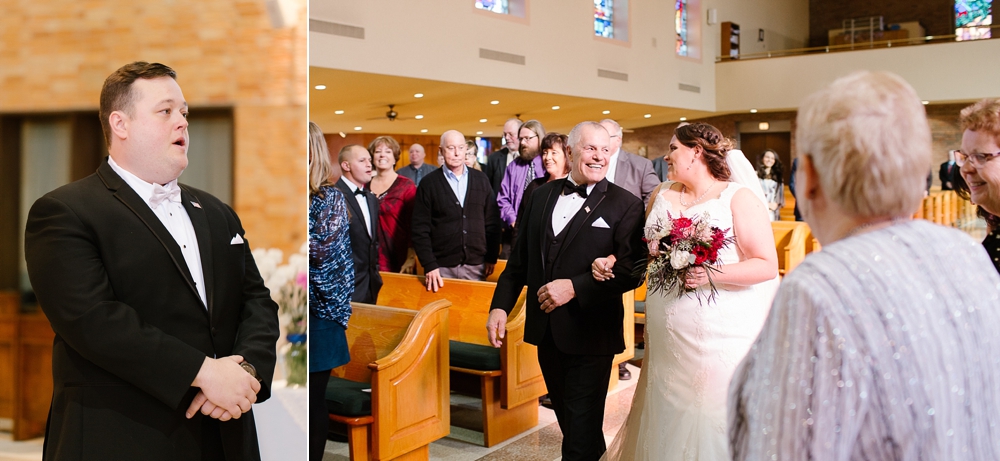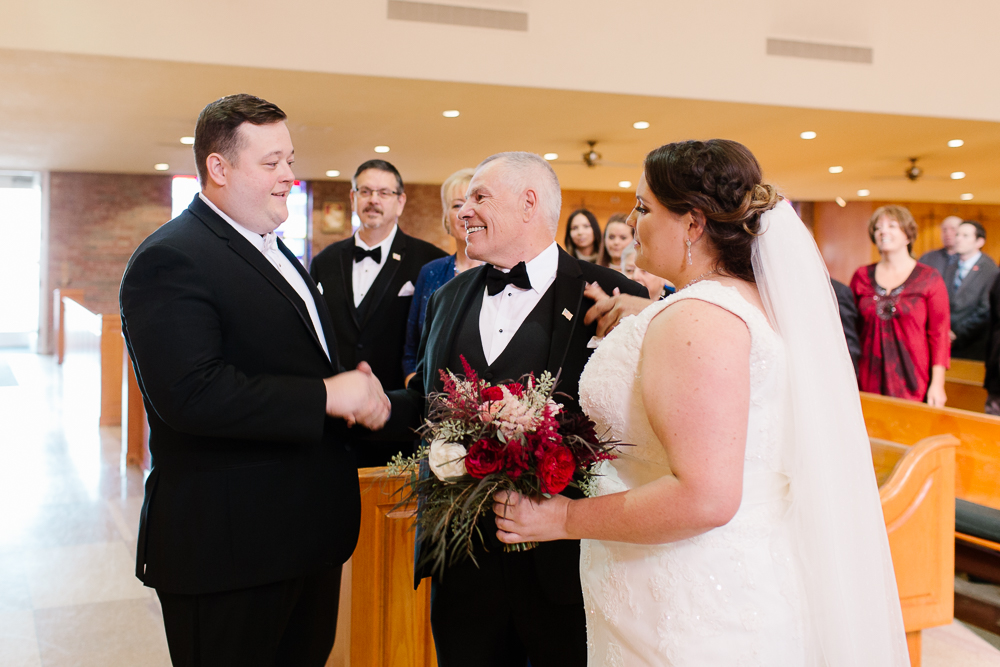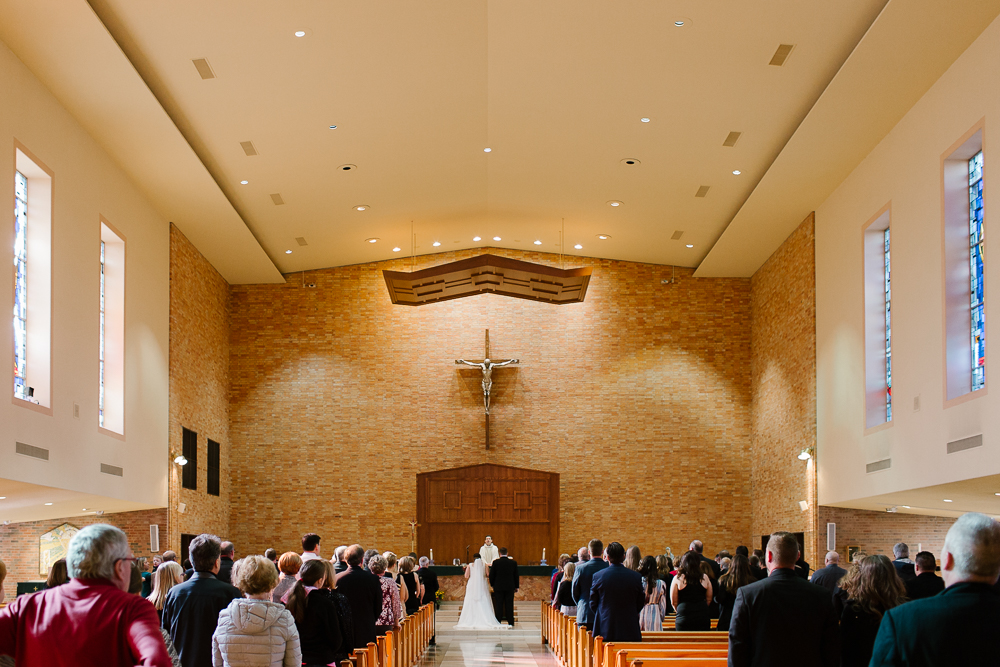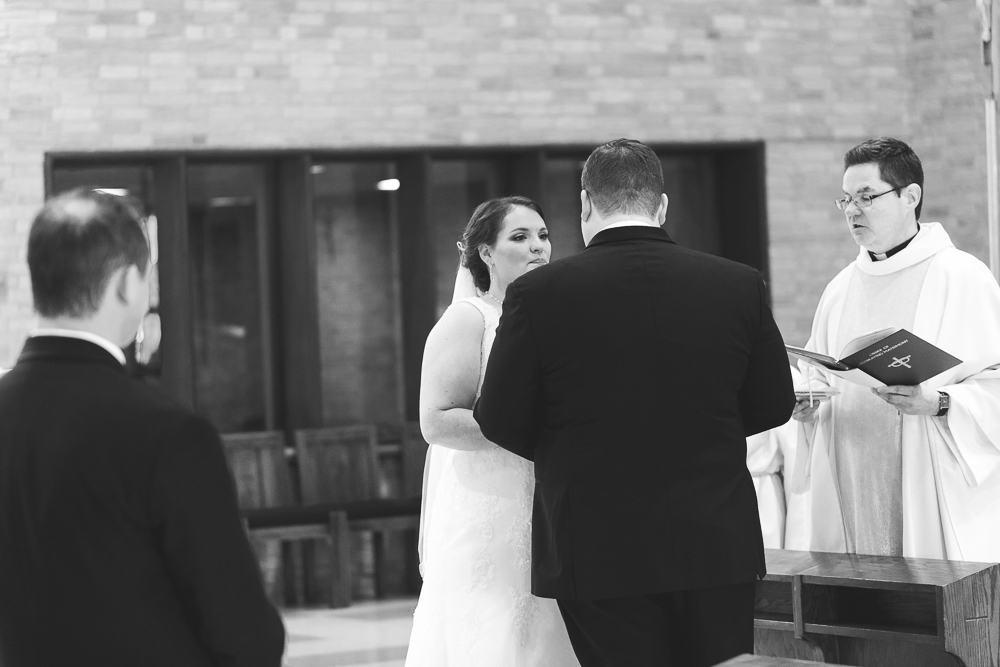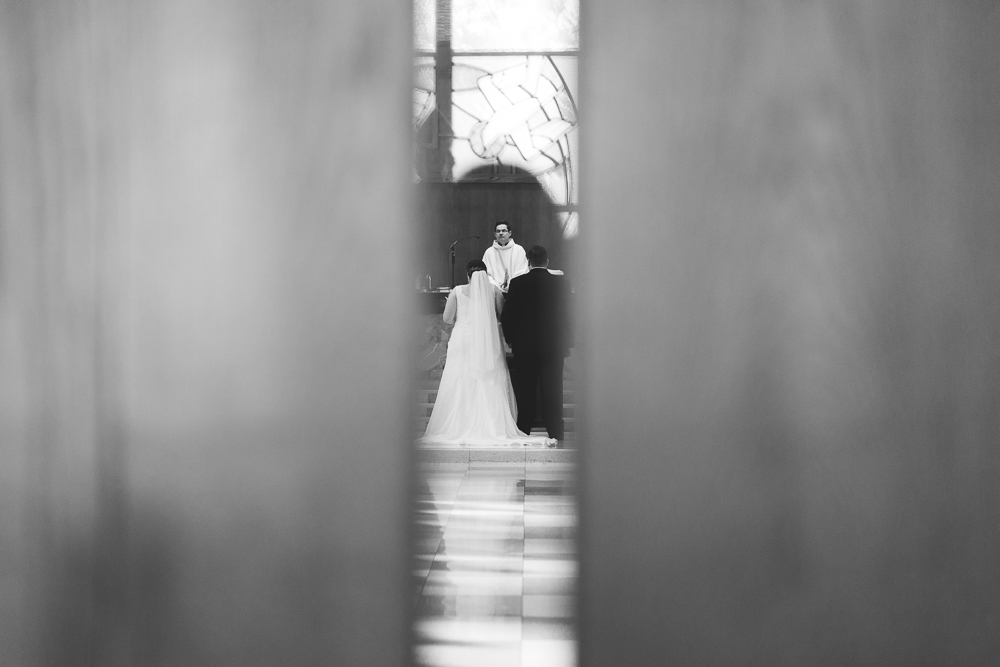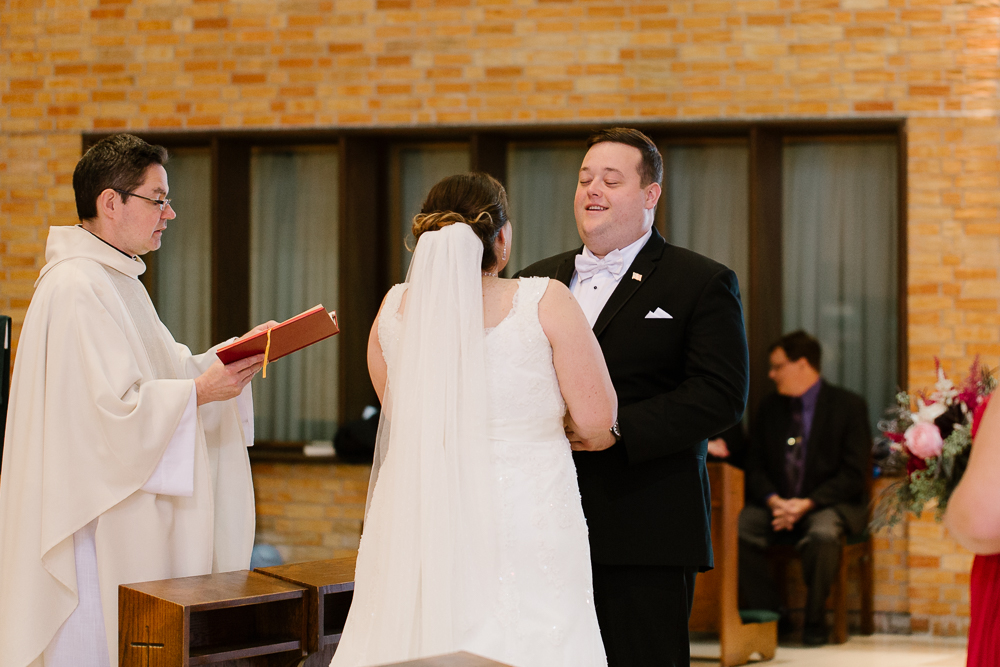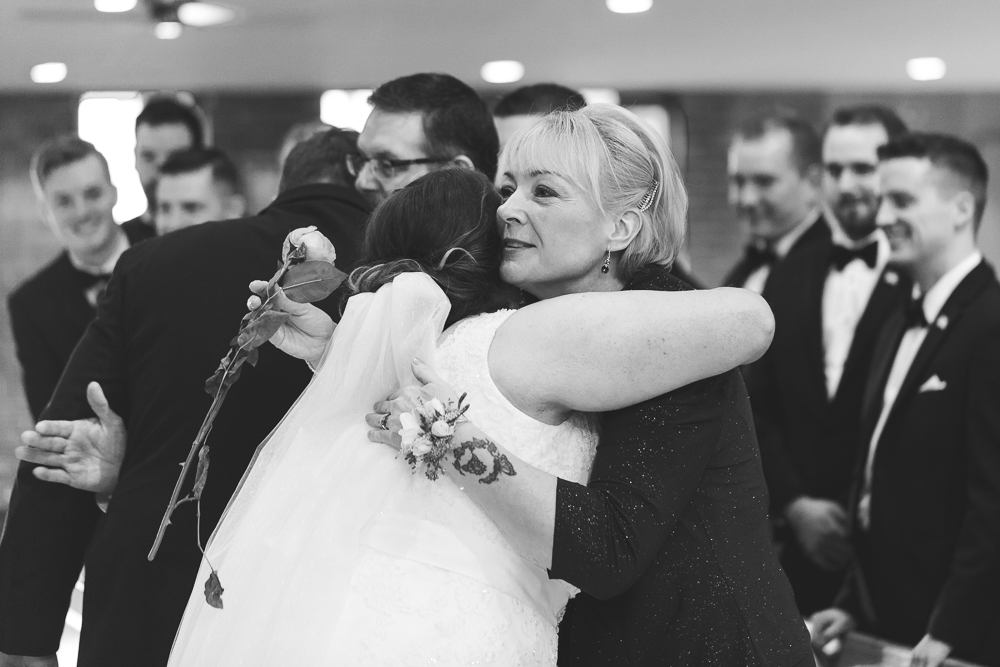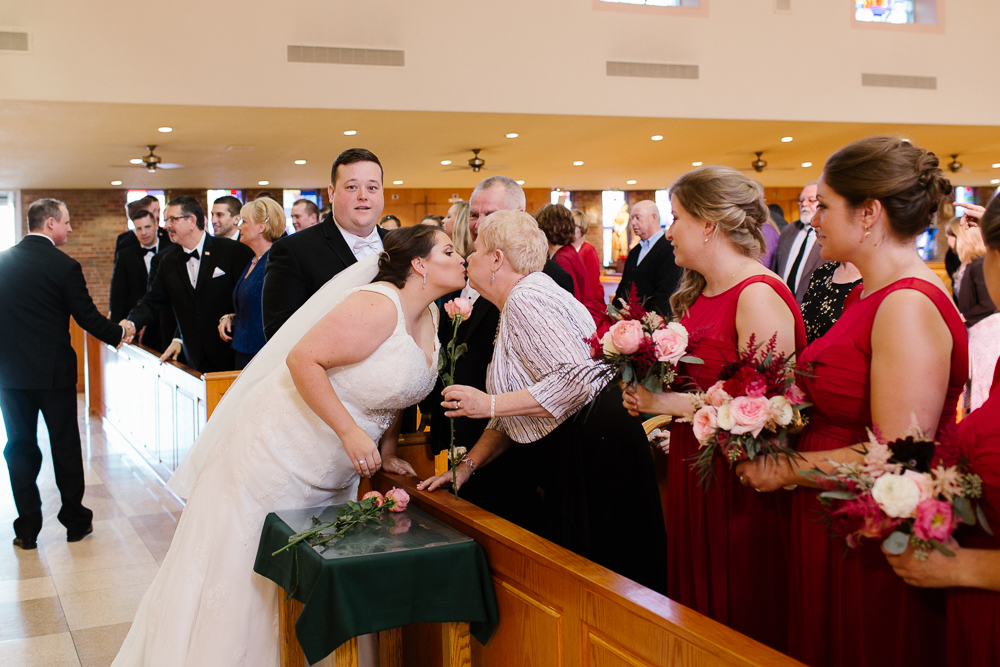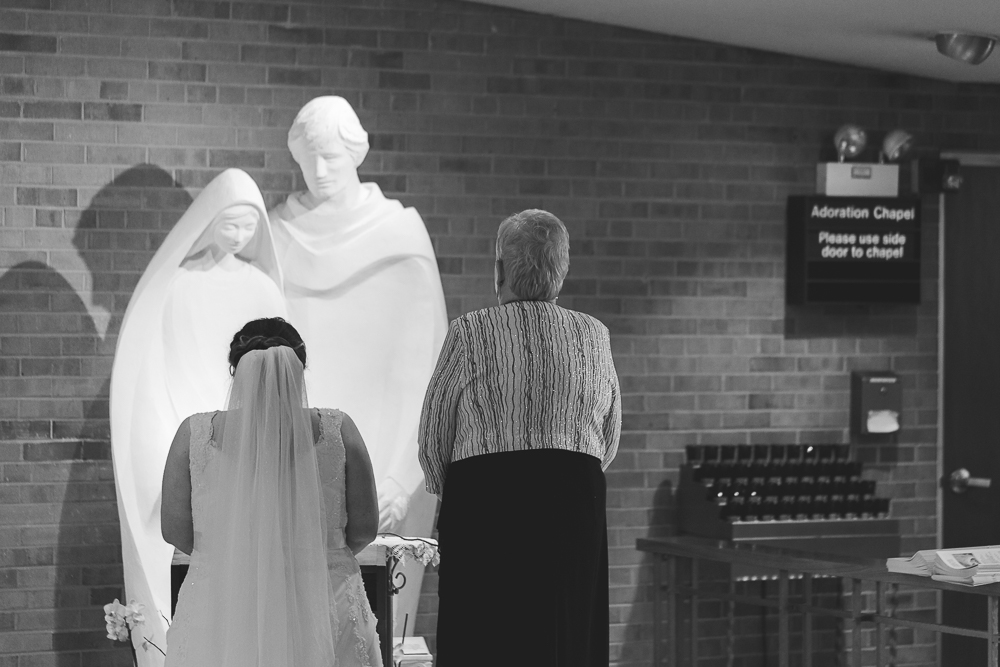 Now those are some super happy newlyweds right there!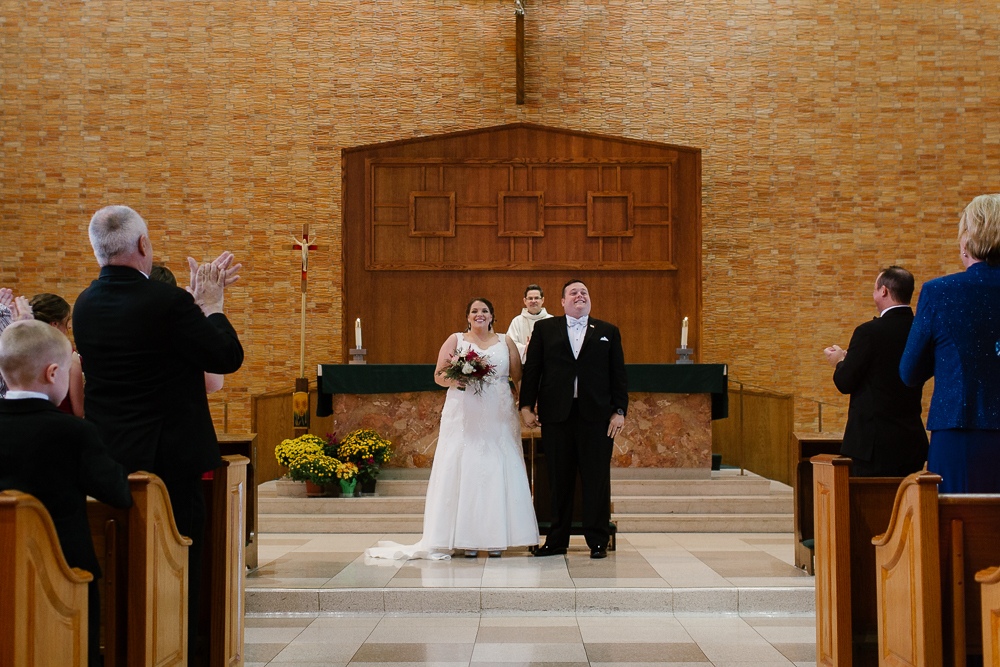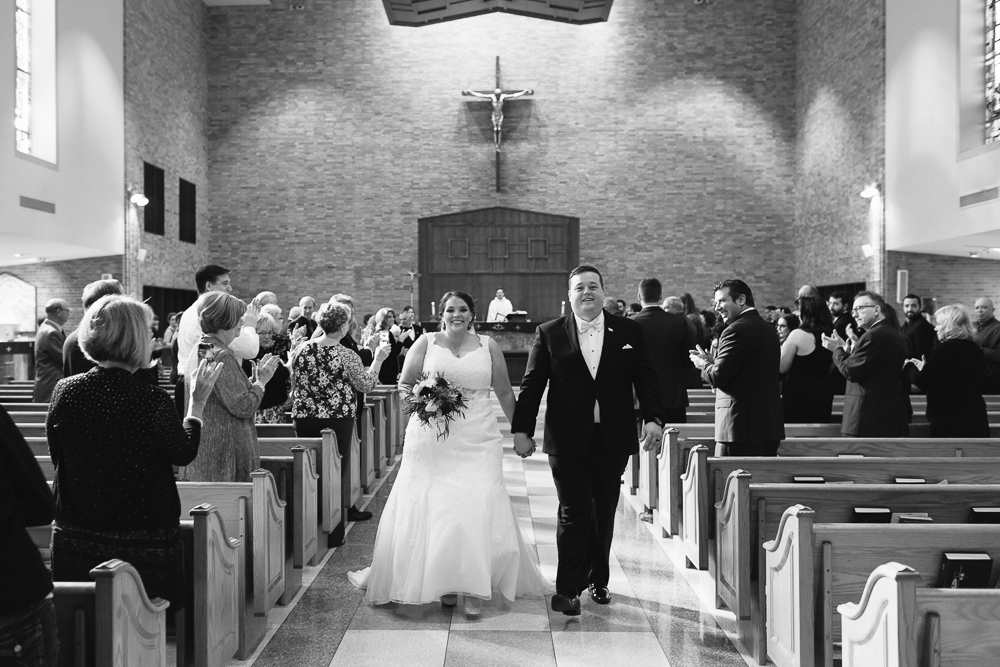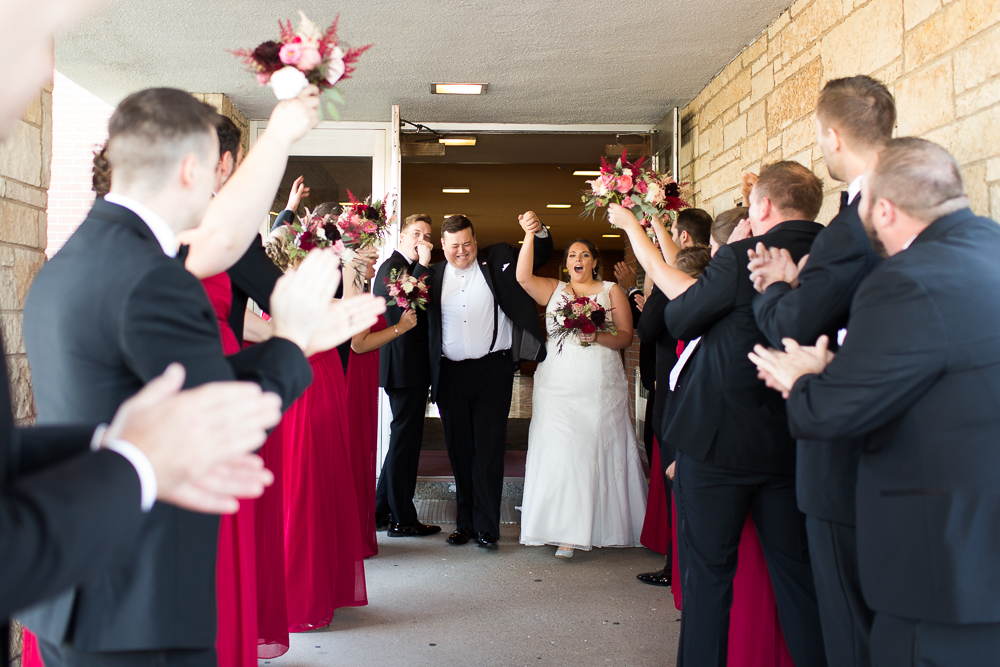 Welp, starting out with a fave!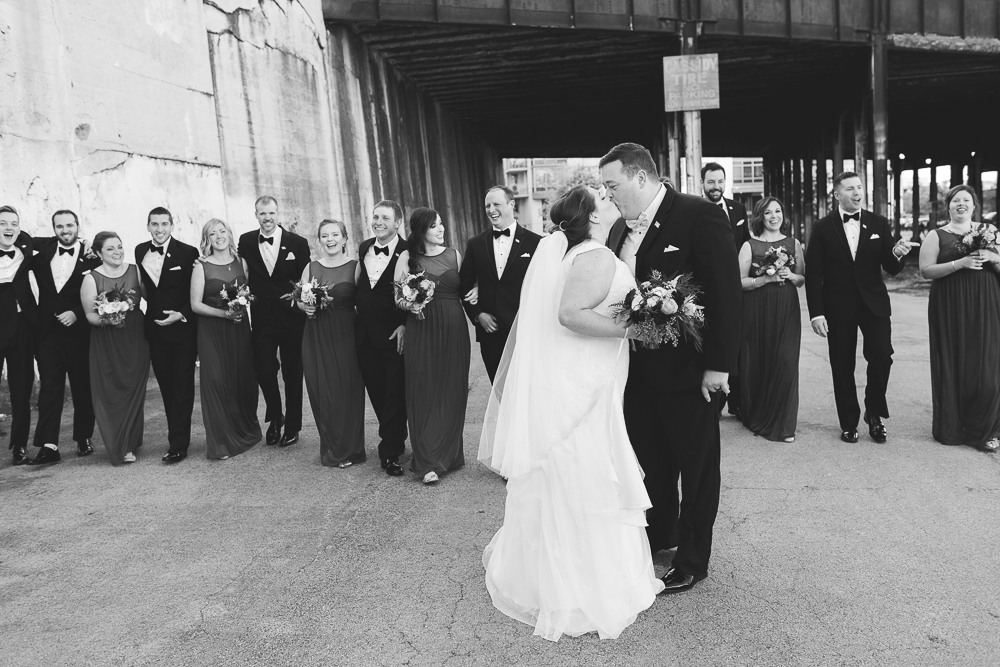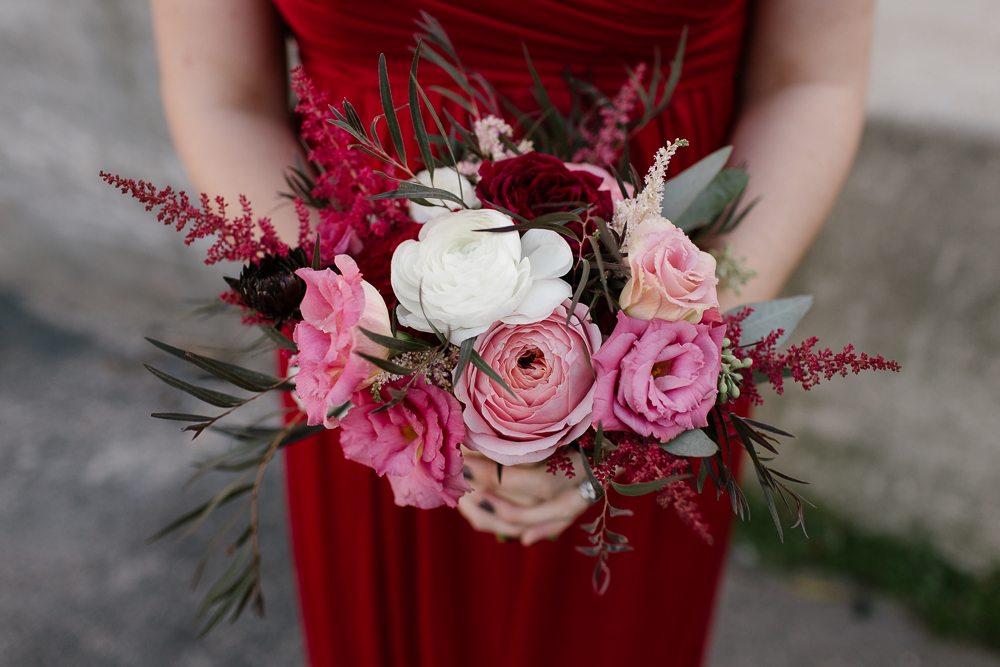 Can't get enough of that classic black bow tie look!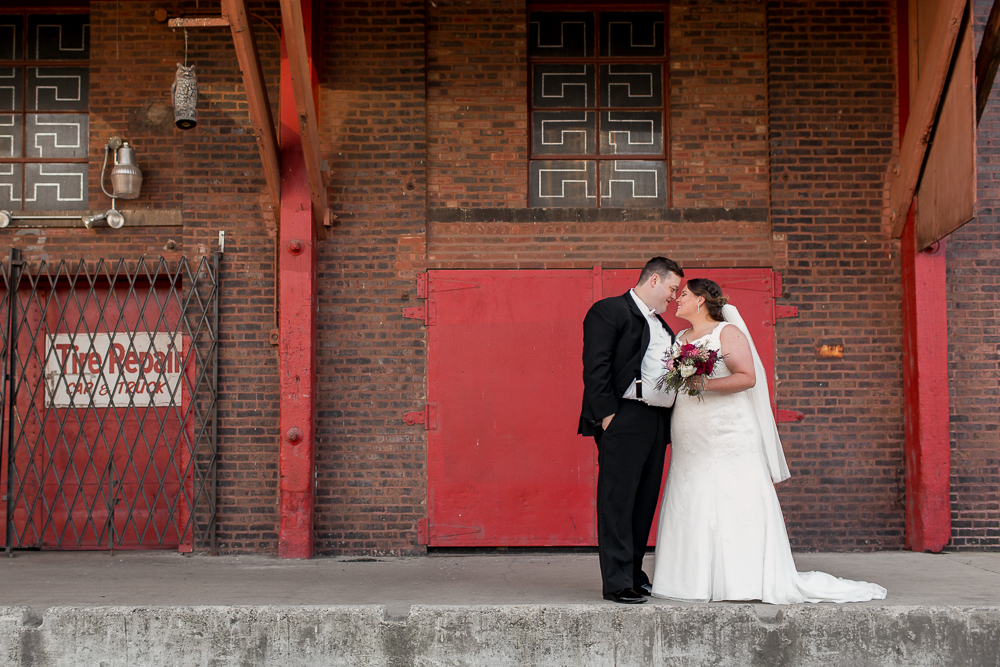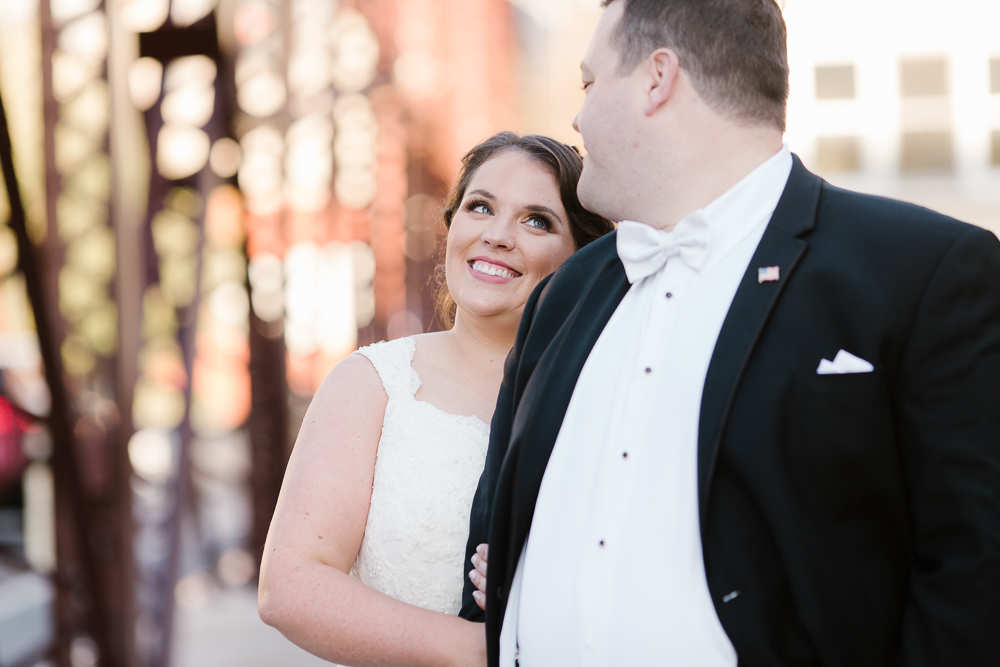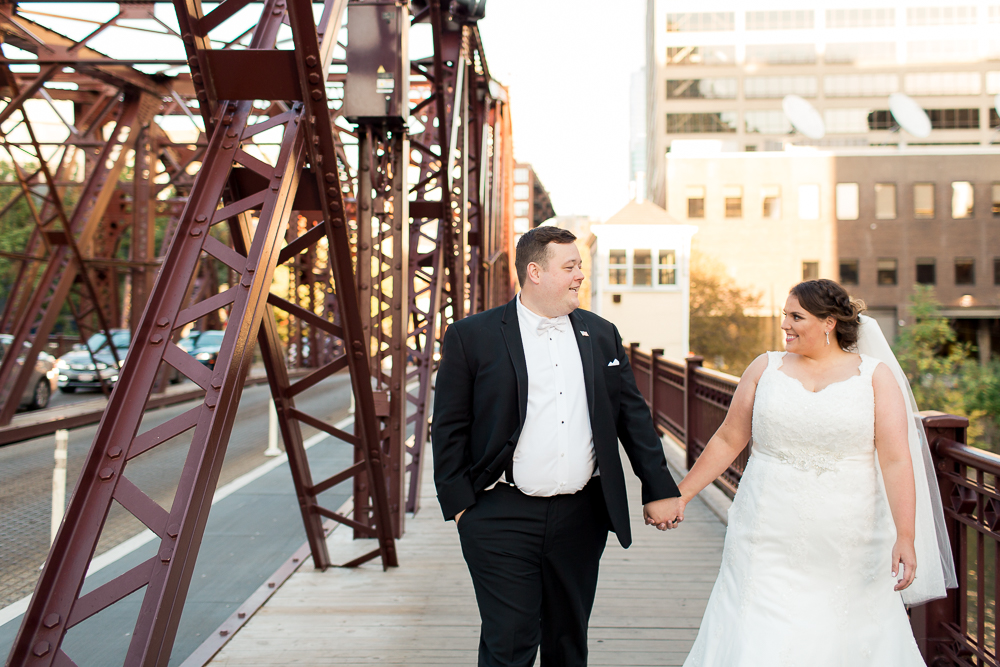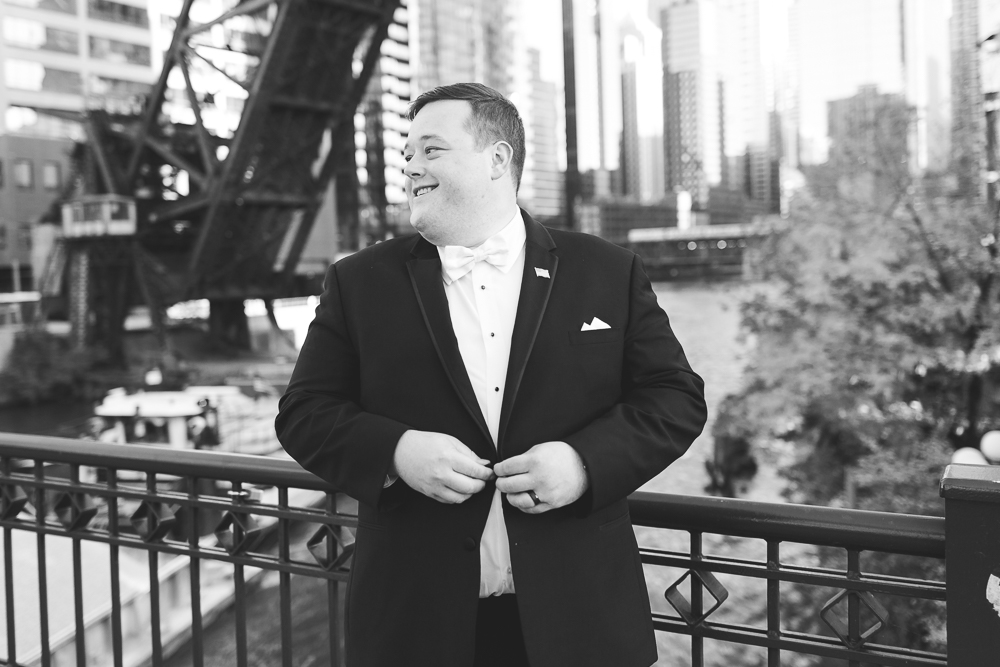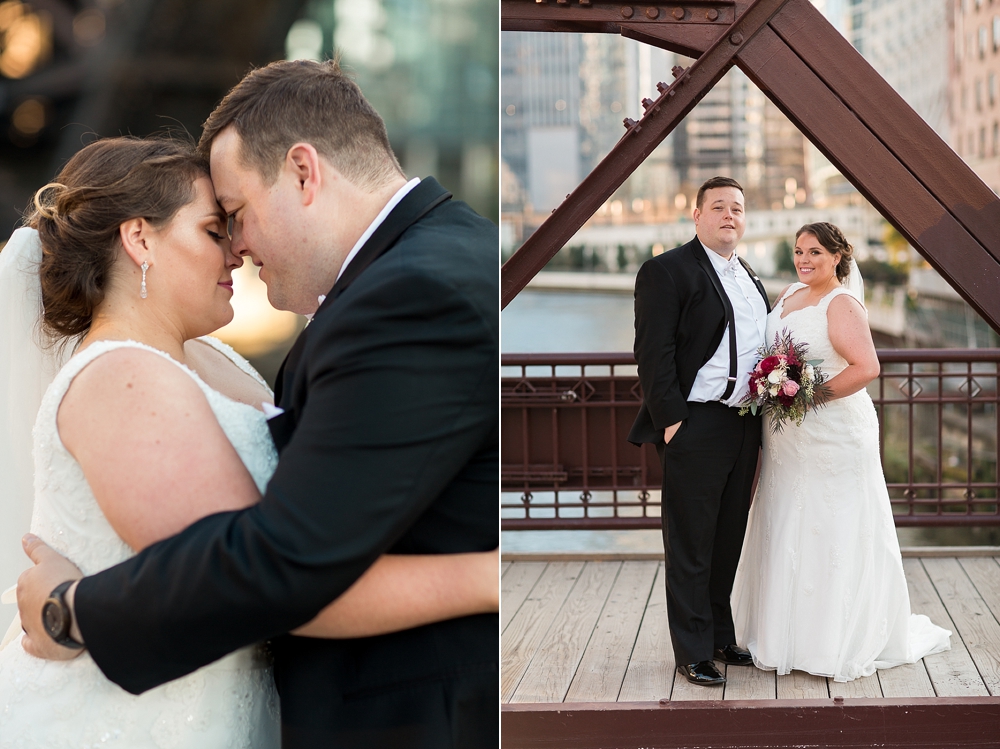 Beauties!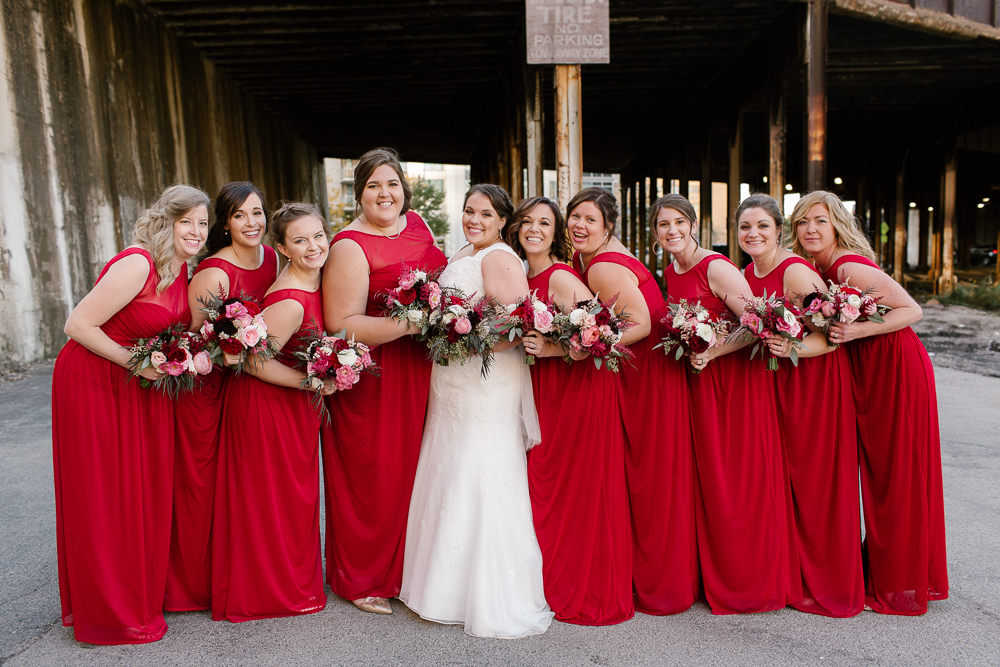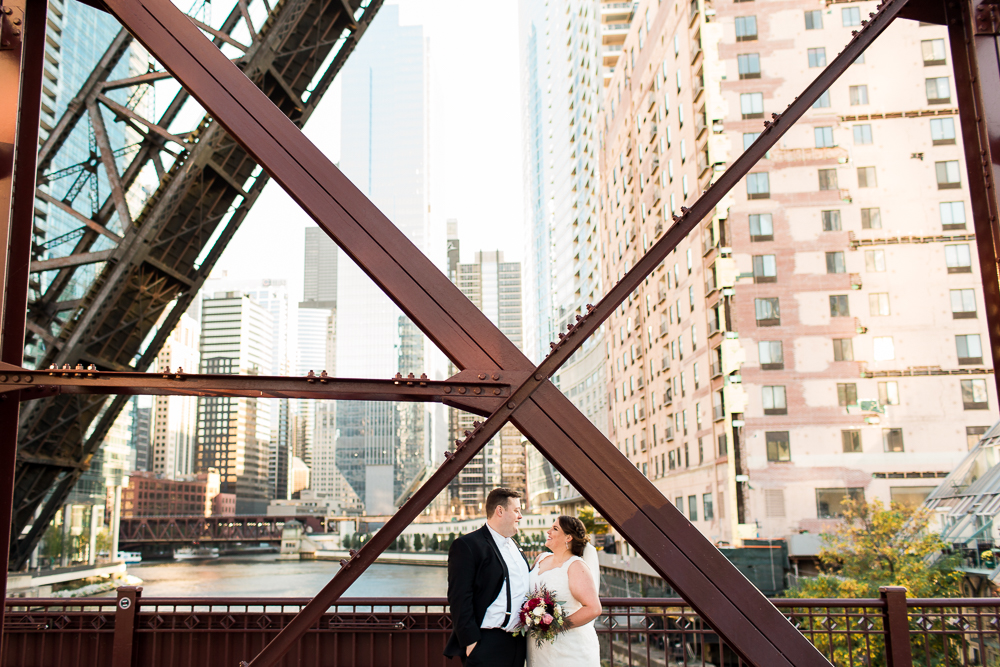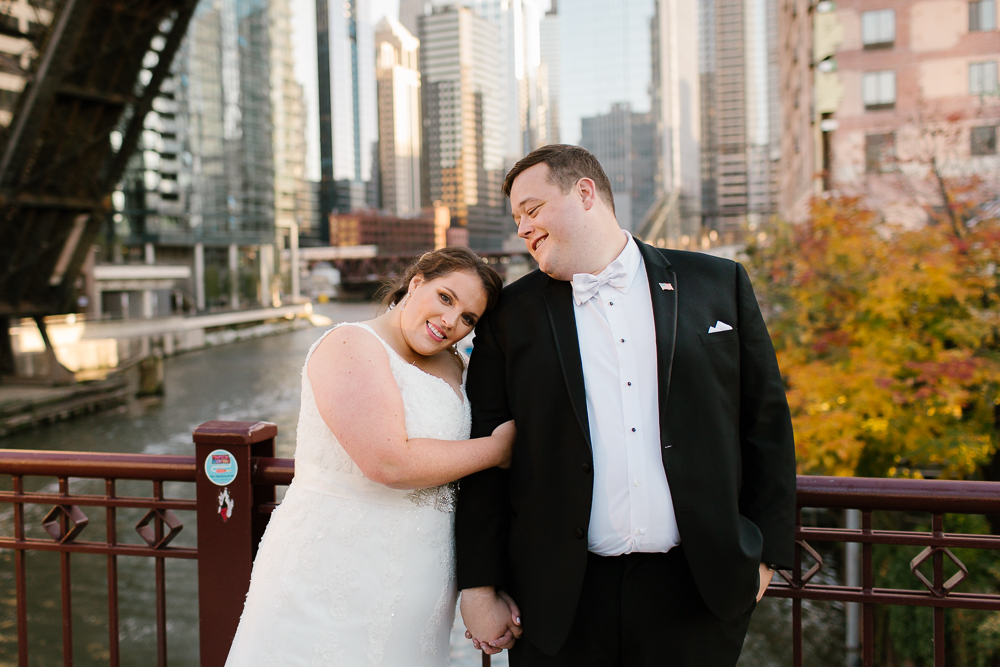 This beauty – Kati them blue eyyyyes totaly kill me!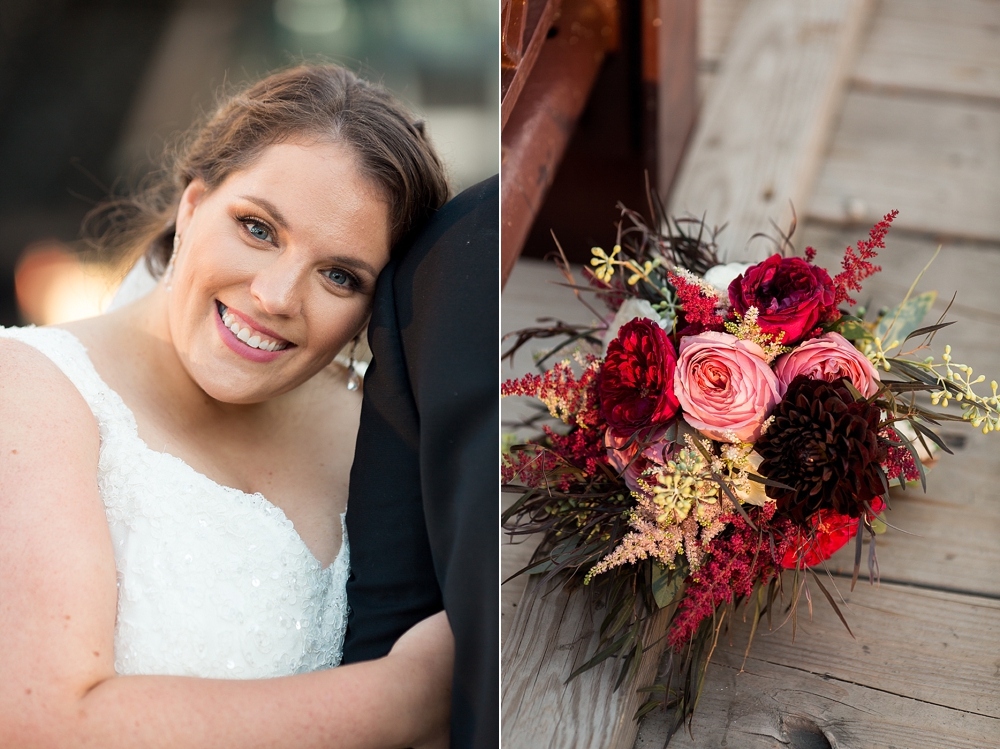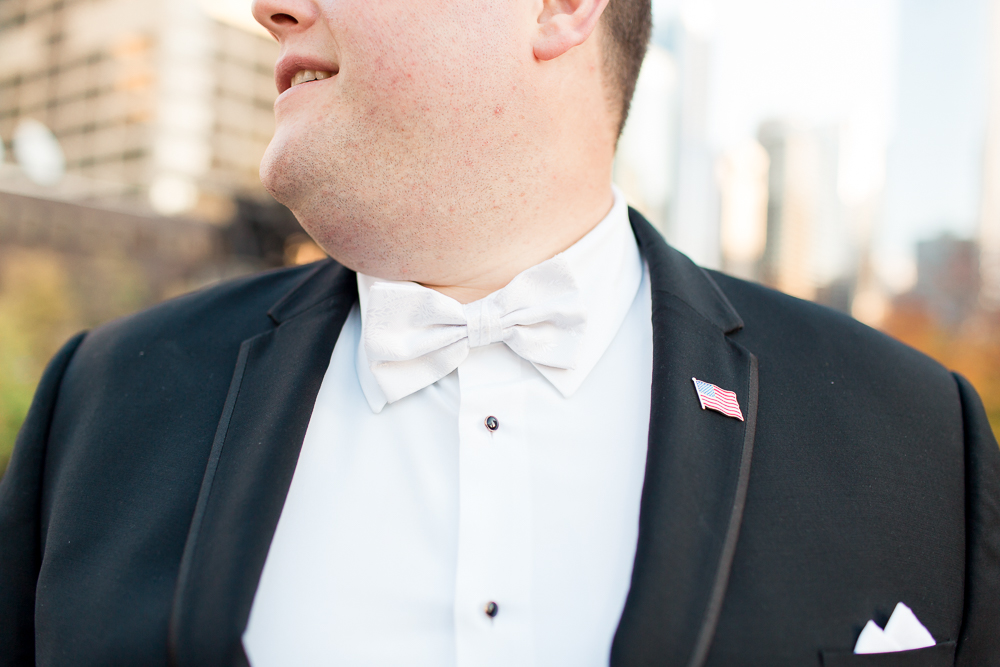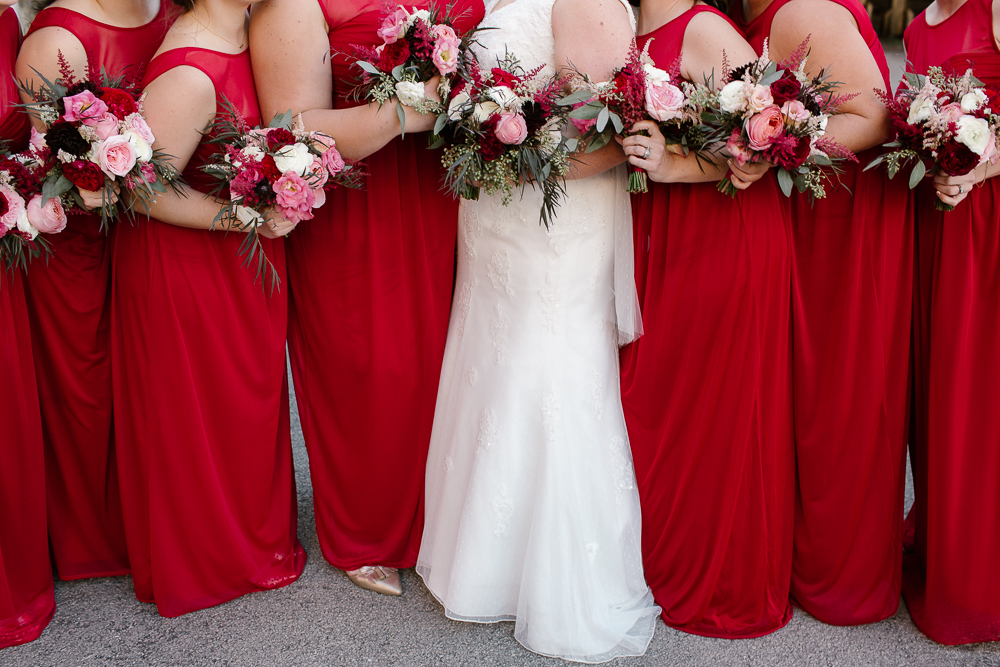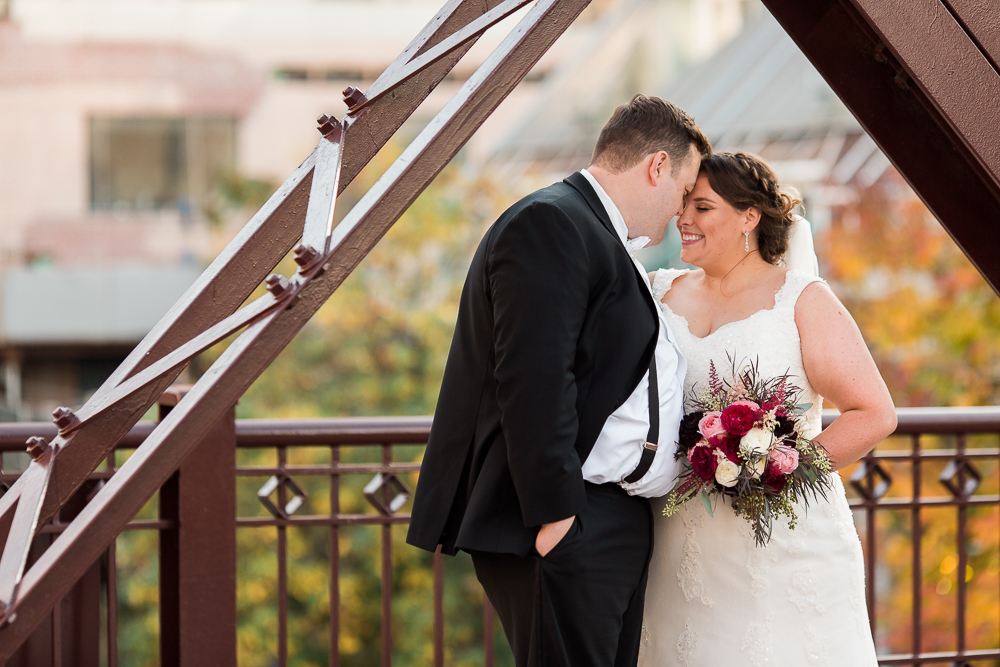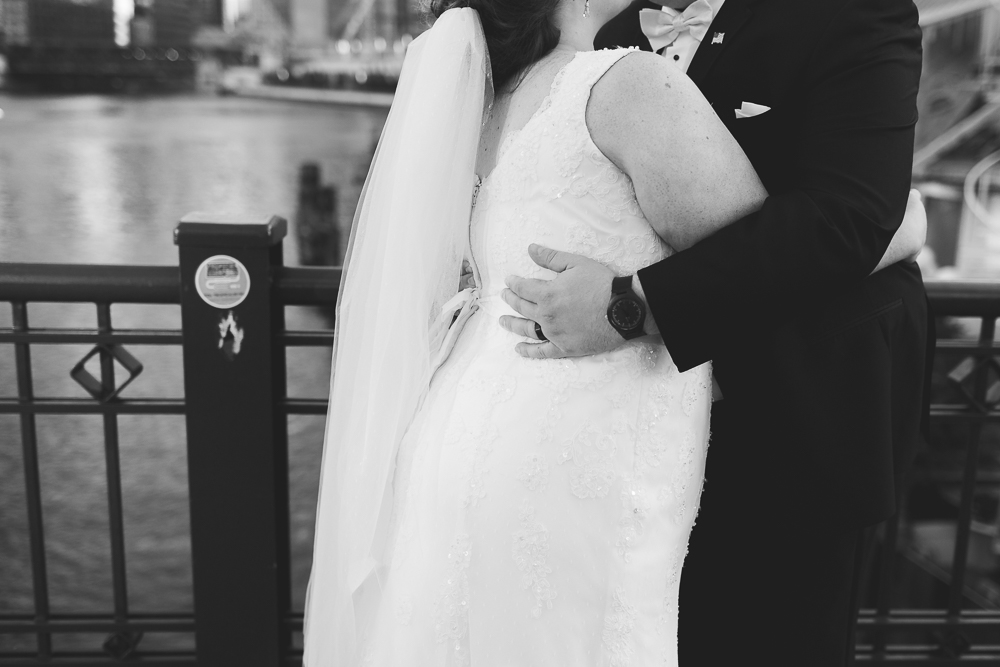 I mean you guys, seriously. Please make wallpaper of this in your house okay?!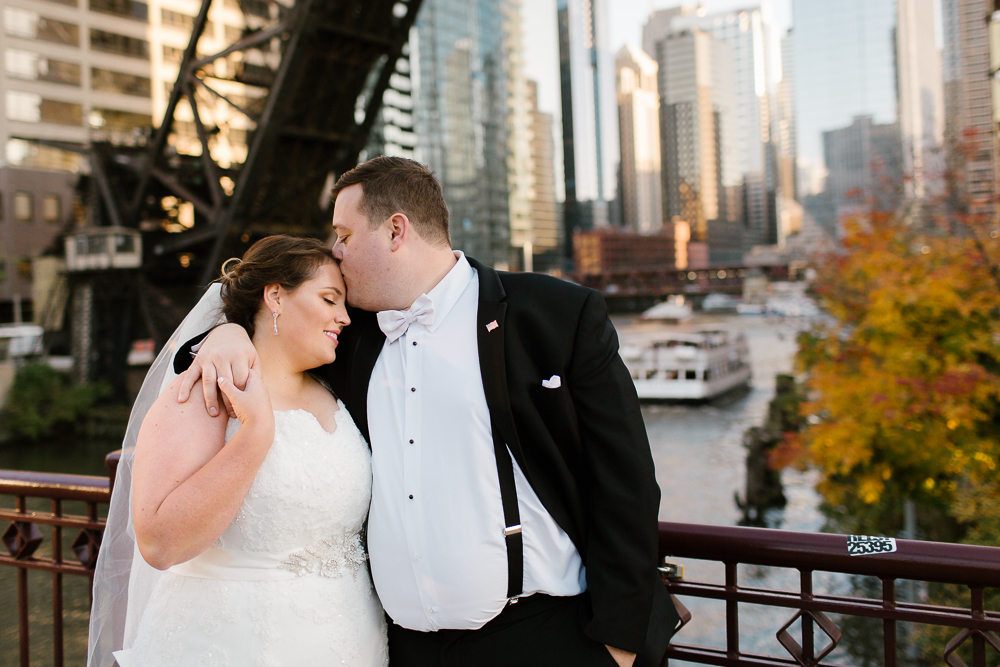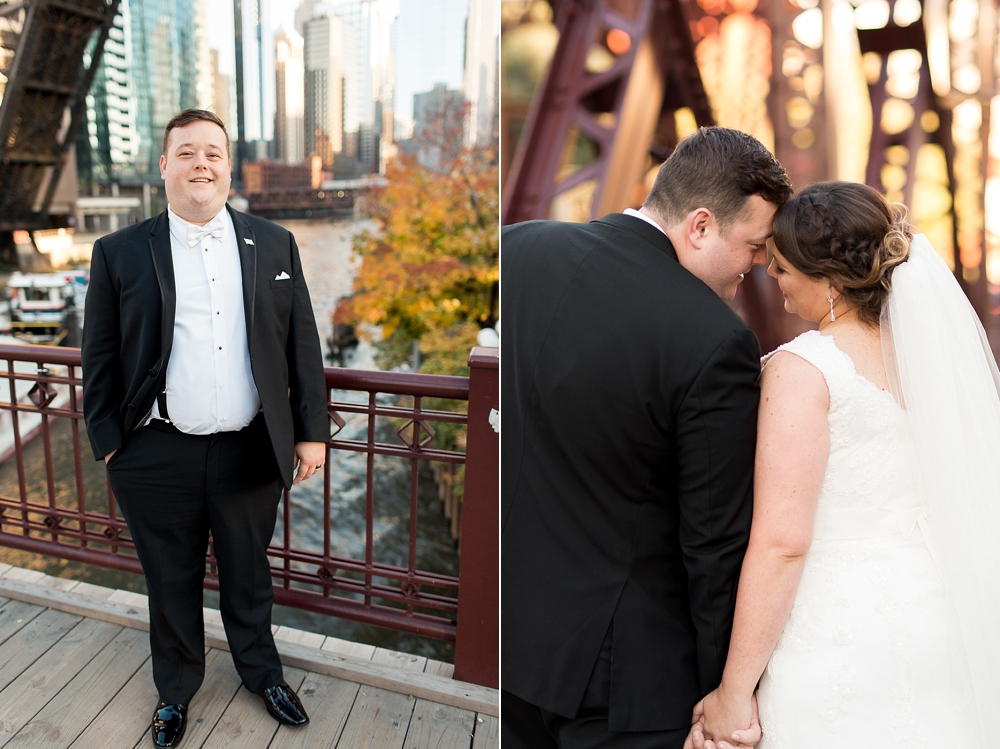 Thank you Maggie for crawling atop your minivan to get everyone into this shot without cropping off arms : )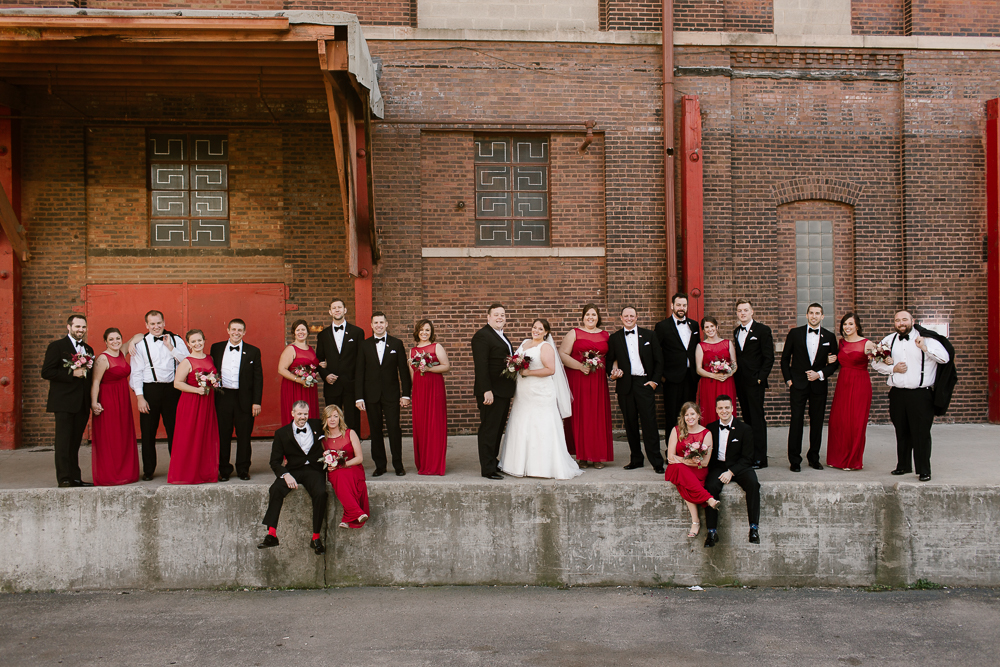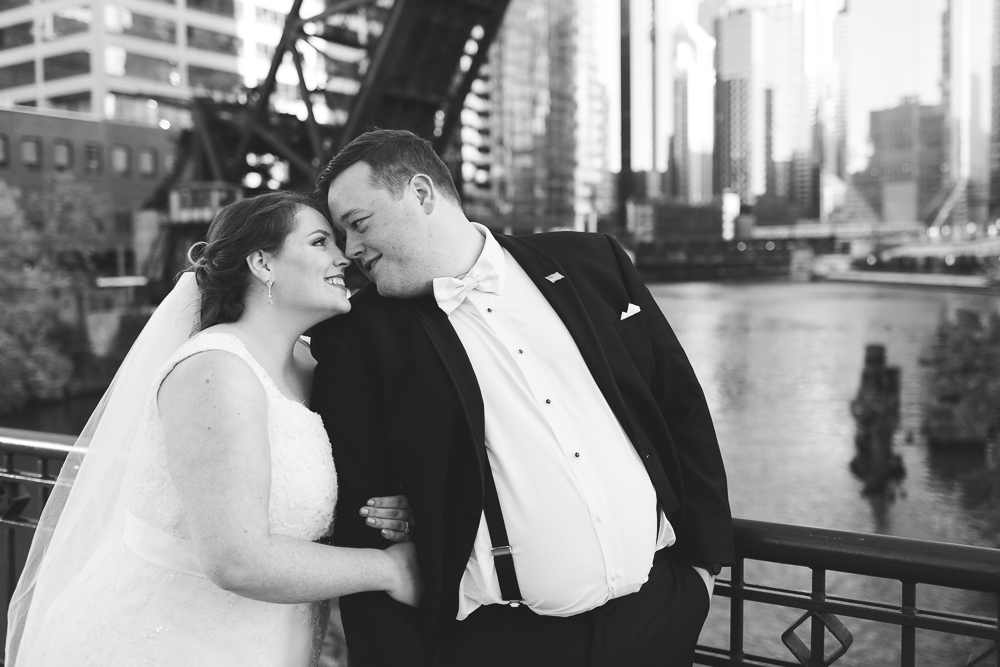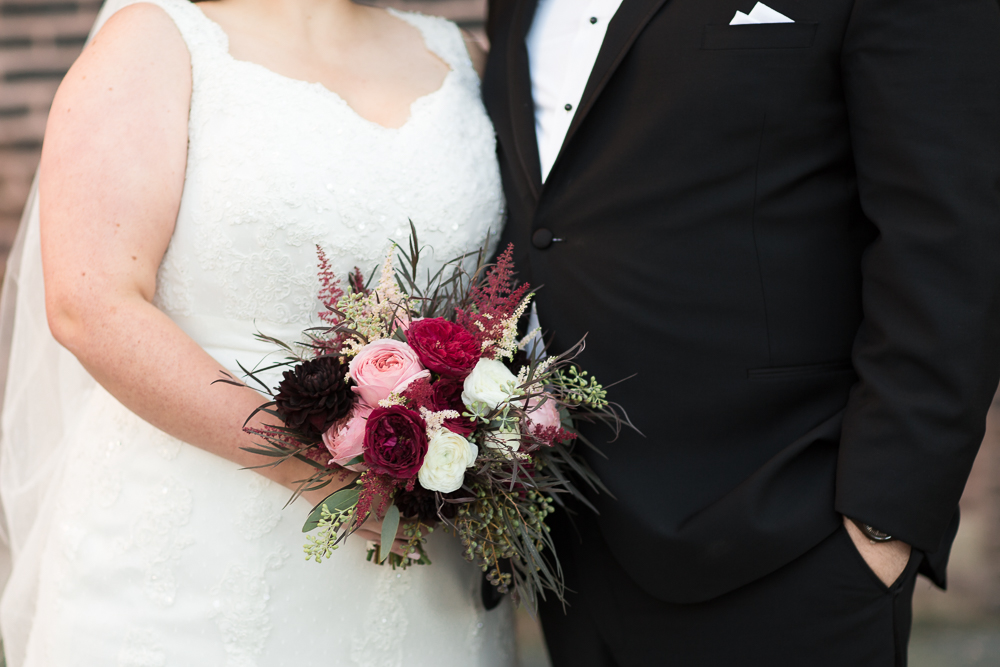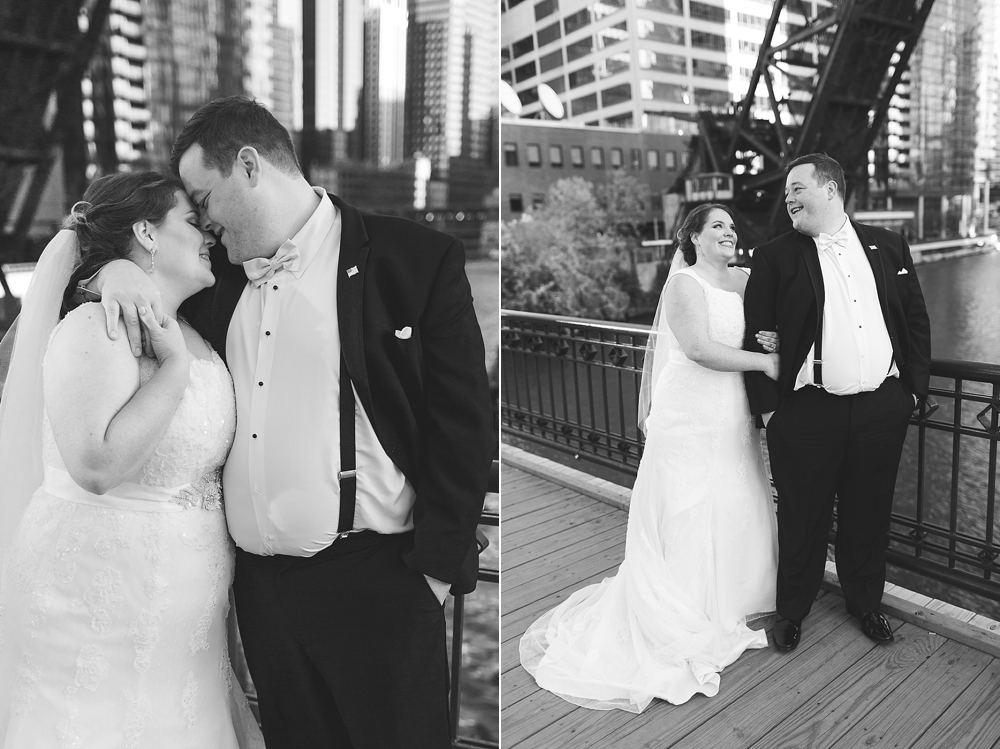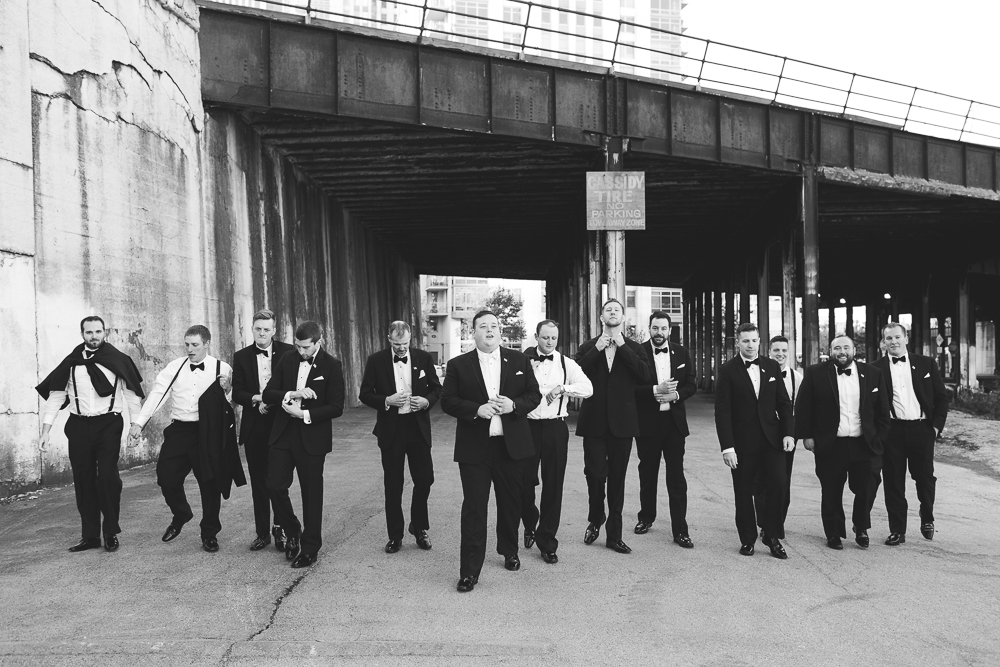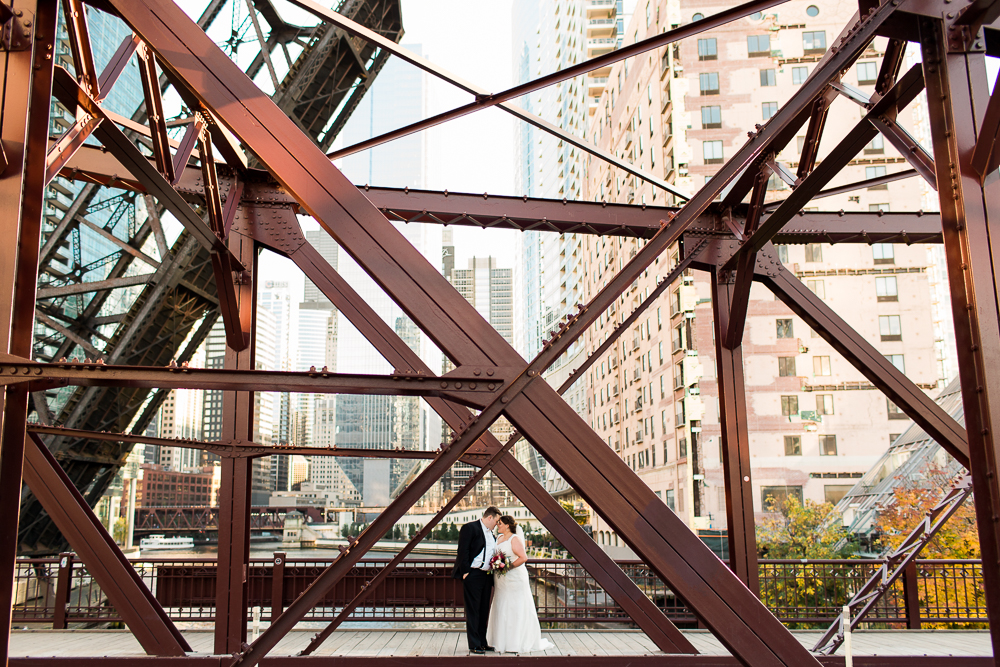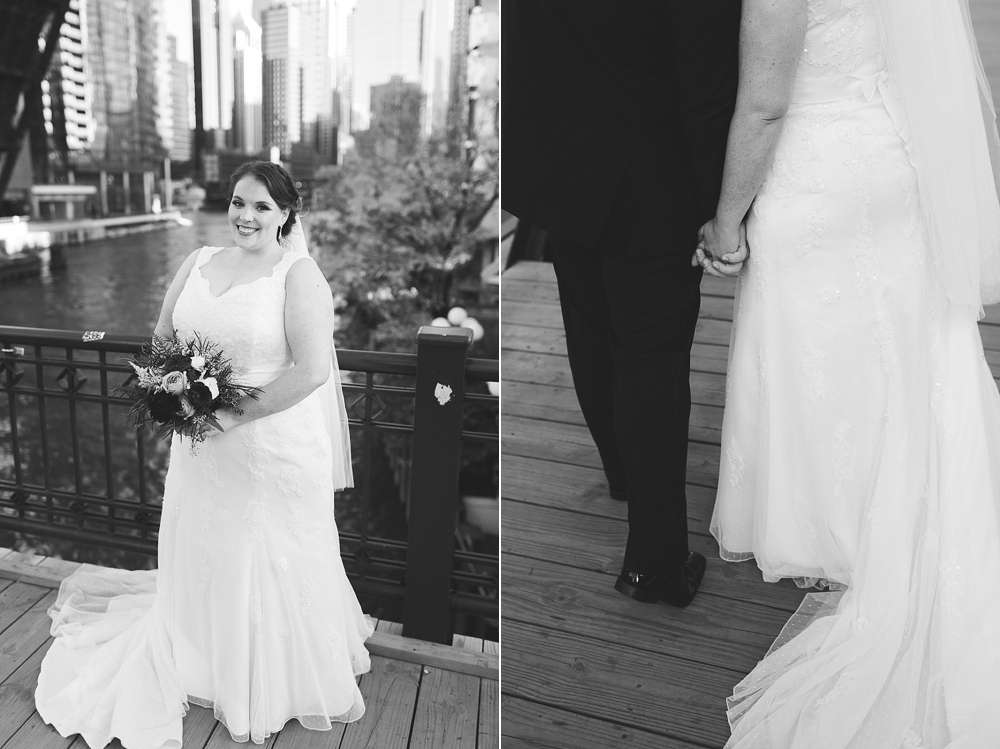 Seriously, you two laughing together is incredibly contagious : ) Keep it up please!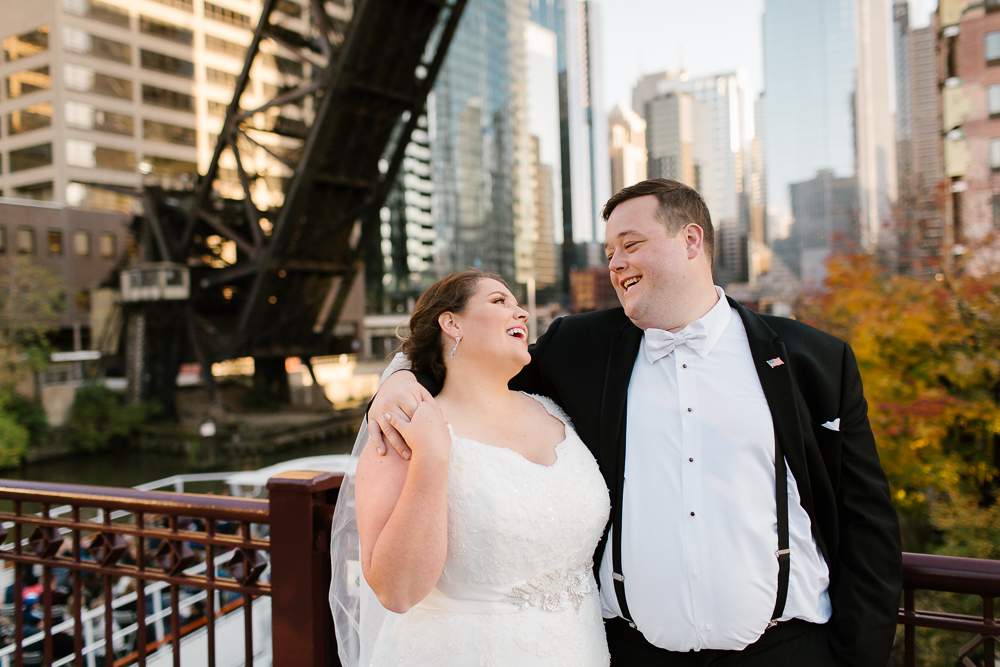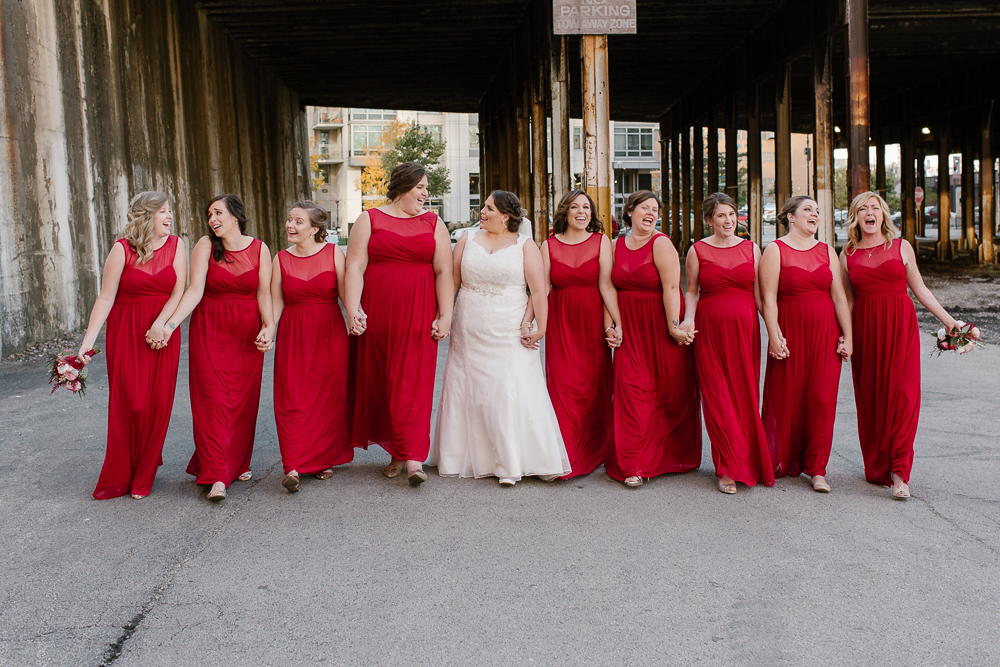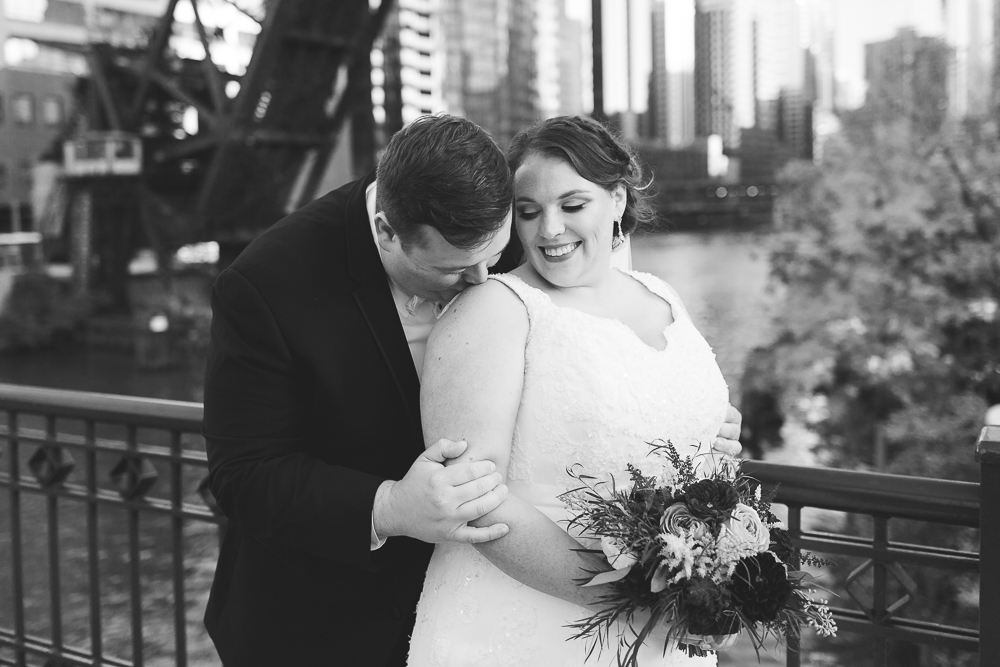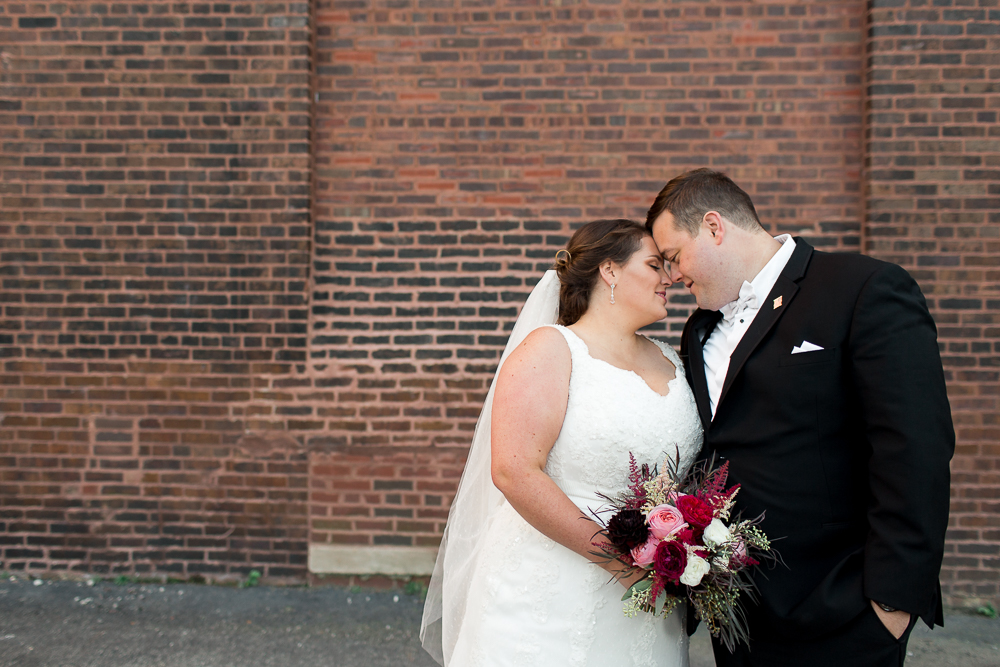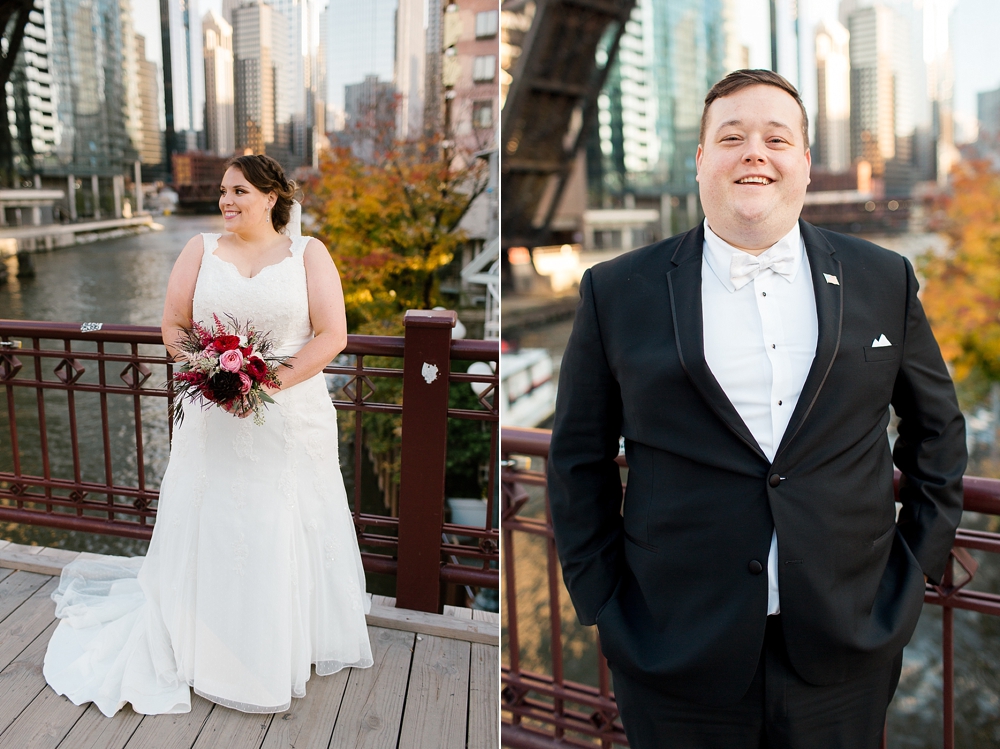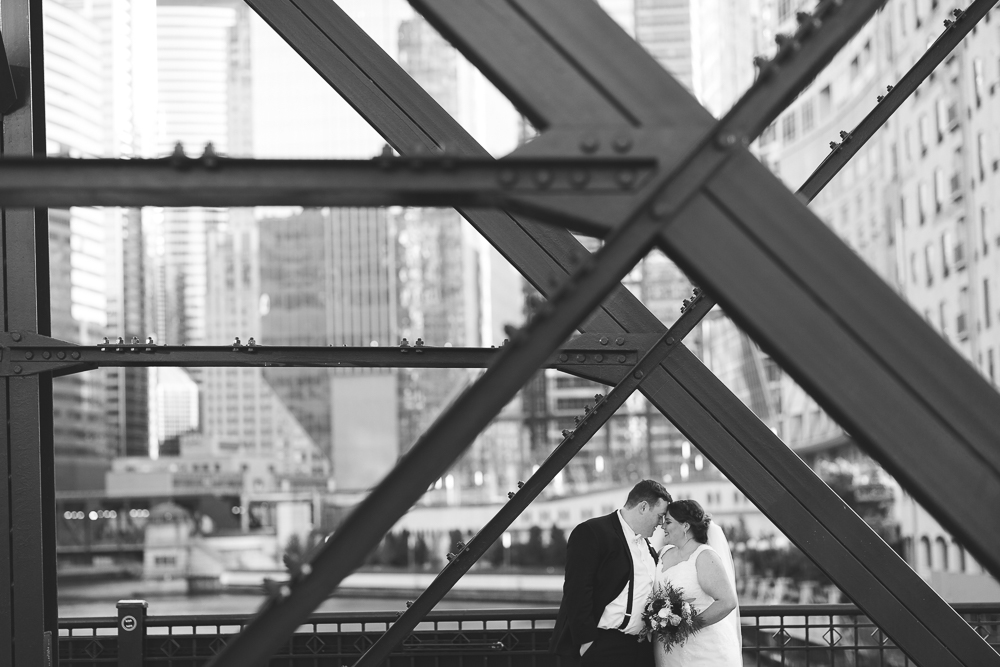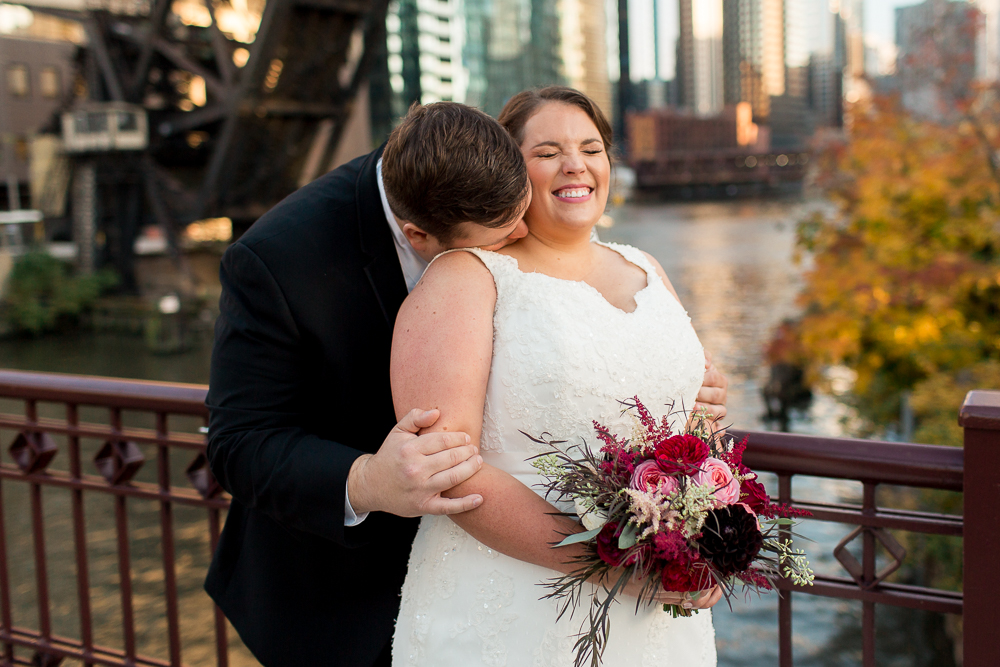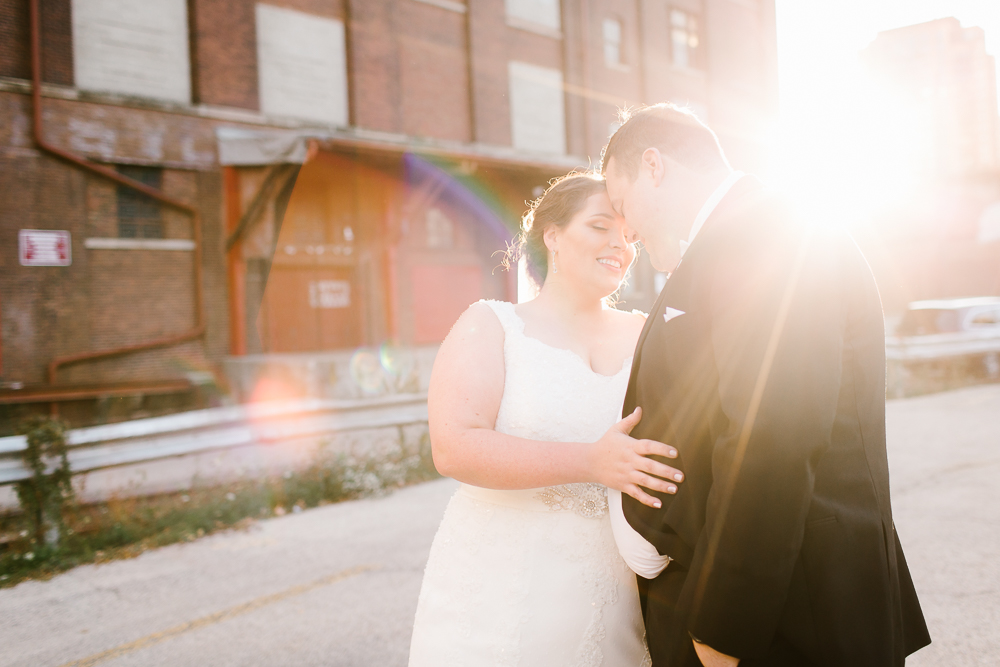 Yes, yes, yes, yes, yesssss!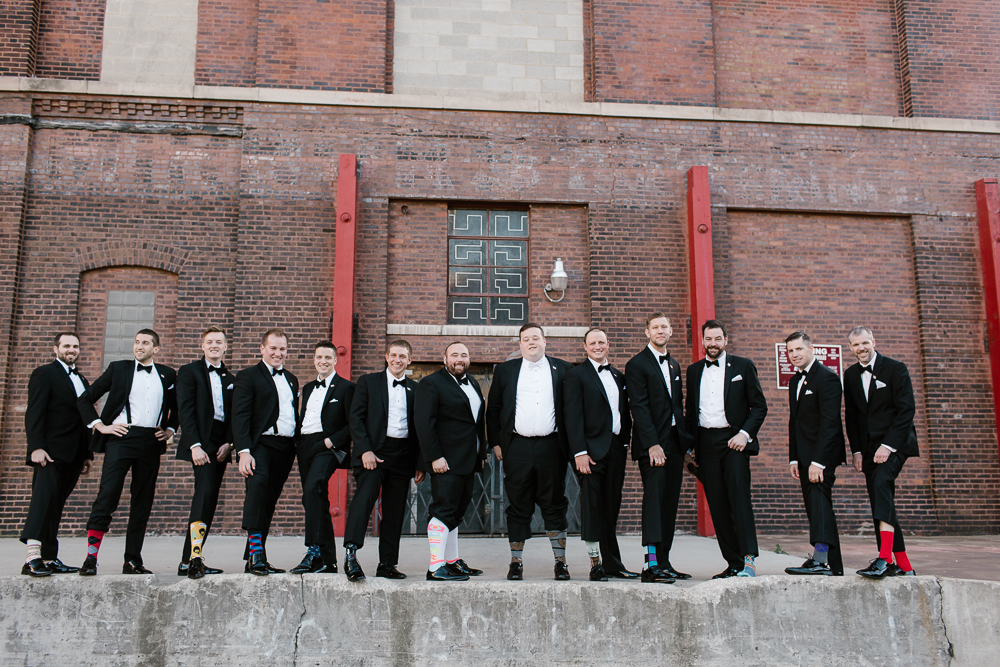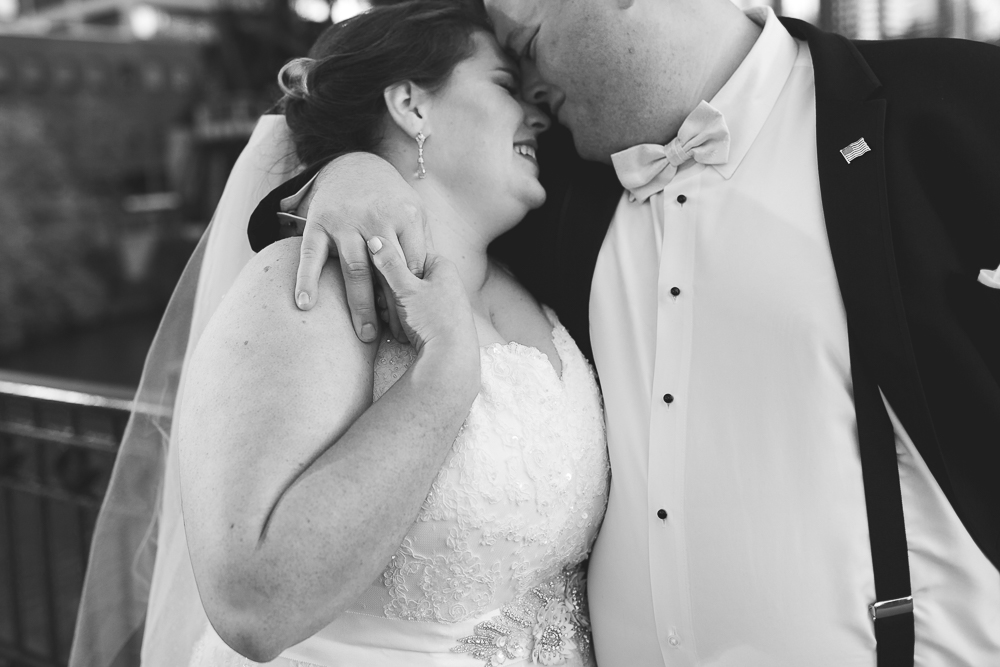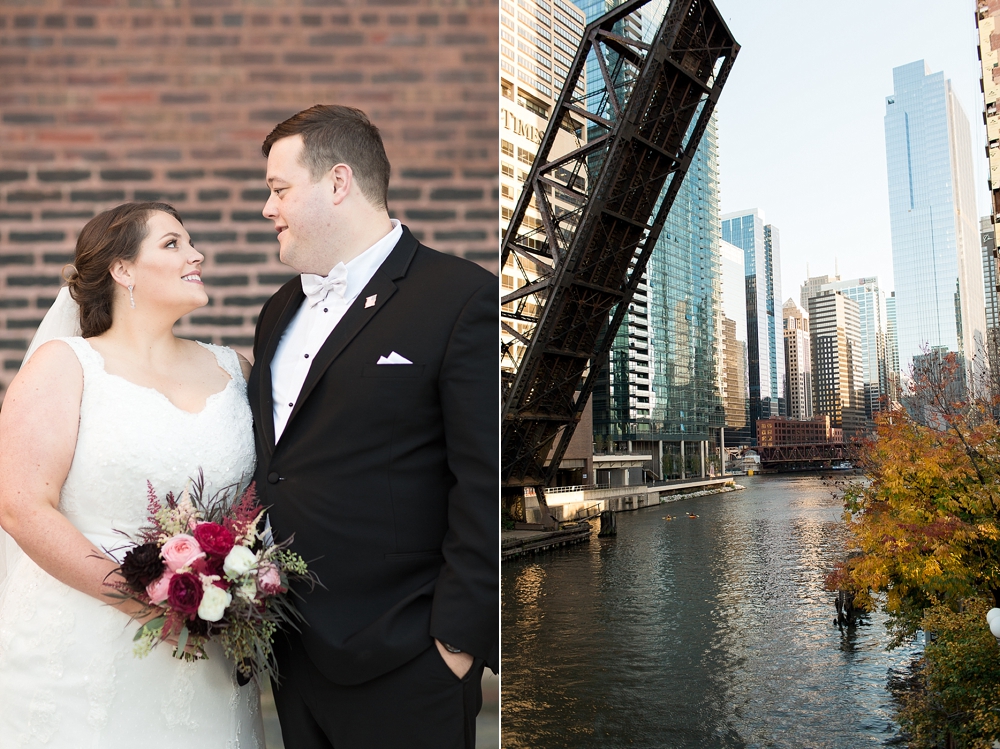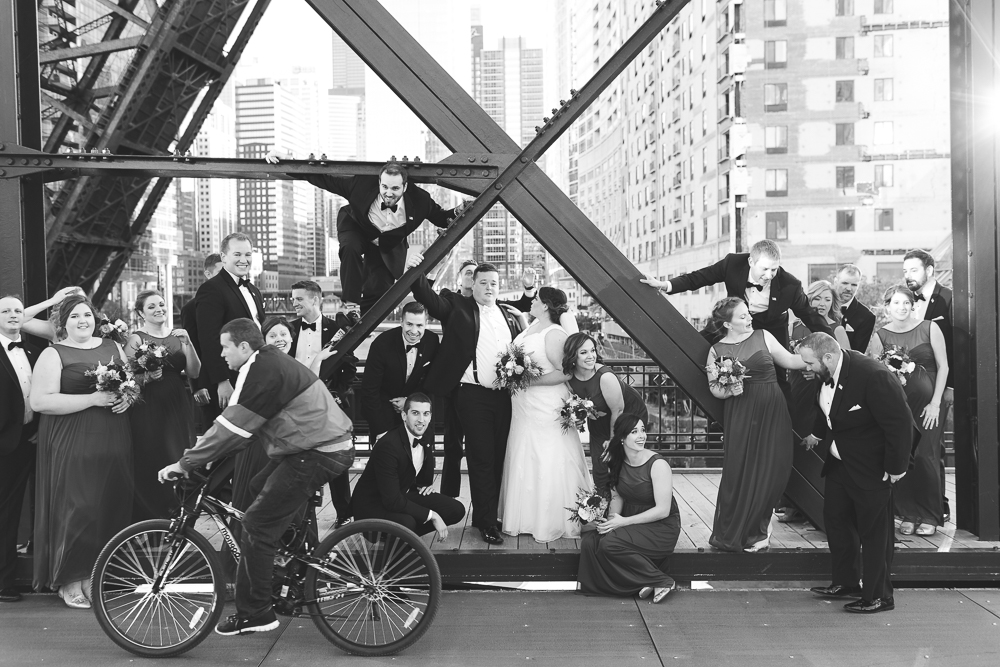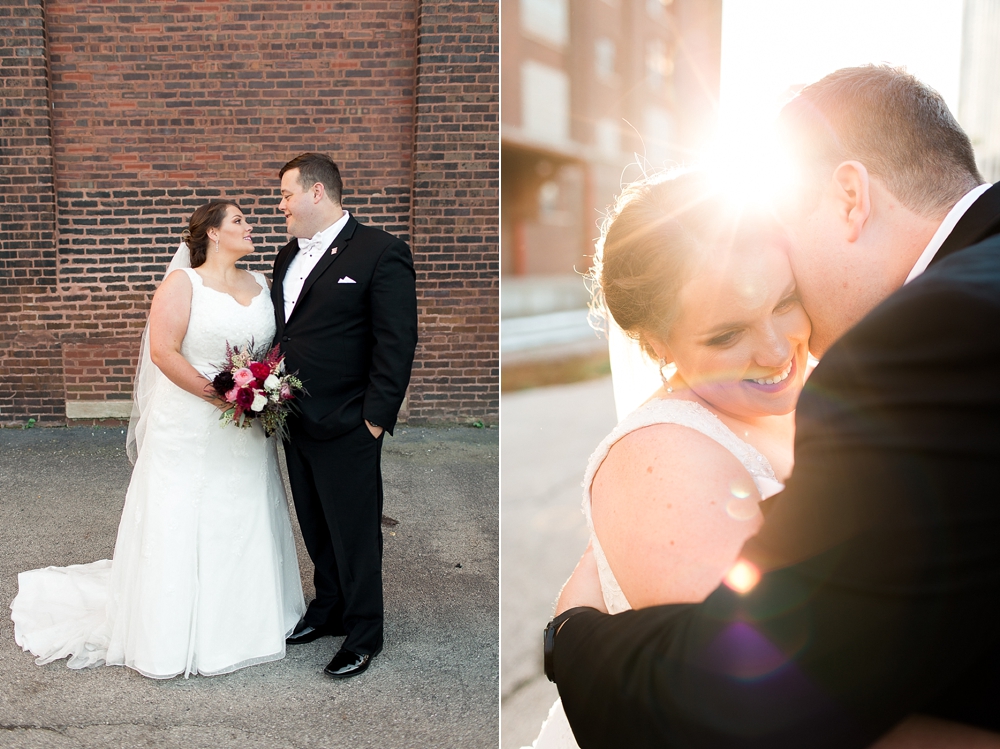 Um Baderbrau – thanks so much for these awesome pops of color we got to play with!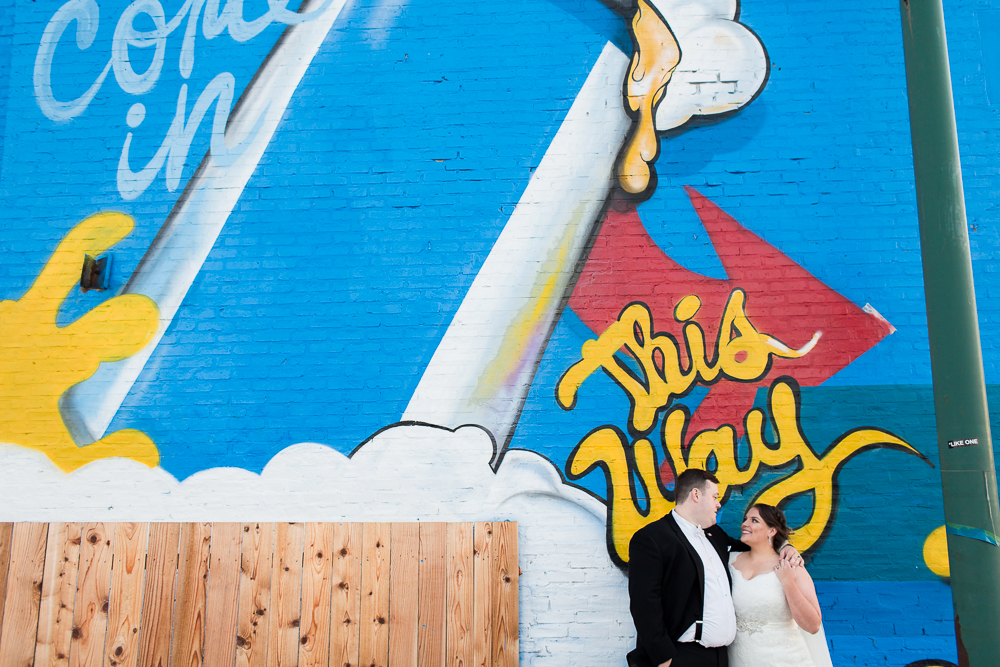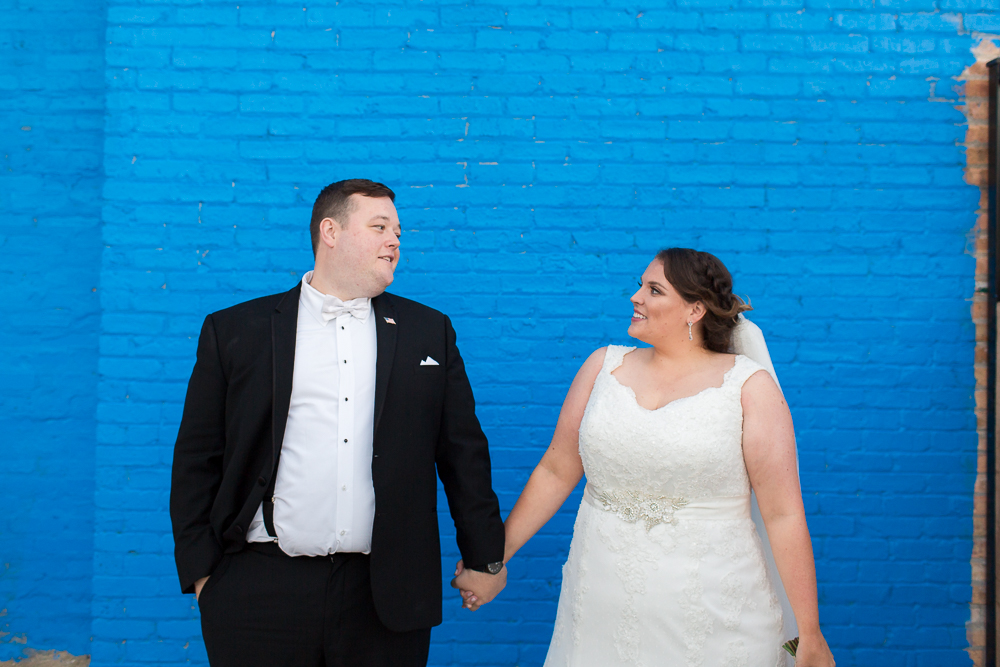 I so super love this.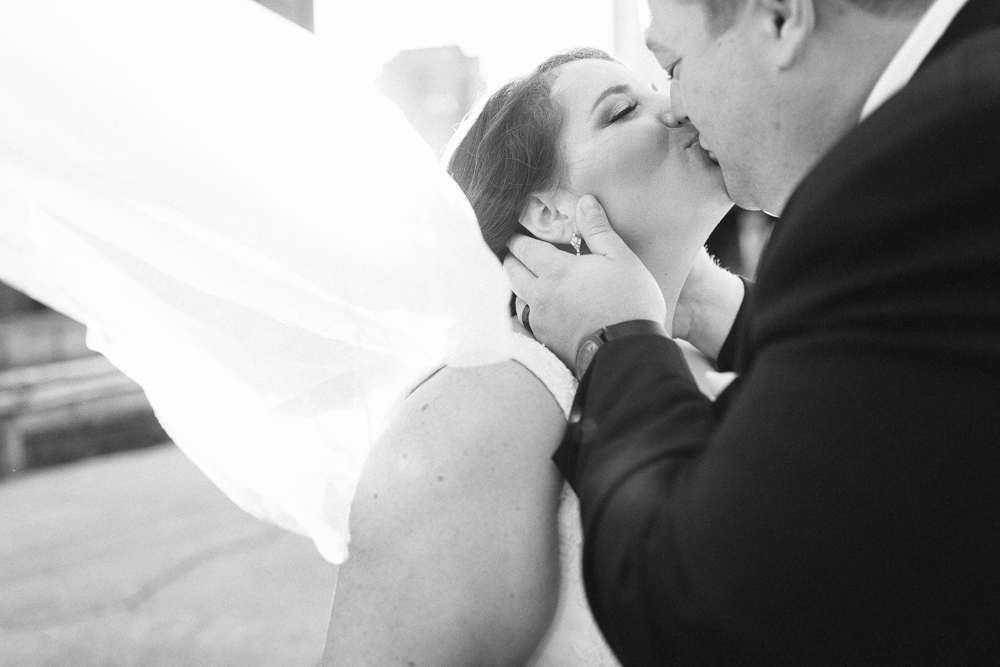 A few words from the bride + groom…
Most hilarious moment of the day:
Kevin: In everything that was going on before the wedding, Kari forgot to get a garter. So on the day of the wedding one of my groomsmen ran home and grabbed one that he had caught at another wedding: a blue and orange Illini one.
Kari: After we took pictures as a group by the Kinzie bridge, Laurie sent our bridal party back to the bus while Kevin and I took pictures by ourselves. While we were away, one of my bridesmaids who was pregnant had to pee. My sister in law found a random lady walking her dog and paid her to let them use her bathroom in a building close by.
Would you have done anything differently:
Kevin: We drank Baderbrau out of the two of the three beers offered by the end of the night. So it would be to have more beer.
Kari: While I would have loved to have spent more time talking with all the different groups of family and friends, the day just went by too fast.
Favorite moment of the day:
Kevin: Our first dance was a really great moment between Kari and I in front of all of our family and friends.
Kari: Walking into the venue completely set up for the reception. When Kevin and I first booked Baderbrau, it was a bare bones warehouse, complete with a backhoe sitting in the middle of the space. While some people thought we were crazy for booking a venue that was in its early stages of construction and remodeling, I knew that everything would turn out great. And I wasn't wrong! Every detail was perfectly arranged throughout the room and it was even greater than I had imagined.
Any tips or tricks for future couples in the midst of wedding planning:
Kevin: When everyone says it's the fastest day of your life, they are right! Take time to enjoy the special moments with your new spouse, family and friends.
Kari: One thing that I found to be incredibly helpful in the process was relying on Kevin's opinion and honesty. I can very easily get too wrapped up in small details and he would always remind me to look at the bigger picture, and realize that a week after the wedding no one would remember the color of the runner on the table, let alone the fact that there even was one.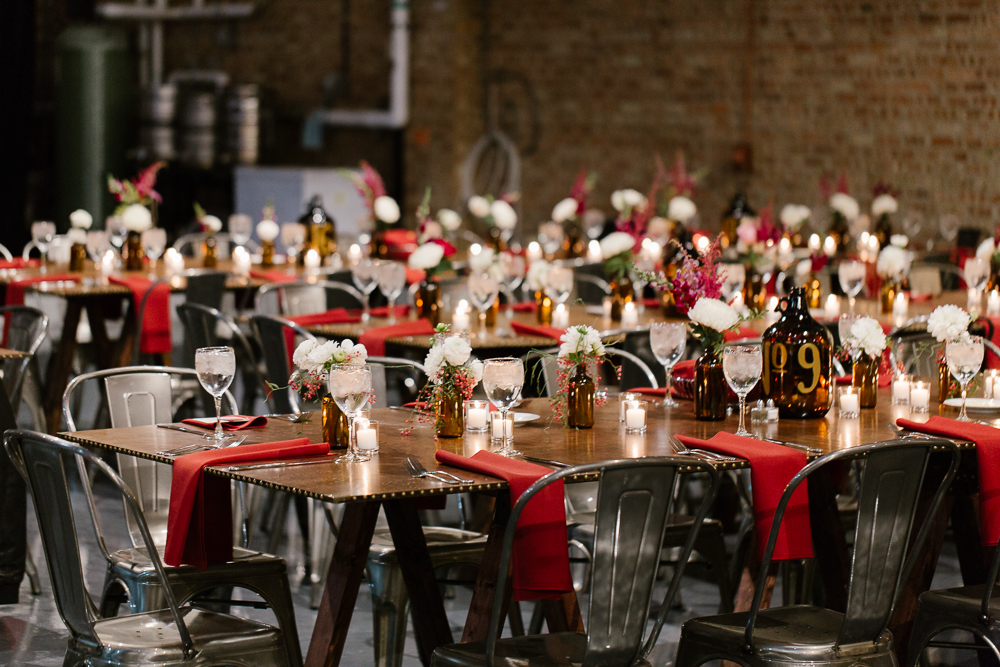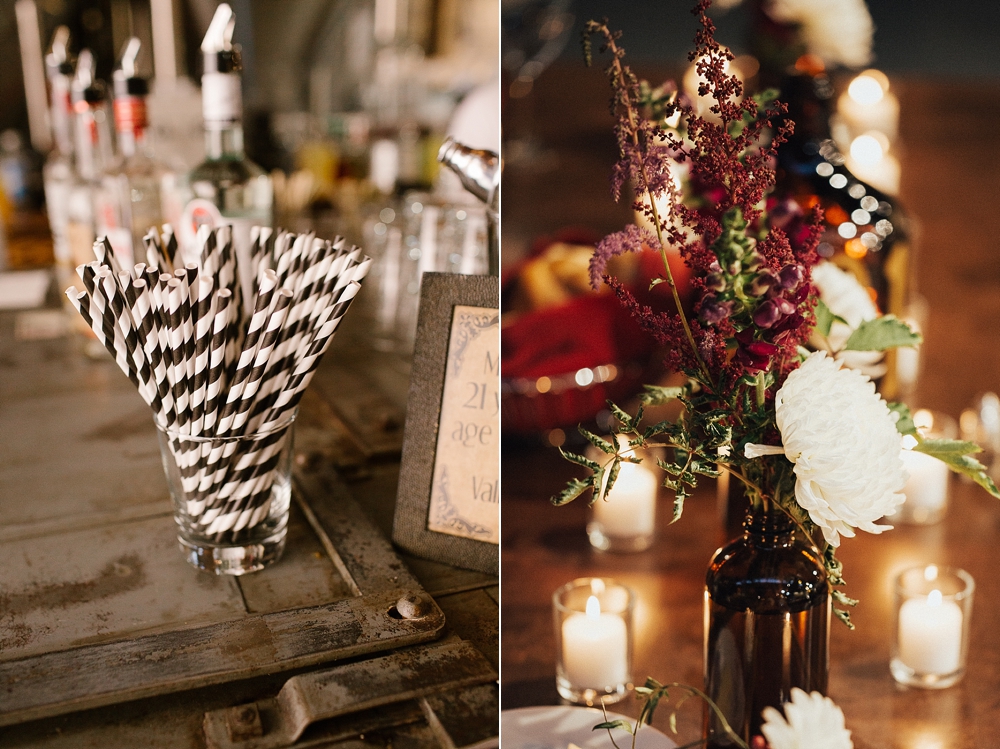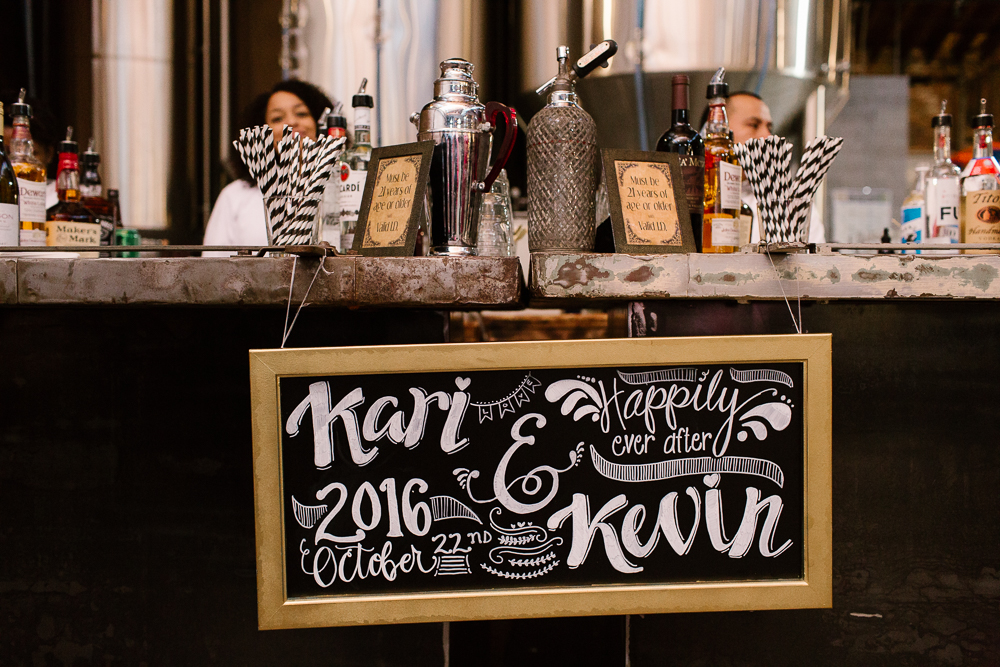 So to say I was in love with the flowers that filled this day would probably be an understatement.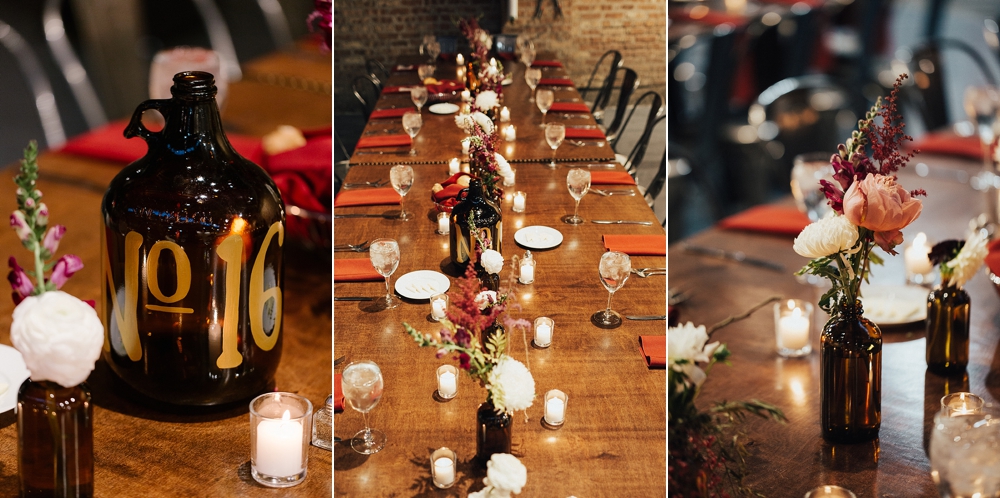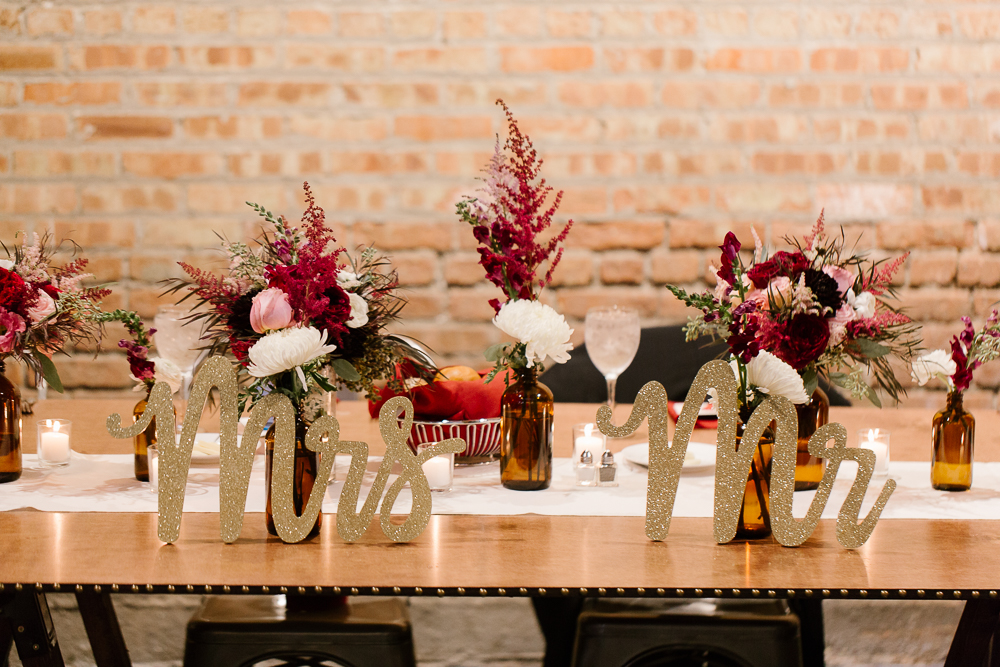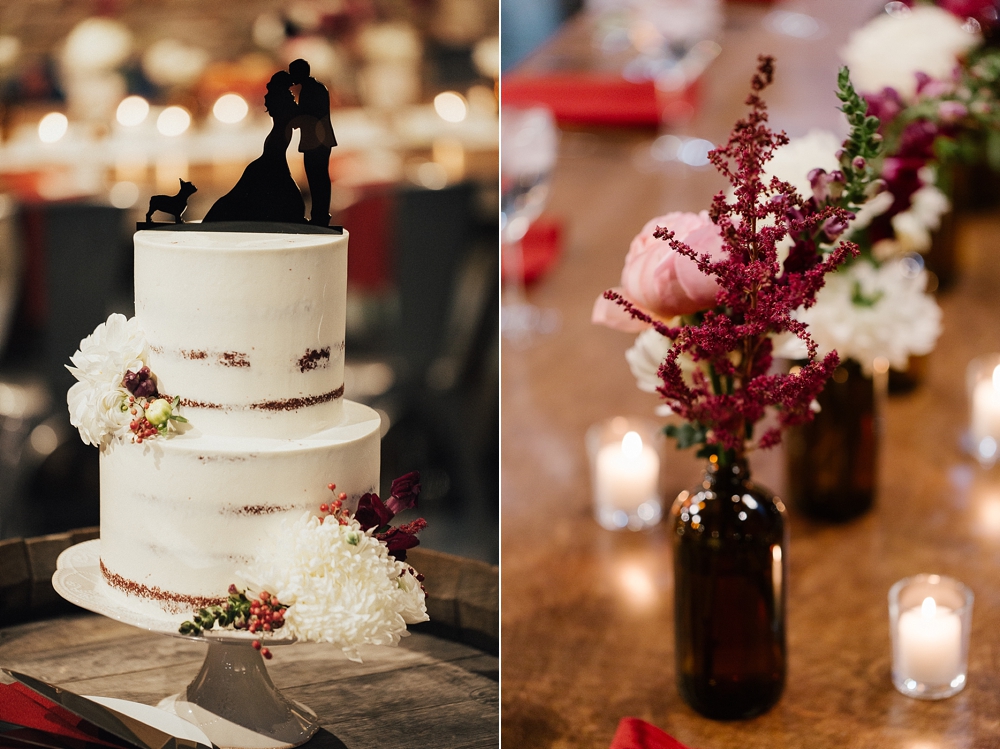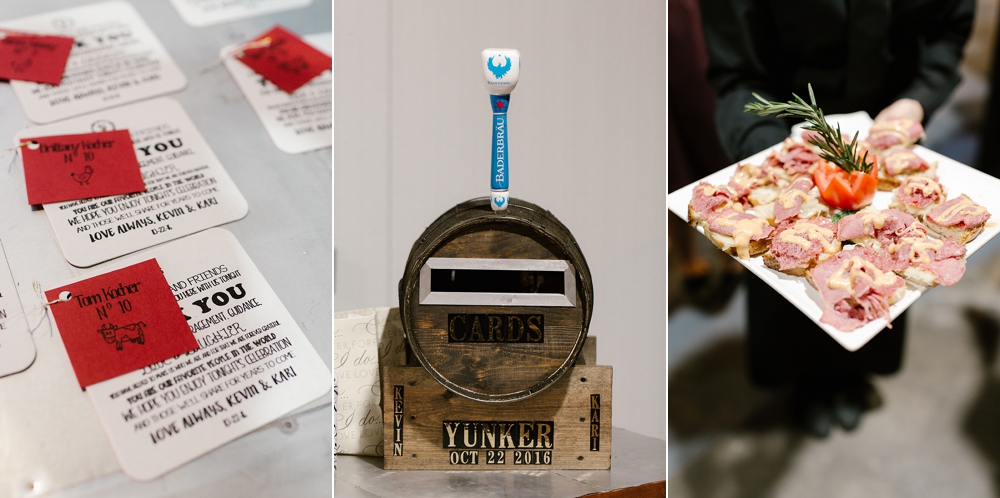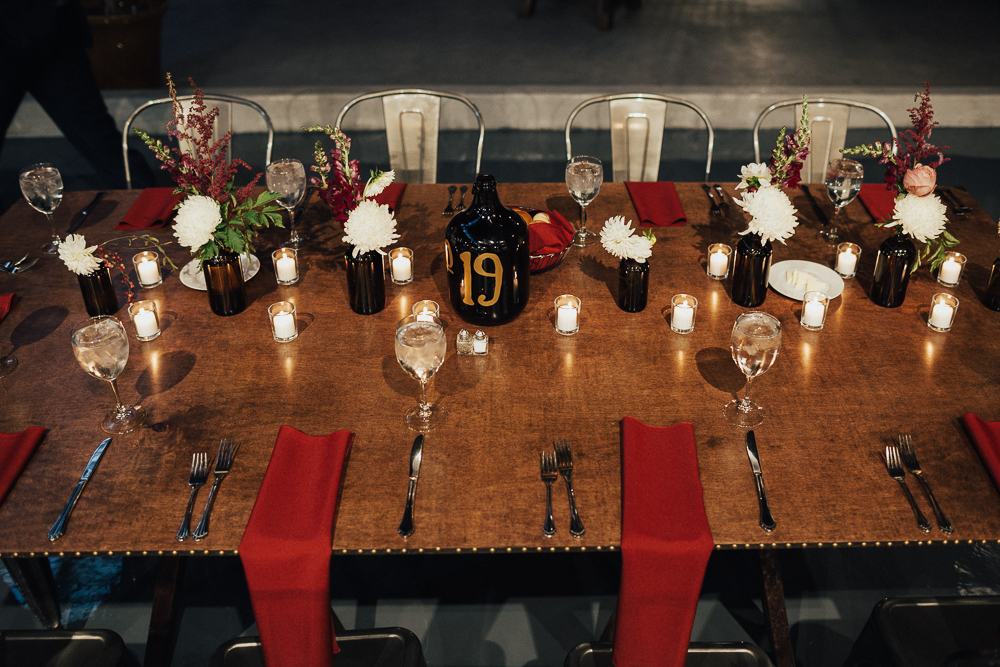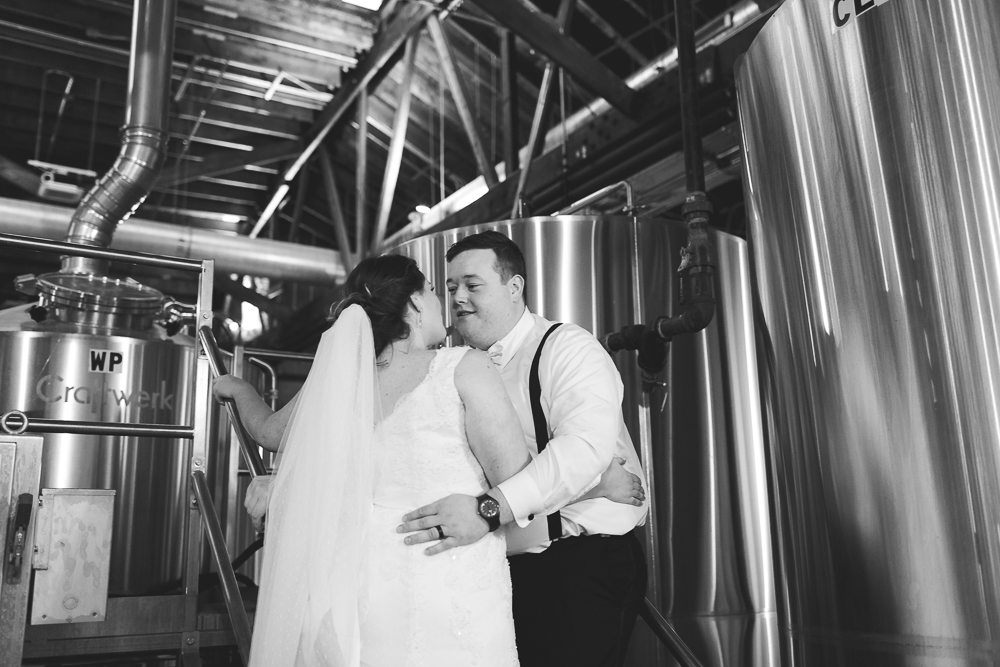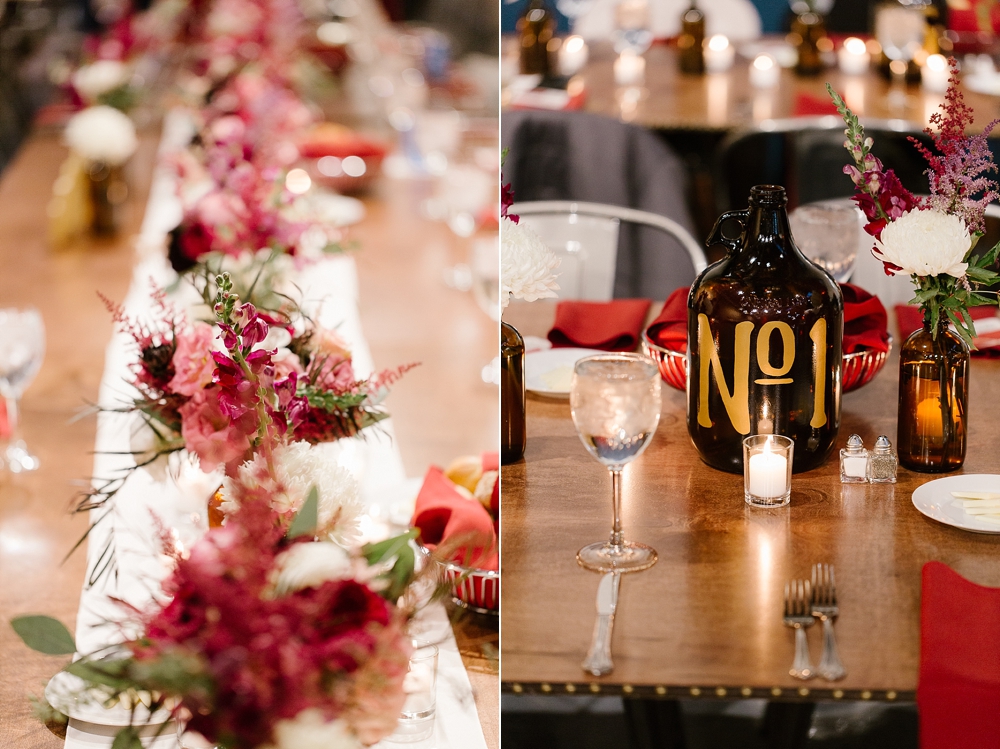 I mean I had a major flower crush…. and Kari's amazing bridesmaids were responsible for setting all this goodness up. They did such an incredible job!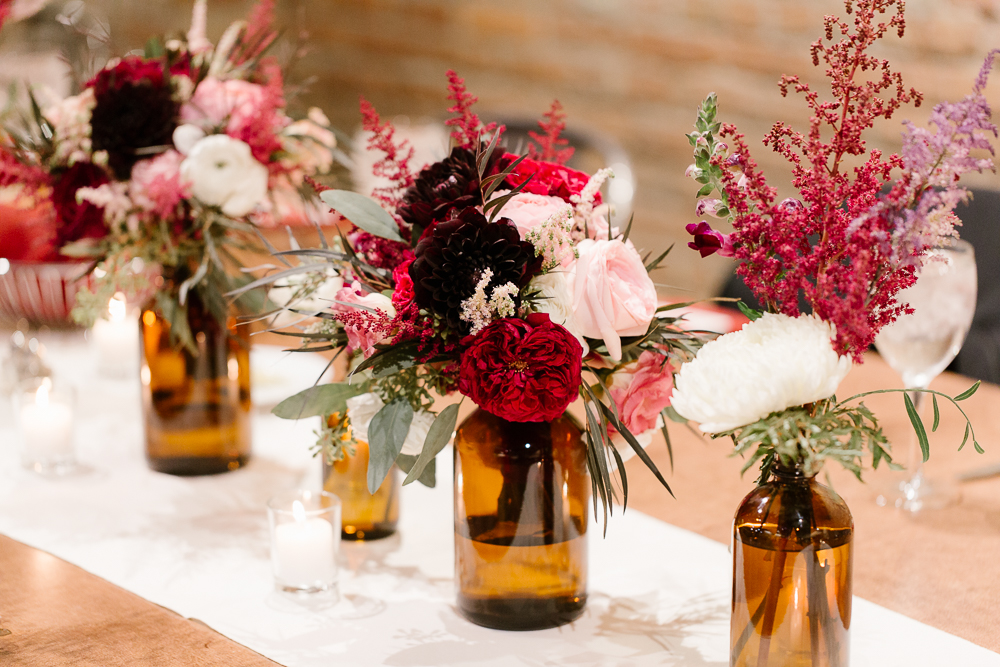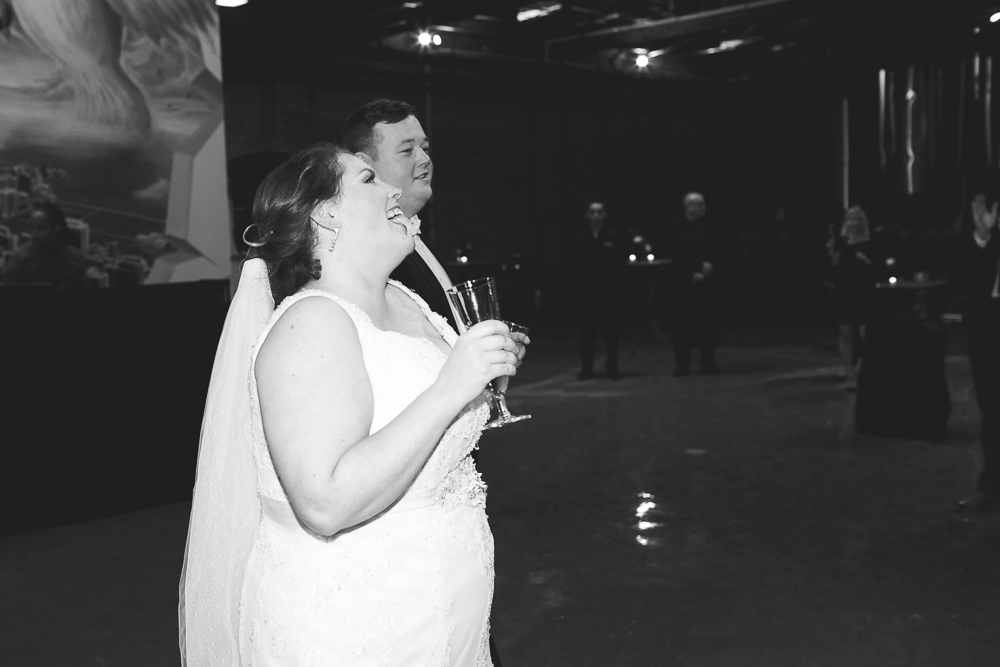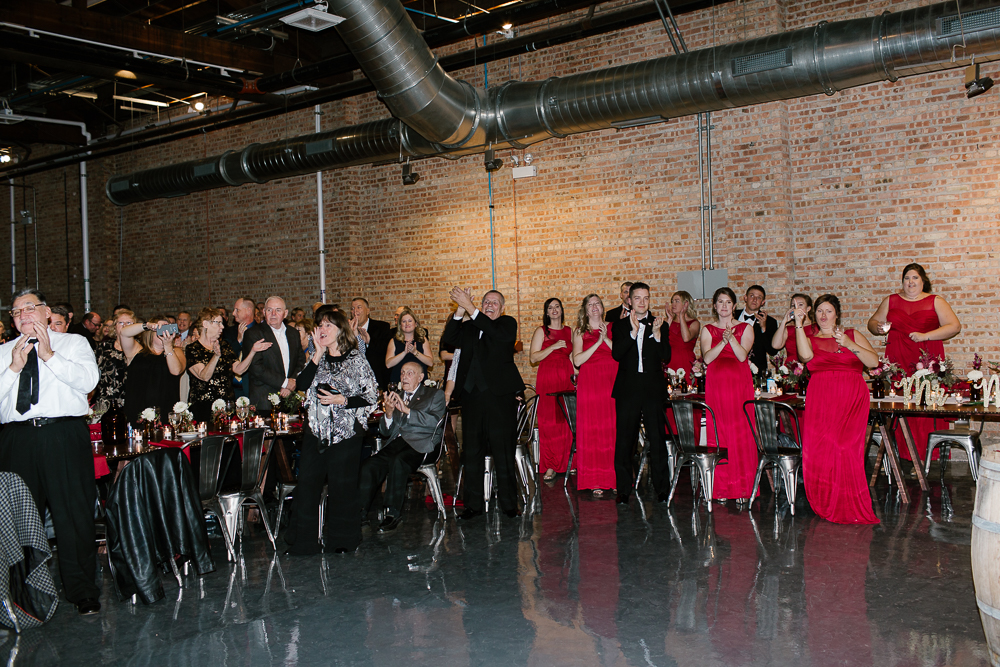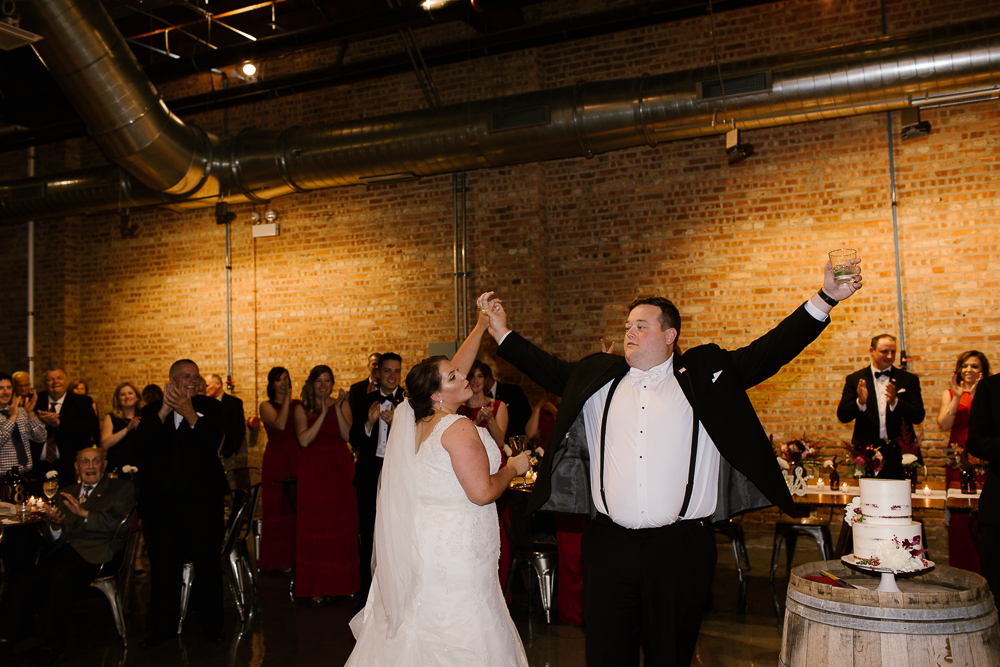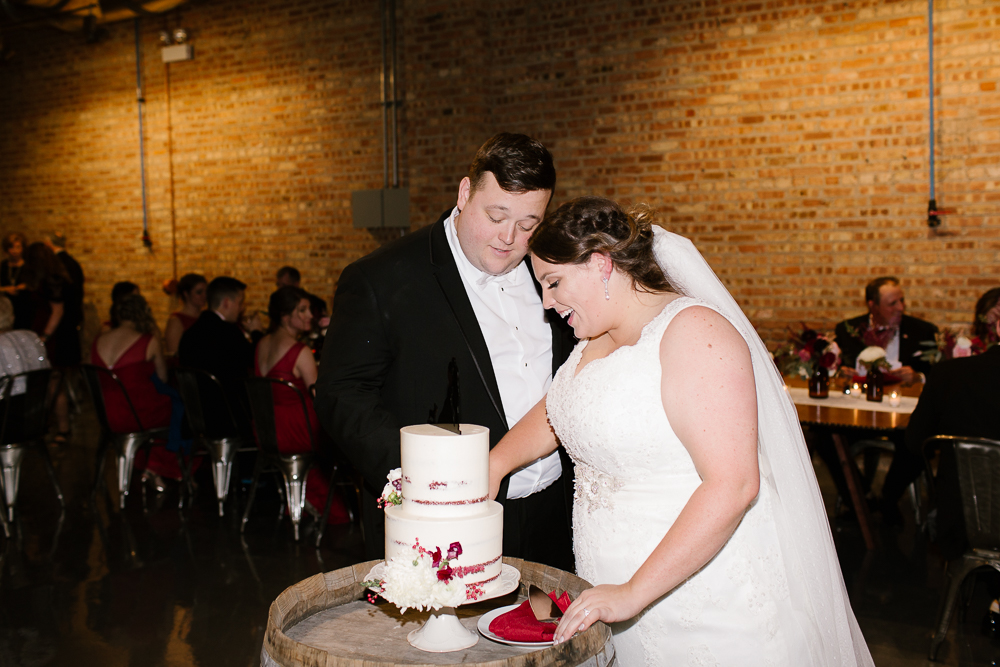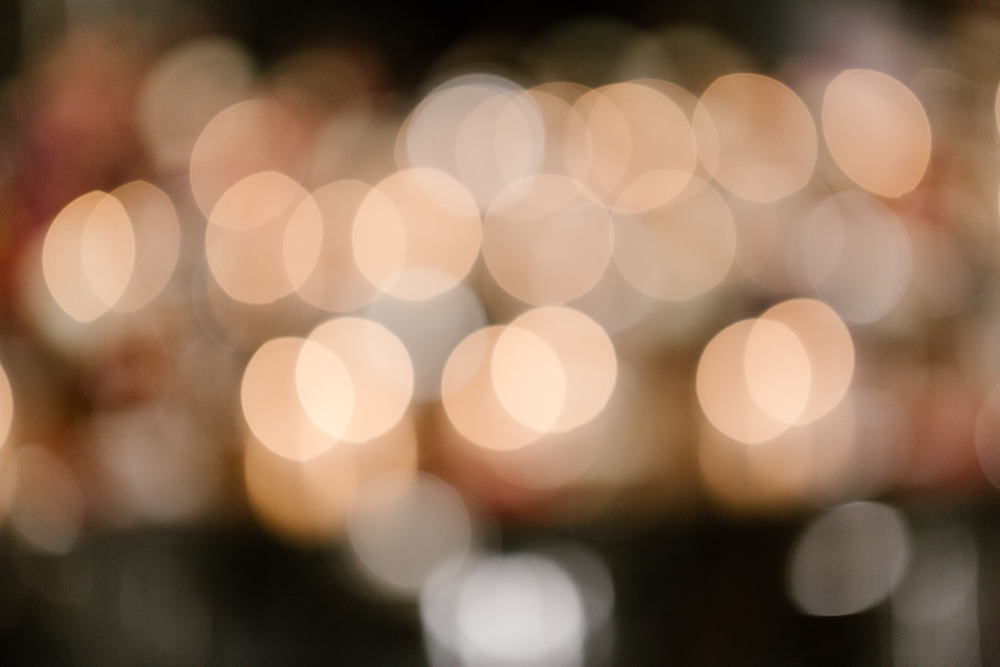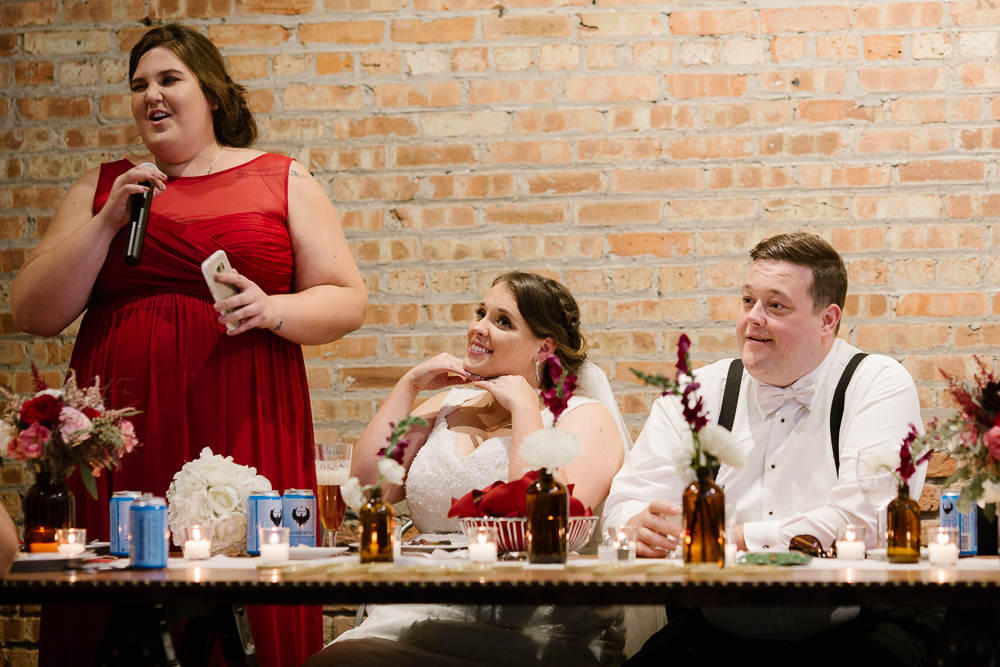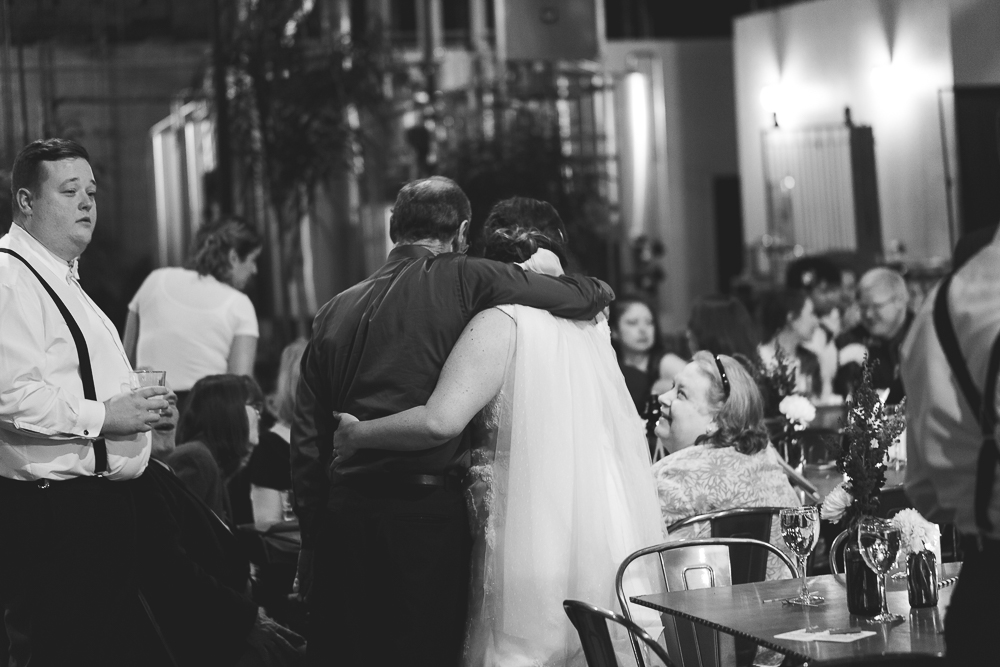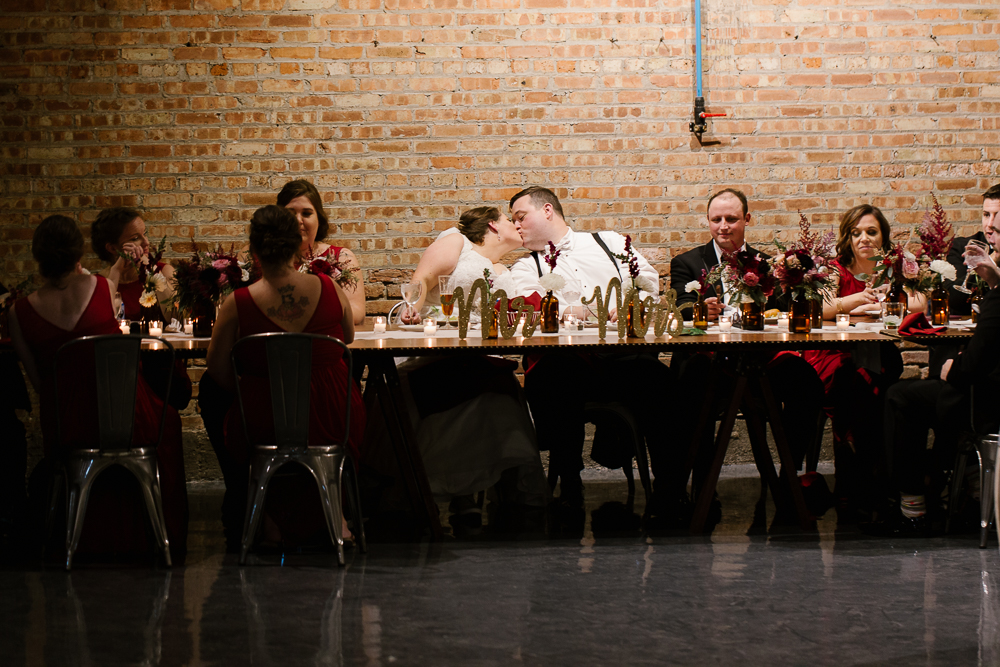 Oh, and Kari made this…. such a perfect guest book!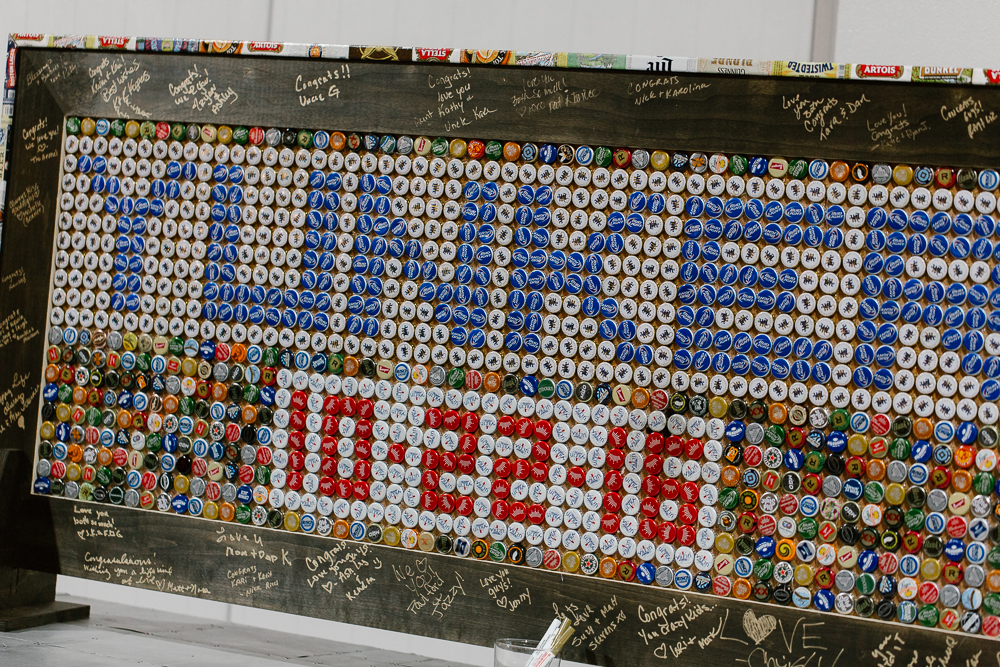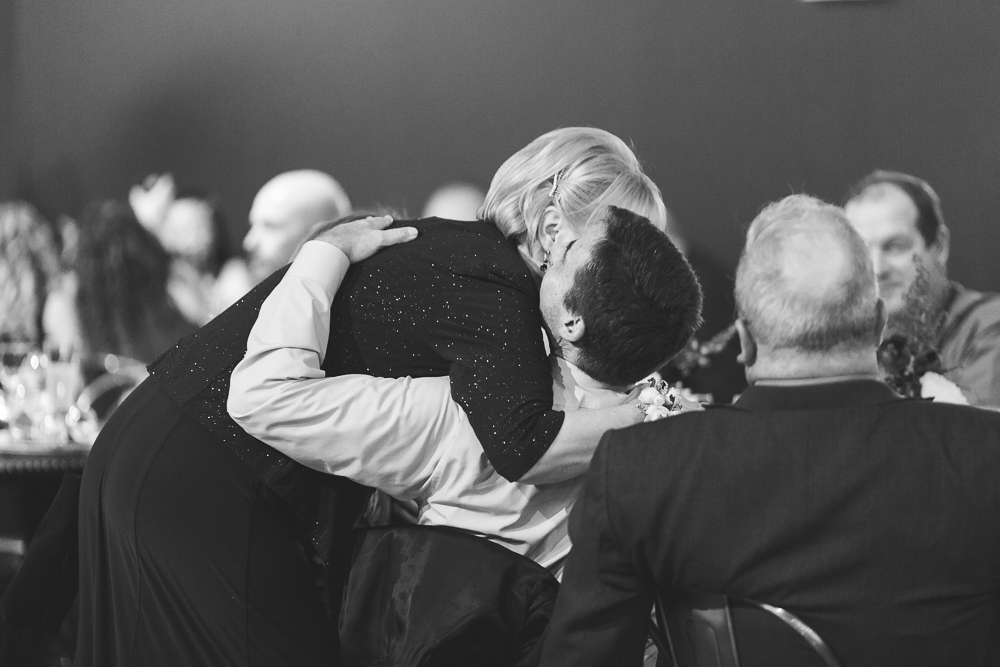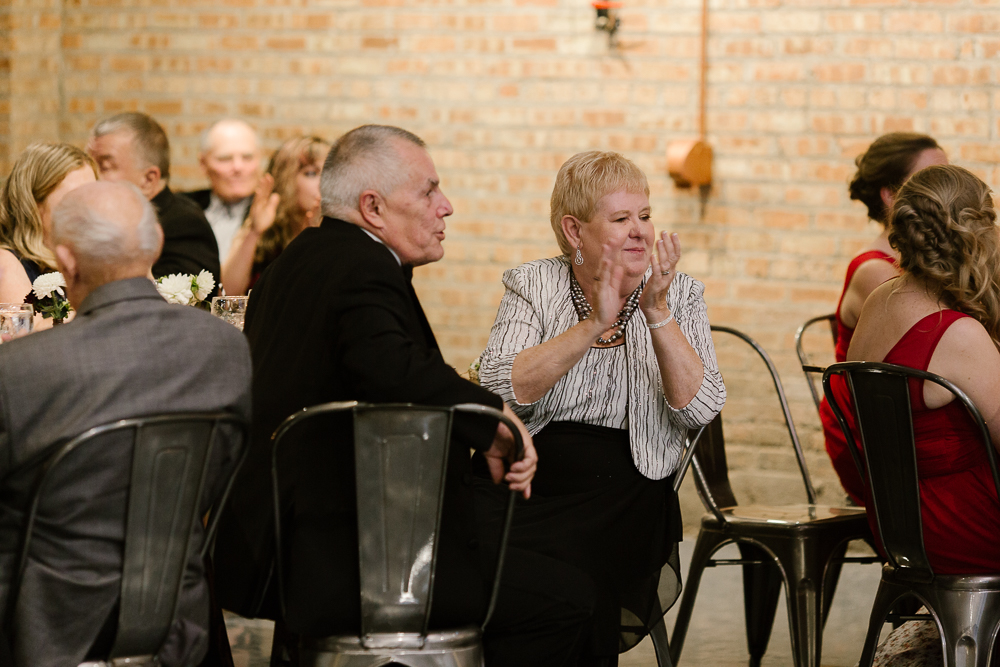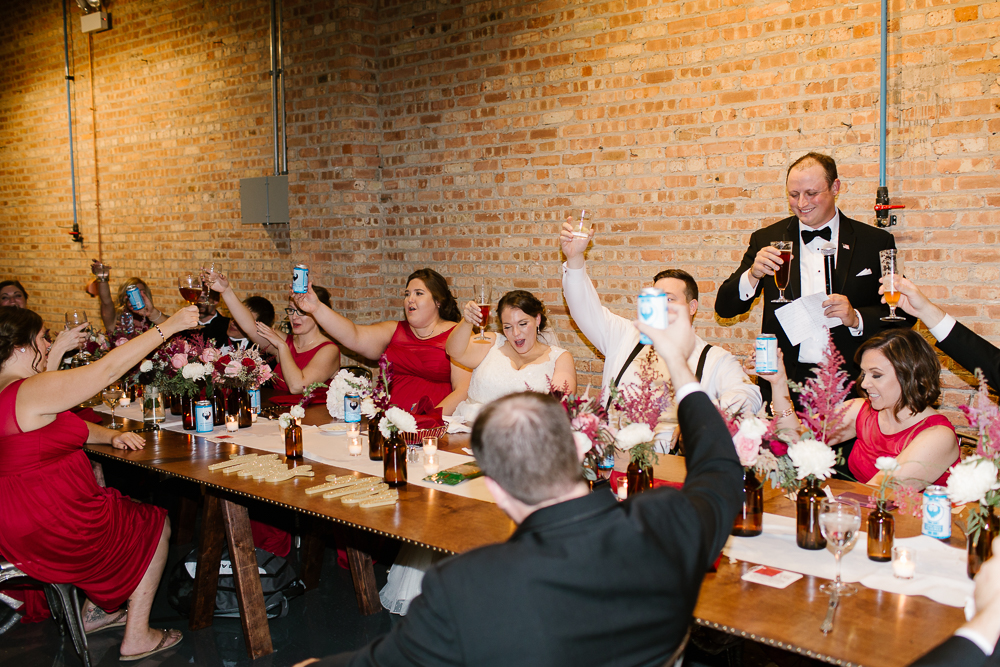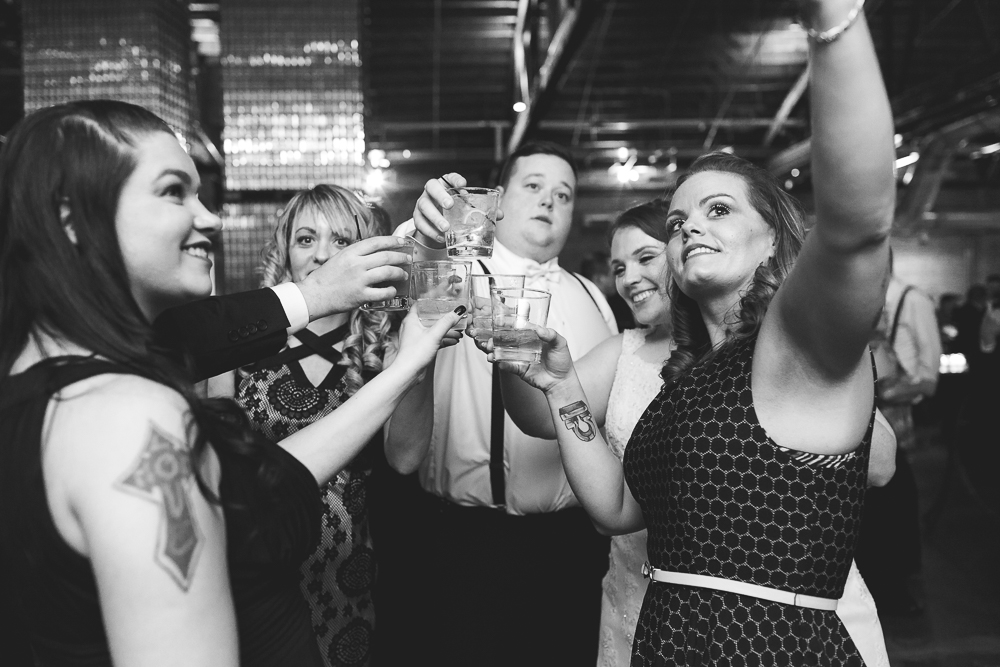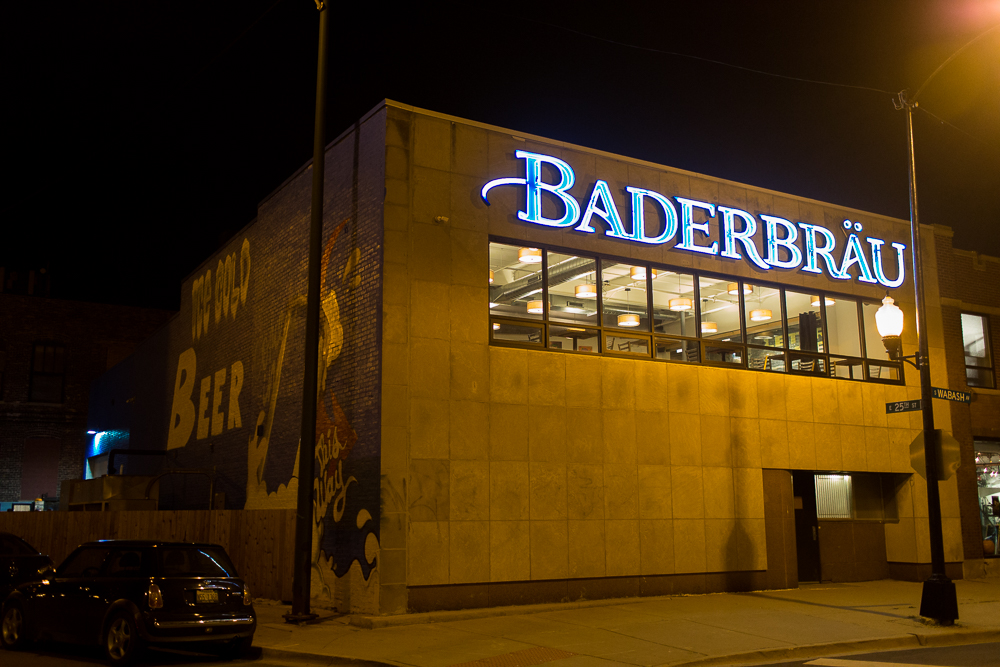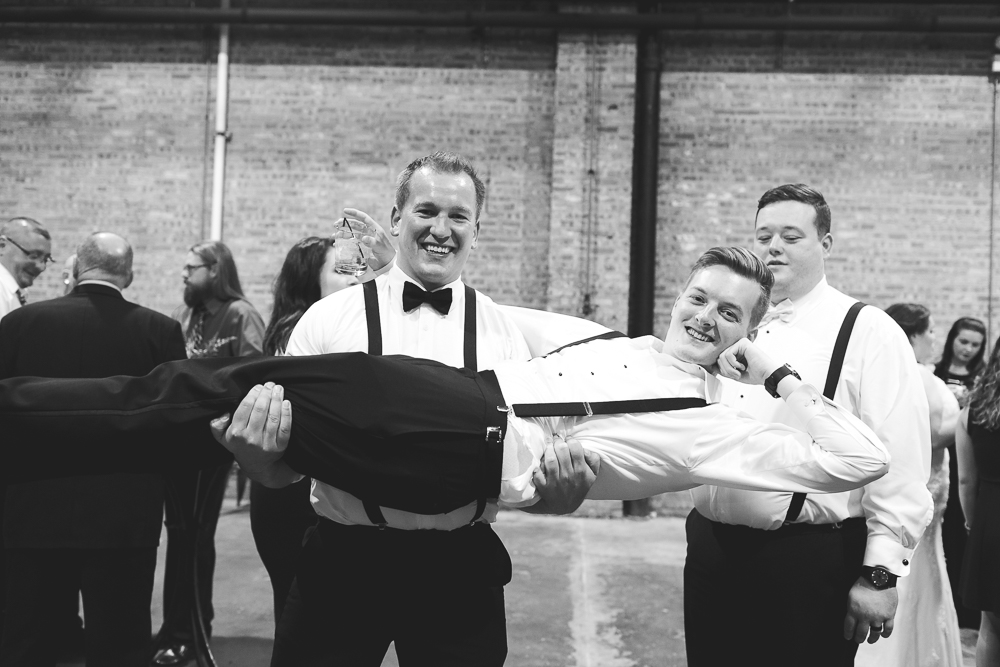 First Dance :: Free/Into the Mystic, Zac Brown Band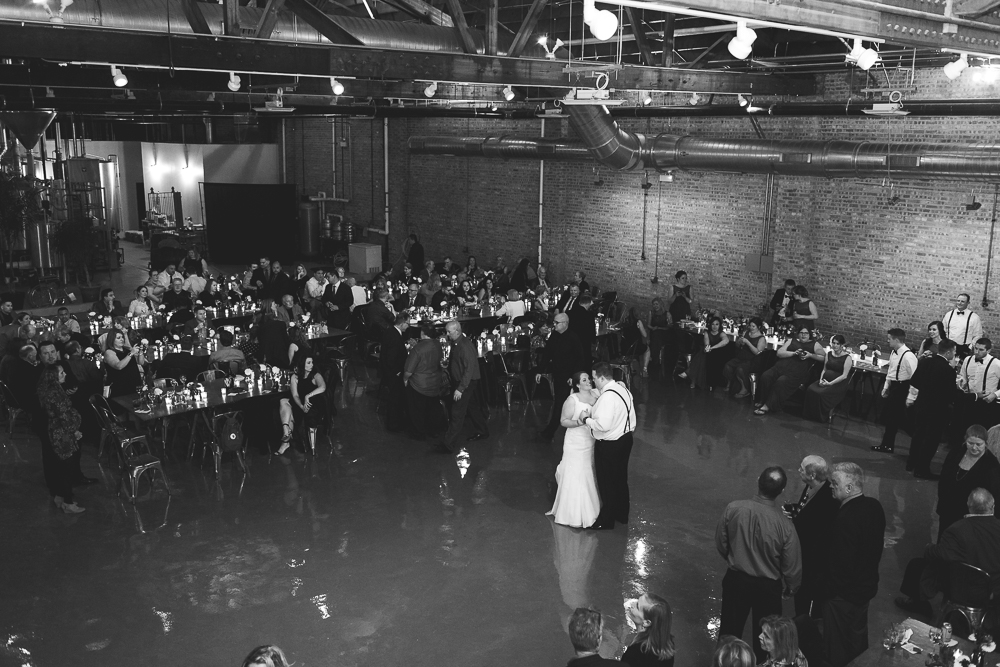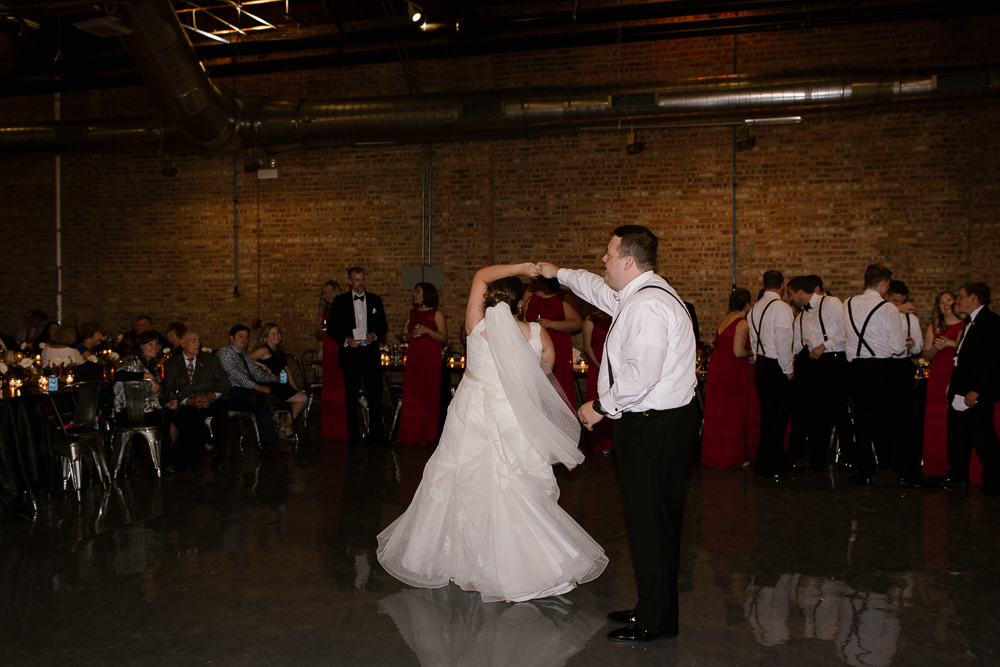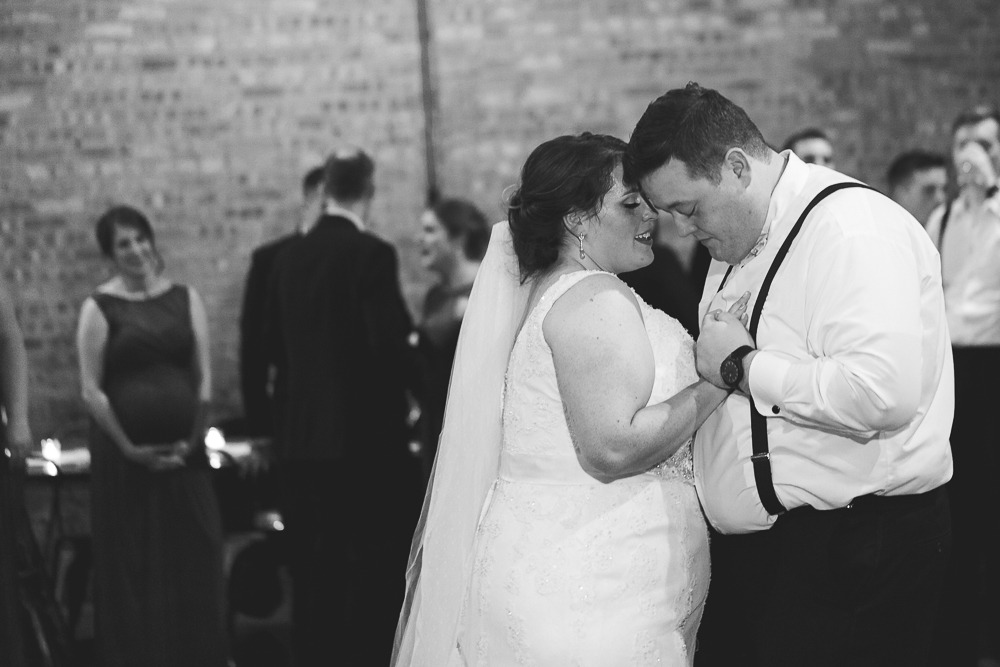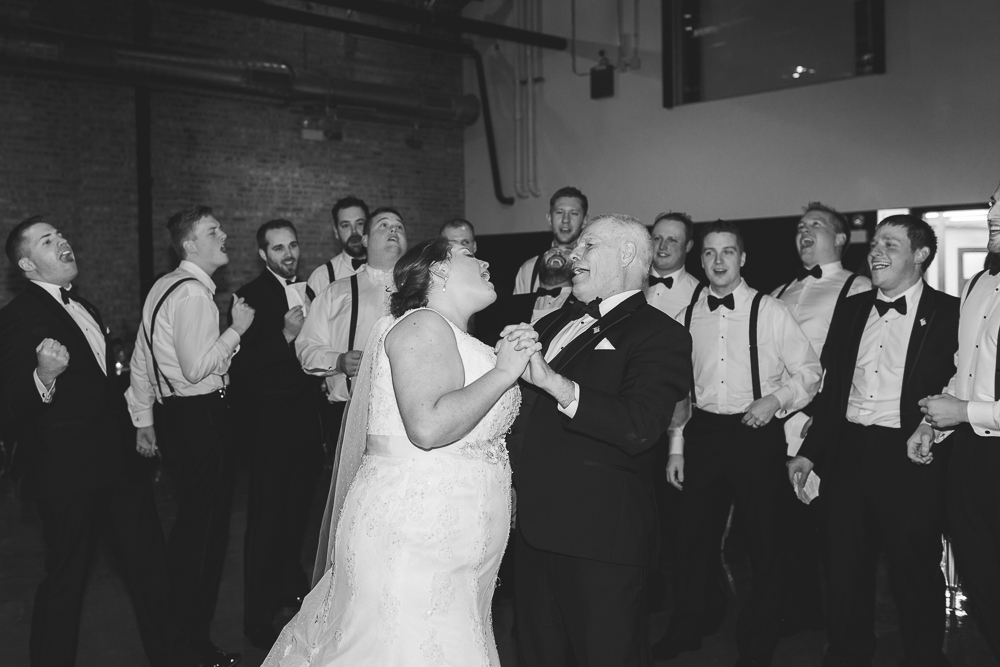 Not gonna lie, possibly the sweetest mother son dance we've captured : )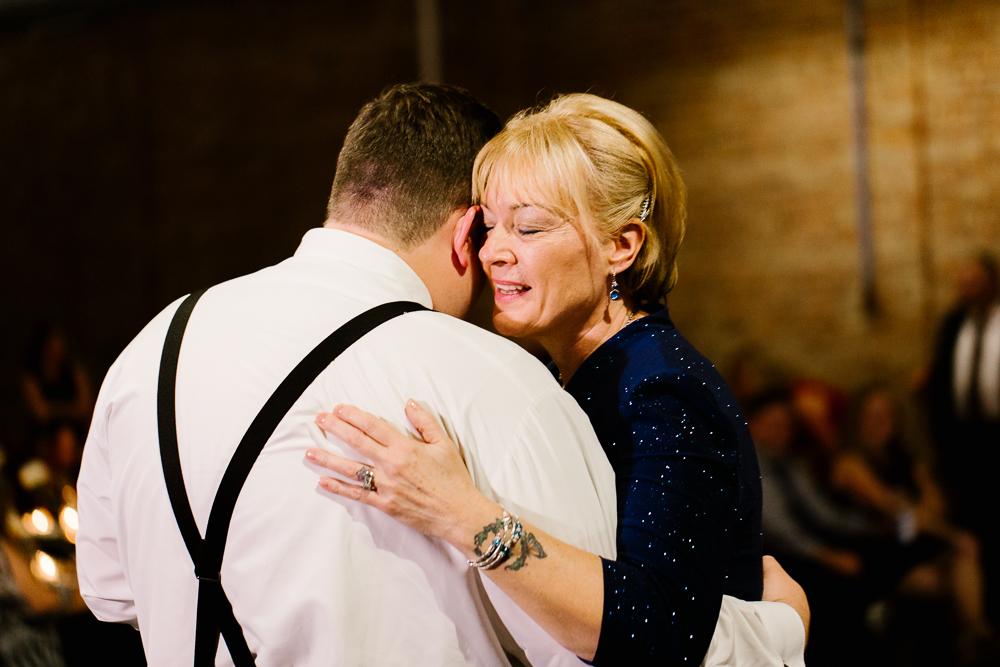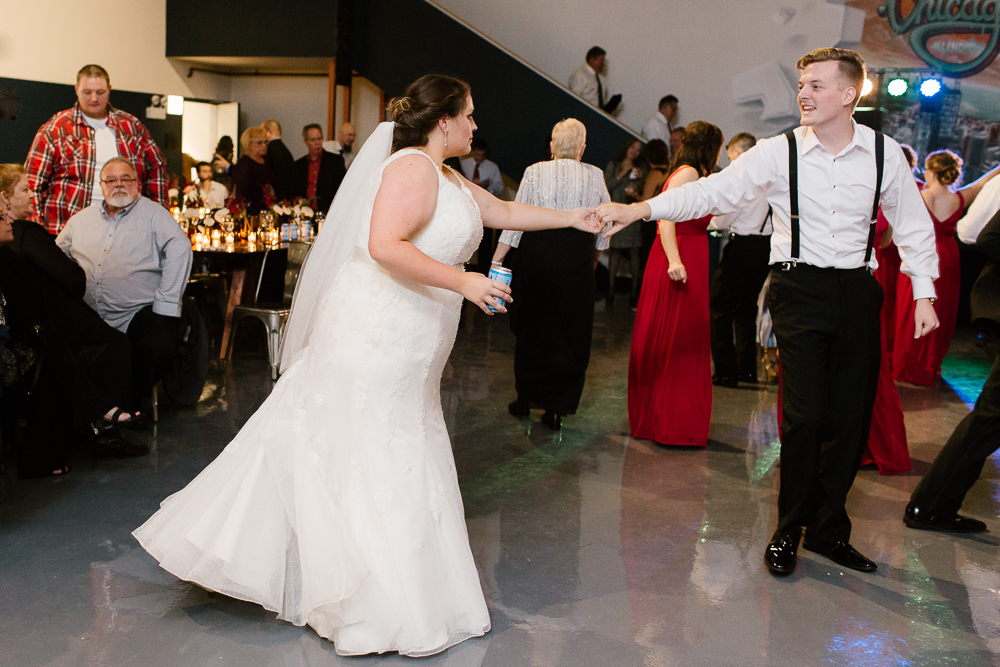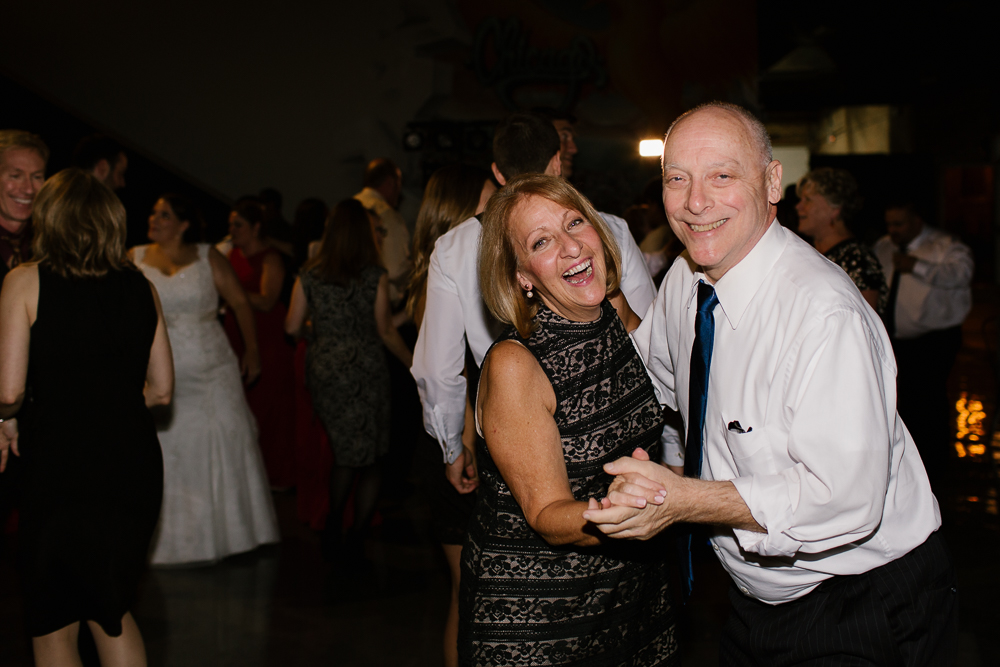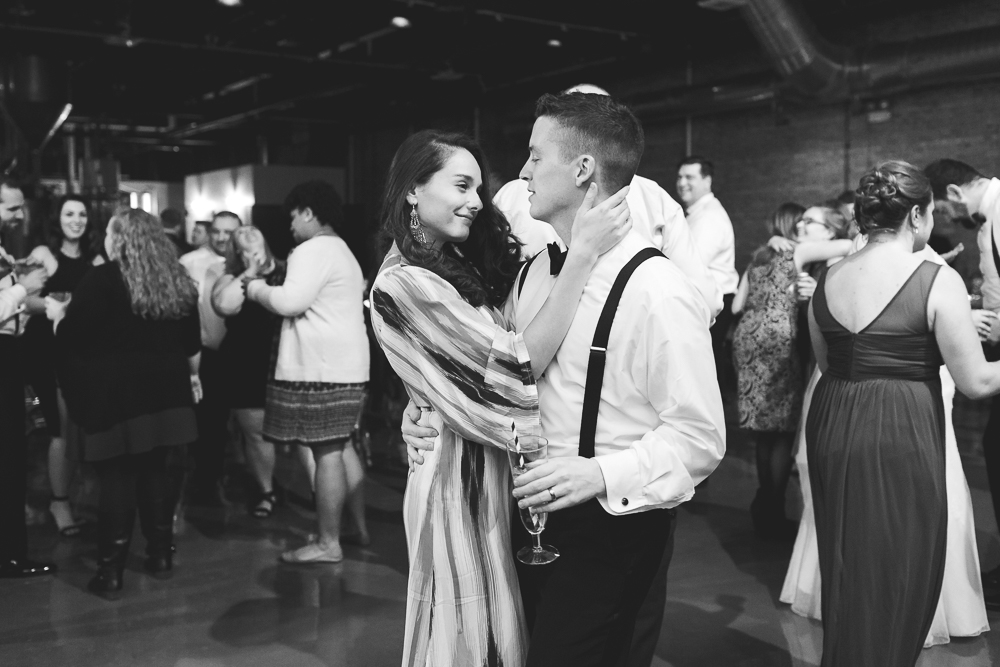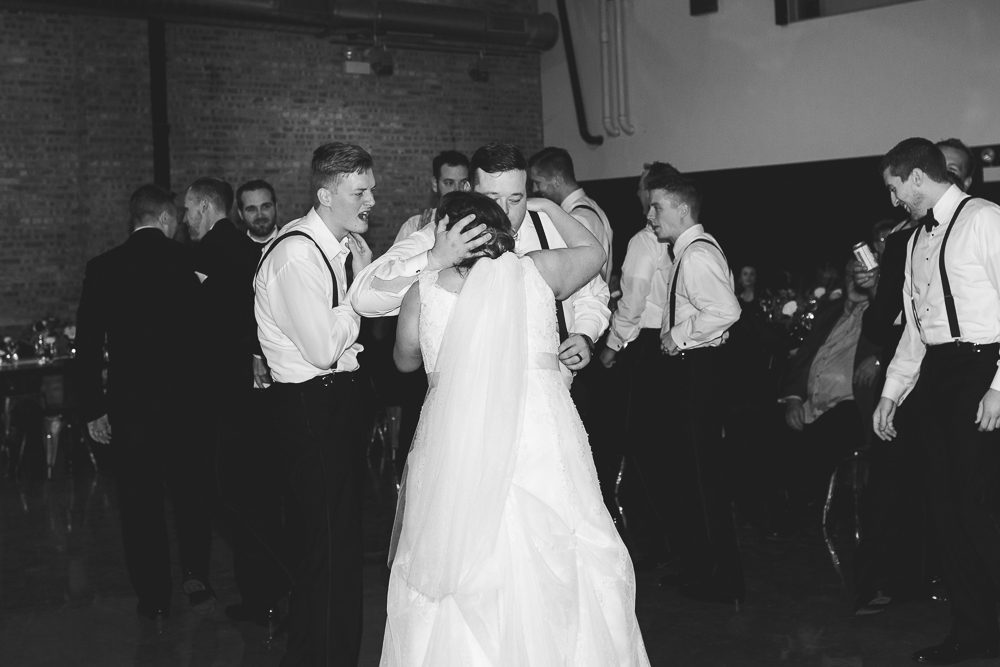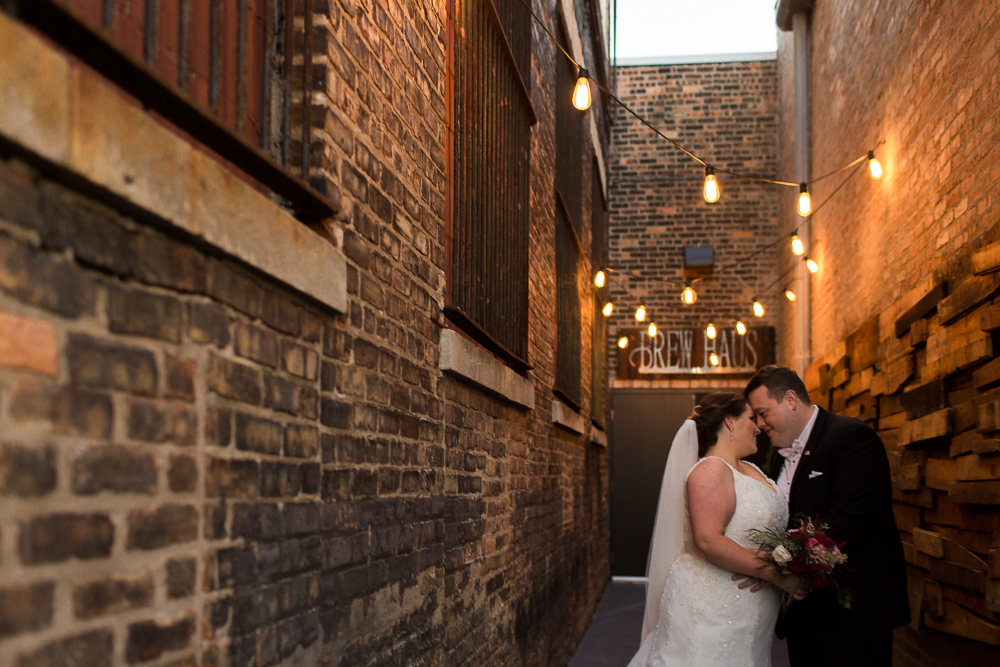 Kari + Kevin – you two beautiful newlyweds, thank you oh so very much for having us there to capture this crazy gorgeous wedding day of yours!! We had an absolute blast with you guys, and I may not ha
ve had a voice the next trying to yell over that bridal party of yours, I would not have had it any other way!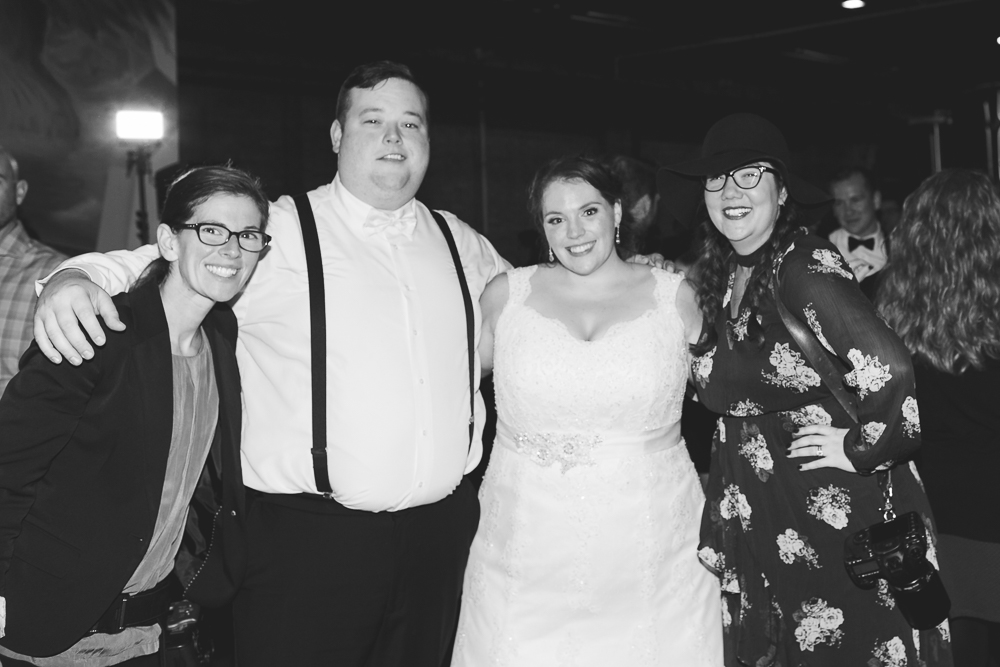 See Maggie is amazing.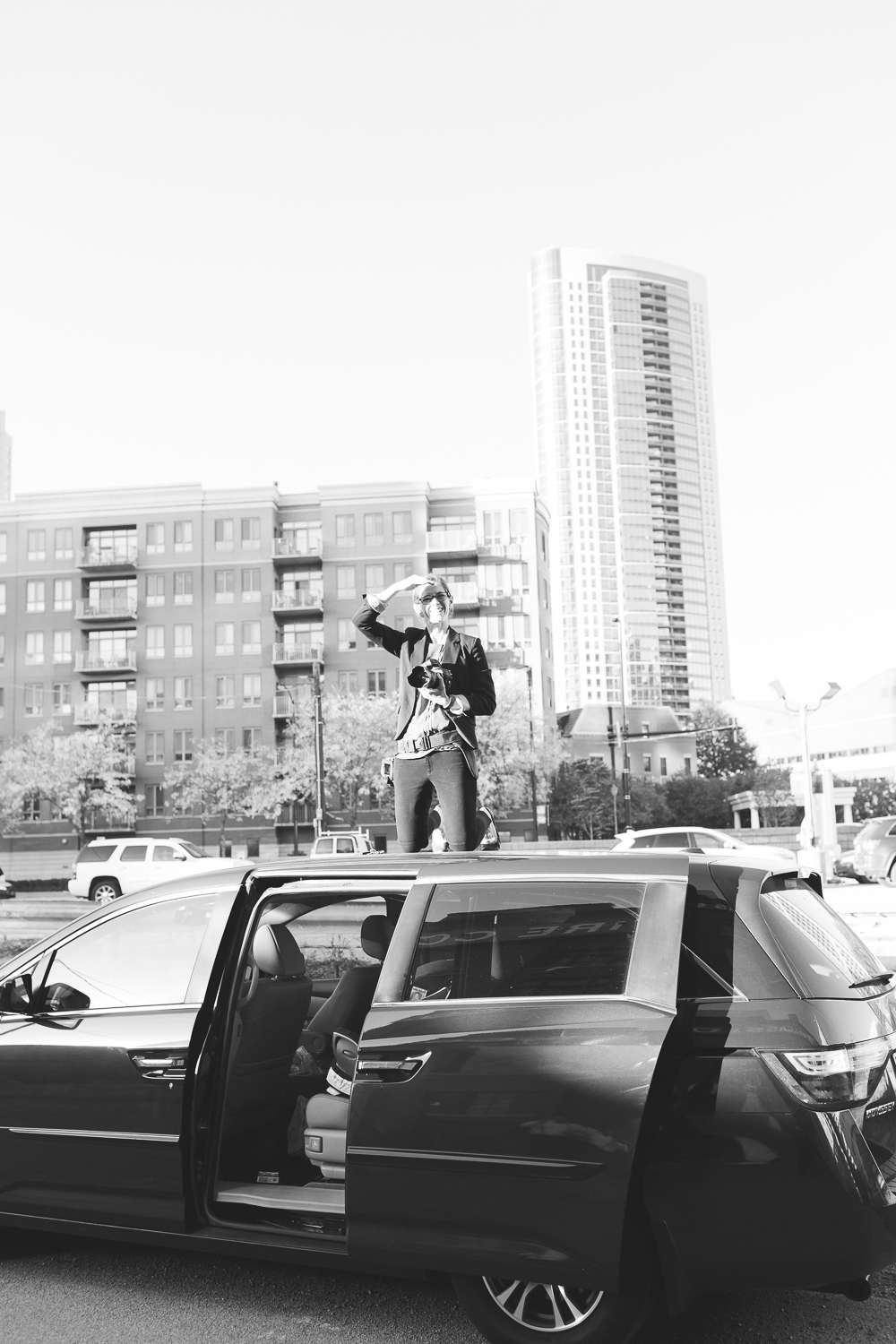 Second Shooter Extraordinaire :: Maggie Wright /// Bouquets/Centerpiece Flowers :: Steve's Flower Market /// DJ :: Your Night Productions /// Cake :: Sugar Fixe /// Caterer :: Beyond Events /// Bridesmaids Dresses :: David's Bridal /// Tuxes :: Men's Warehouse